The Gill Center for Plastic Surgery & Dermatology
121 Vision Park Boulevard, Suite 100
Shenandoah, TX 77384
Phone: (281) 853-5308
Mon-Thurs: 8 a.m. – 4:30 p.m.
Friday: 8 a.m. – 2 p.m.

Thigh Lift
Weight loss is an impressive accomplishment for anyone. In some cases, people who make it to their ideal weight occasionally require one additional thing to finalize their appearance. Based on the time you had the extra weight and how much of that weight you lost, extra skin can be an added problem. When the skin is not able to mold to the smaller shape and size of the body, a surgical procedure may be the only solution to the problem. A thigh lift is performed to remove excess tissue in the inner or outer thighs, which is a common complaint among women and men who have achieved major weight loss. Shenandoah, TX board-certified plastic surgeon Dr. Paul S. Gill performs surgical thigh lifts (also called thighplasty) at The Gill Center for Plastic Surgery and Dermatology, which trims loose skin on the outer and/or inner thighs. Thighplasty surgery has increased in popularity since it can give natural-looking results for anyone who doesn't want the hanging skin on their thighs and to reveal a firmer, more contoured look.
Reduce your thigh circumference and improve your leg appearance with a thigh lift with Dr. Gill, which is designed to eradicate a troubling cosmetic concern — the accumulation of excess tissue on the thighs. With weight fluctuations, persistent fat, friction, and an accumulation of lax skin, your thighs can collect redundant skin in this area. If you are bothered by such issues, a thigh lift procedure with Dr. Gill may be the spot-on solution.
Ideal Candidates
A thigh lift is a skin tightening and removal treatment that improves the appearance of sagging skin. Thighplasty is typically a post weight loss treatment. Thigh lift surgery is commonly used on people who have lost 100 or more pounds. It's also helpful for older men and women who are concerned about excess skin caused by natural aging, as well as women whose body shape changed from pregnancy and childbirth. If you have loose, hanging, or wrinkly skin on your upper thighs (whether it's the outer or inner thighs or both), thigh lift surgery can be a good option. Please remember that if cellulite is the bigger problem, Dr. Gill can recommend different treatments that are designed to help decrease the look of cellulite.
Drs. Paul & Anita Gill
Combining the science of plastic surgery and dermatology with the art of aesthetic procedures, Dr. Paul Gill and Dr. Anita Gill use their experience and expertise to create attractive results in a comfortable, patient-centered environment.
Meet Dr. Paul Gill
Meet Dr. Anita Gill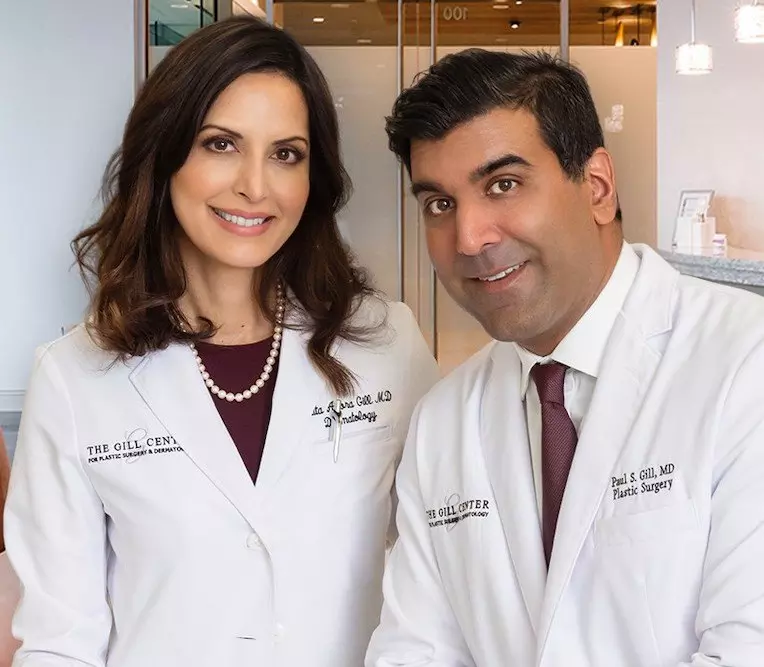 Surgical Technique
For thigh lift surgery, general anesthesia is commonly administered. A surgical incision is placed close to the top portion of the leg in the natural crease where the thigh attaches to the torso (along to the midsection of the thigh). This permits enough space to perform surgical liposuction (if necessary) to eliminate obstinate pockets of fat and to trim the excess skin in the top thigh area. The skin will be pulled upward so it is tight and secured with sutures. In specific cases, an additional incision may be made underneath the buttock or in the outer thigh area, based on the quantity of skin and tissue being addressed. Thigh lift surgery at The Gill Center for Plastic Surgery and Dermatology corrects the thigh area for a shapelier, more contoured look.
You will be taken to recovery where you will be monitored by our post-operative nurses and dressed in a compression garment on your legs to reduce swelling and decrease pressure. You may also have drains inserted into your thighs to help with drainage. We will help you with what you need to know about aftercare so your incisions will heal smooth and healthy.
What to Expect
Thigh lift surgery takes an average of 2 – 3 hours to perform. After the procedure is done, you will be monitored and assessed before you are allowed to go home to begin your recovery. There is typically bruising, discomfort, and swelling during the first few days of recovery. In several days, you should be able to get up and slowly walk, which is recommended for improved blood circulation and speedier healing. The full recovery time usually lasts around 6 – 8 weeks. Wound care instructions given by Dr. Gill will help you heal your surgical incision. Although you will have some scarring, the improved contour and shape of your legs can help you raise your self-esteem, and you can show your legs with self-confidence.
Reviews
"Hands down the best experience! I went to multiple consultations before deciding which doctor I wanted to go with for a breast augmentation, and after I visited Dr. Paul Gill, I knew he was the doctor I would choose! He is very knowledgeable and professional, and his staff is so friendly and so sweet."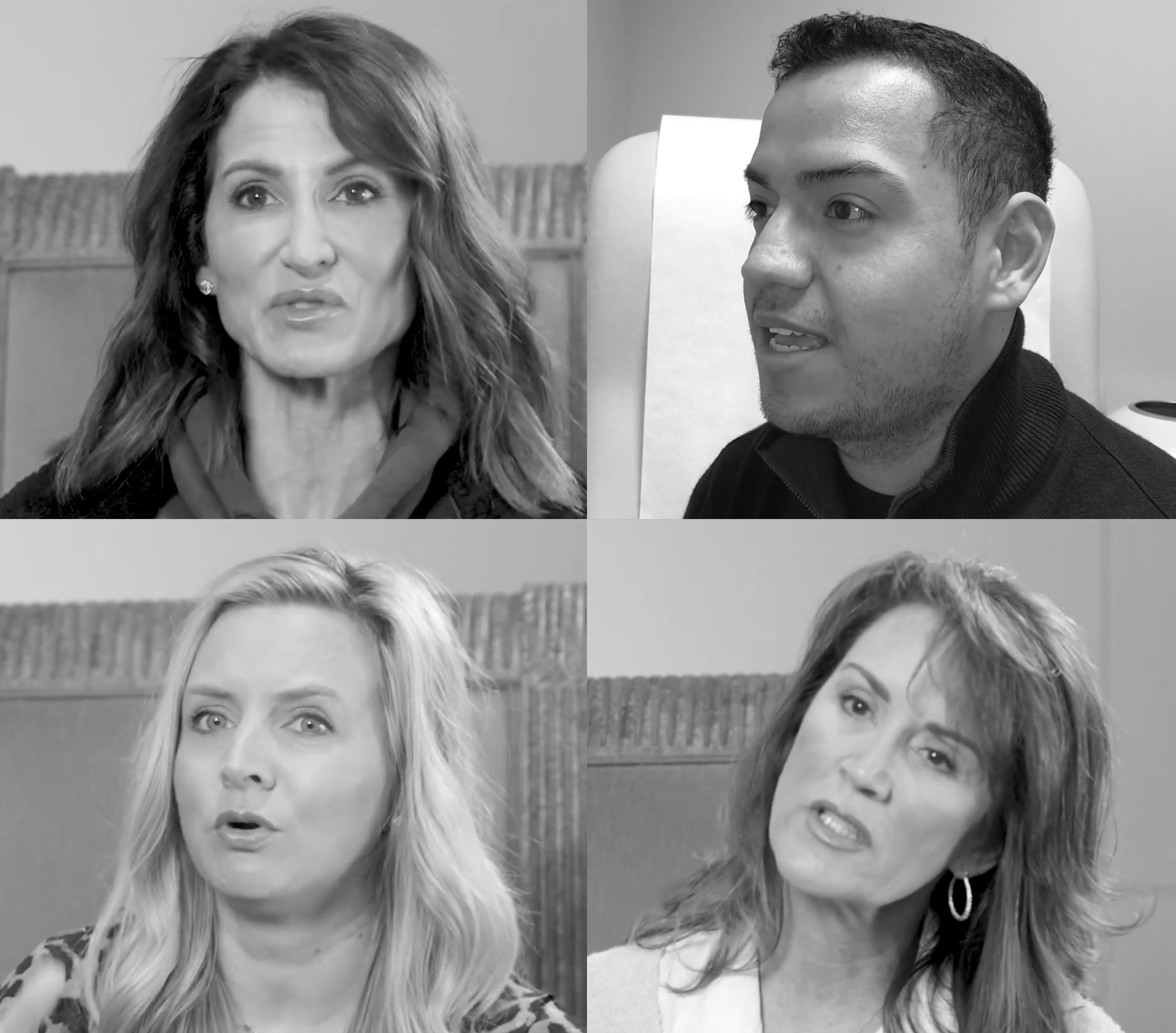 *Real Patients
Frequently Asked Questions
Will a thigh lift remove cellulite or stretch marks?
Thigh lift surgery is a great way to slim the contour and improve the appearance of your legs. Since a thigh lift includes tightening the skin and correcting stubborn fat pockets, it can improve the visibility of cellulite and stretch marks on your thighs. If you're interested in addressing stretch marks or cellulite, let Dr. Gill know in your consultation so he can adjust your treatment plan to fit all of your goals.
How long will my results last?
After your surgery, if you stay healthy with regular exercise and a balanced diet, you should maintain your thigh lift results for many years. Dr. Gill recommends you be at or near a stable weight prior to thigh lift surgery so it's easy to keep your results. Significant weight changes or pregnancy following your thigh lift can alter your appearance. In your consultation, Dr. Gill will explain what will make your surgical results last.
Can I combine a thigh lift with other surgeries?
You may consider combining a thigh lift with a butt lift or tummy tuck to create a lower body lift. Thigh lifts are also a common part of after weight loss surgery or a mommy makeover. In your initial consultation, talk to Dr. Gill about your wants and goals so he can develop a comprehensive surgical plan that gives you optimal results.
What about a nonsurgical thigh lift?
Although there are nonsurgical options for skin tightening and fat reduction, these can help with mild improvements. A thighplasty is an invasive way to correct significant amounts of excess skin and stubborn pockets of fat on your thighs, but it will give you excellent results. If you're considering nonsurgical procedures, ask Dr. Gill to give you more information in your initial consultation. He will discuss the pros and cons of surgical and nonsurgical thigh treatment options, plus his opinion on which approach would give you the most effective results.
Real People, Real Results
When you notice hanging skin on your inner or outer thighs that creates embarrassment or anxiety, we encourage you to contact The Gill Center for Plastic Surgery and Dermatology in Shenandoah, TX to find out more about thighplasty. It's typical for patients to combine a thigh lift surgery with one or more body contouring surgeries, particularly operations in neighboring areas to meet your individual goals. Schedule your appointment with Dr. Gill to get the slimmer look you want.
Back to Top