The Gill Center for Plastic Surgery & Dermatology
121 Vision Park Boulevard, Suite 100
Shenandoah, TX 77384
Phone: (281) 853-5308
Mon-Thurs: 8 a.m. – 4:30 p.m.
Friday: 8 a.m. – 2 p.m.

Dysport®
Board-certified plastic surgeon Dr. Paul S. Gill and board-certified dermatologist Dr. Anita A. Gill offer Shenandoah, TX patients several nonsurgical options for rejuvenating the skin. Dysport is an injectable wrinkle treatment that acts like BOTOX to soften and reduce dynamic wrinkles and lines throughout the face. Dynamic wrinkles are caused by reiterated facial expressions and movements (like frowning, laughing, and smiling) that over several decades make the muscles of the face taut. This causes the skin over the muscle to have a grooved line that can be seen even when the face is resting. Dysport is specially created to correct the most frequent dynamic wrinkles: the vertical lines between the eyebrows known as frown lines. It temporarily blocks signals to the treated muscle so the line is smooth but with natural-looking results that don't make your face look frozen. Hear more about Dysport injectable wrinkle relaxers at The Gill Center for Plastic Surgery and Dermatology to make your face appear more youthful.
Ideal Candidates
Dysport is a good choice if you want a nonsurgical option to improve mild, moderate, or severe vertical glabellar (frown) lines that appear between the eyebrows. Because dynamic wrinkles and lines are created by chronic use, they may become visible in younger patients and make you appear sad, mad, or tired. Dysport is an effective, fast treatment that addresses dynamic wrinkles without leaving a "frozen" appearance. Since Dysport's formula expands to reach a group of wrinkles, it's also great for Crow's feet, the small wrinkles in the corners of the eyes. Many patients at The Gill Center for Plastic Surgery and Dermatology notice visible improvements in their appearance 1 – 3 days following their procedure that usually remain for as long as four months.
Drs. Paul & Anita Gill
Combining the science of plastic surgery and dermatology with the art of aesthetic procedures, Dr. Paul Gill and Dr. Anita Gill use their experience and expertise to create attractive results in a comfortable, patient-centered environment.
Meet Dr. Paul Gill
Meet Dr. Anita Gill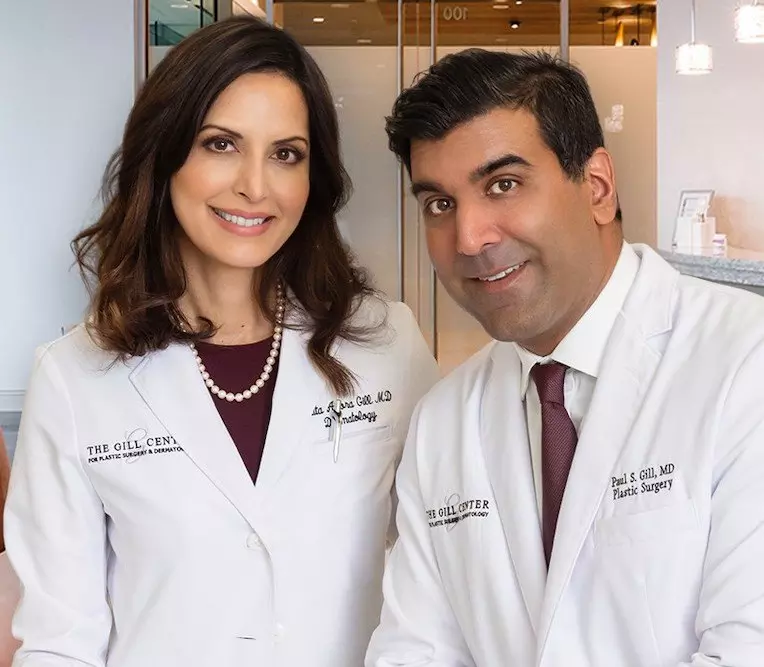 Procedure Technique
Injections of Dysport are administered in one of our private treatment rooms following your consultation. This can last around 15 – 30 minutes. A local anesthetic or numbing cream is generally unnecessary because the Dysport is injected using a fine needle that creates little pain, but it may be applied if requested. The treatment area will be cleaned and then several well-placed injections will be made across the eyebrows, followed with a cold compress to lessen bruising and swelling. Following your injections at The Gill Center for Plastic Surgery and Dermatology, you can perform regular tasks, but you should avoid taxing activities for at least one day. Topical lidocaine or an ice pack may be applied to the treatment site to increase your comfort.
What to Expect
Following a Dysport session, you may see light redness and a swelling at and around the injected area, but this generally will disappear within 1 – 3 days. You should sleep propped up for at least one night and may want to apply cold compresses if needed. Improvements are commonly noticeable in 1 –3 days as the severity of your dynamic wrinkles is minimized for a softer, smoother appearance. Your results should remain for around 3 – 4 months and more injections may be done at The Gill Center for Plastic Surgery and Dermatology in Shenandoah, TX to extend your results.
Reviews
"Hands down the best experience! I went to multiple consultations before deciding which doctor I wanted to go with for a breast augmentation, and after I visited Dr. Paul Gill, I knew he was the doctor I would choose! He is very knowledgeable and professional, and his staff is so friendly and so sweet."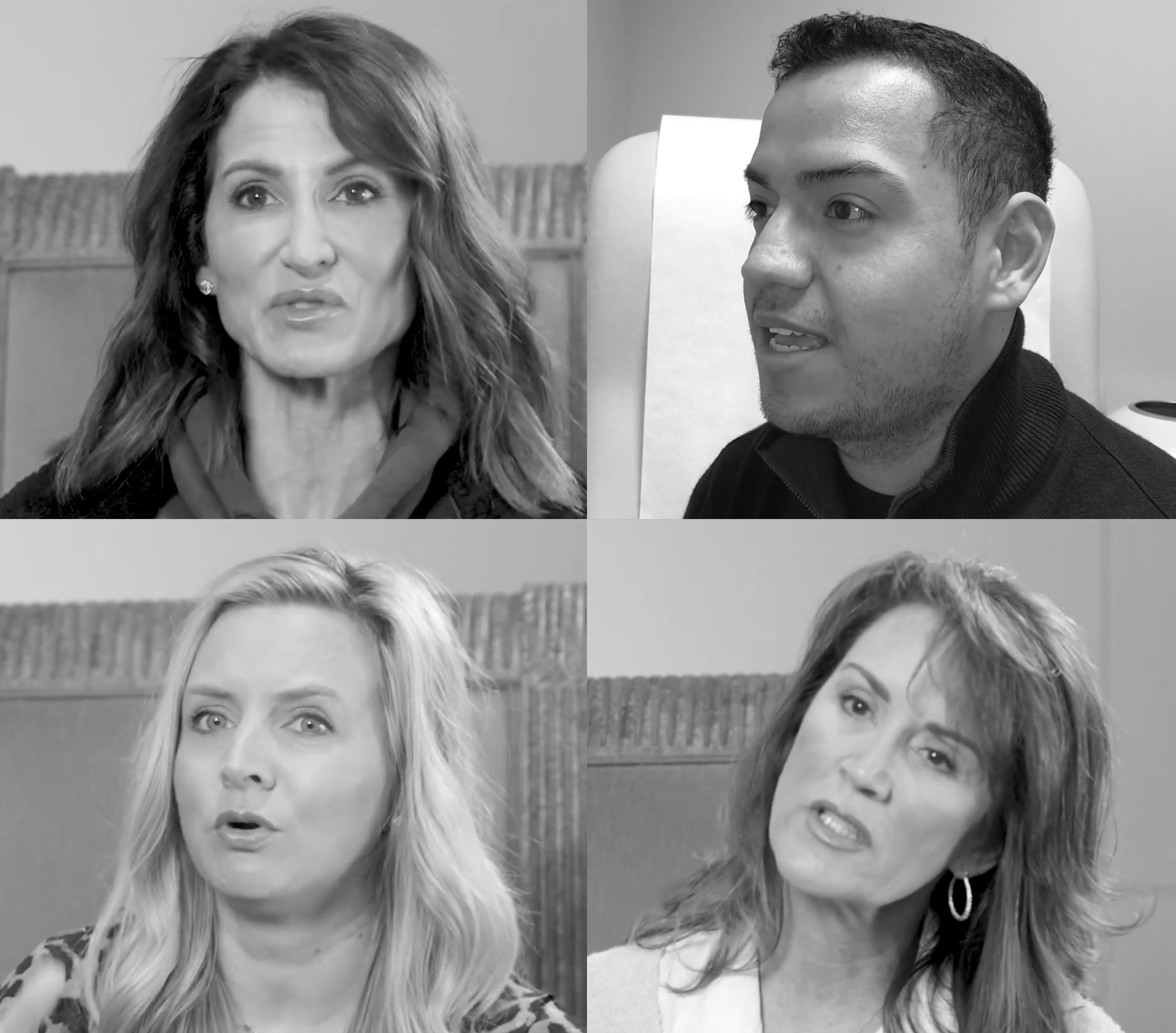 *Real Patients
Frequently Asked Questions
How much does it cost?
The cost depends on the number of Dysport injections needed to obtain your desired results. During your consult, Dr. Gill or a member of the team, can discuss your estimated costs and go over all your payment options.
Dysport or BOTOX?
Both Dysport and BOTOX are safe and effective to treat facial wrinkles, and both are widely available. A skilled practitioner can tell which medication may offer the best benefit. The results of a Dysport injection typically becomes visible faster than BOTOX, lasts a bit longer, and spreads to a larger coverage area.
Dysport or Filler?
Patients seeking to rejuvenate their facial appearance may look into injectable fillers, as well as products, such as Dysport, to attain results. Both skin treatments work to decrease facial wrinkles but use varying approaches. Injectable fillers add volume to certain facial structures, which creates a smooth result on the surface. It is common today to combine products, such as Dysport and BOTOX, with an injectable filler. This has been labeled a "liquid facelift" and provides outstanding results for individuals who do not want surgery.
Can it be combined with other treatments?
Yes. Many patients elect to combine Dysport with their surgical facelift, or skin resurfacing treatment for even more dramatic results. Dr. Gill can discuss your cosmetic goals during your consult and let you know which procedures can be incorporated with Dysport.
How often for treatment?
Patients are usually ready for a follow-up visit within 3 – 4 months after treatment. This varies by patient.
Discover Dysport
If you want a nonsurgical option to revitalize your appearance by correcting dynamic wrinkles, Dysport wrinkle relaxer is a wonderful treatment. You will be able to learn about Dysport injections and other treatments at your meeting with our team to develop your personalized anti-aging plan that addresses your concerns. We encourage you to contact The Gill Center for Plastic Surgery and Dermatology in Shenandoah, TX to find out more about Dysport and make a consultation appointment.
Back to Top