The Gill Center for Plastic Surgery & Dermatology
121 Vision Park Boulevard, Suite 100
Shenandoah, TX 77384
Phone: (281) 853-5308
Mon-Thurs: 8 a.m. – 4:30 p.m.
Friday: 8 a.m. – 2 p.m.

Skin Care Products
Your skin is one of the first things people notice when they first meet you. It expresses your health and vitality to the world. For these reasons and more, it is beneficial to take care of your skin. With the wide selection of skin products available at The Gill Center for Plastic Surgery and Dermatology (Firenze Derm Spa) at our Shenandoah practice, you can continue to treat many skin conditions and problems right at home. We want you to look like your best self.
The skin care/hair care products were chosen by our board-certified dermatologist, Dr. Anita Gill, due to the "evidence-based medicine" (research that states they are effective), quality of ingredients, tolerability for sensitive skin, and ability to treat a variety of skin conditions (acne, rosacea, brown spots, dark circles, fine lines, sun protection, and hair loss). She has tried and tested all the products and incorporates them daily in her own skin care routine.
Our Skin Care Products
SkinMedica®
SkinMedica uses scientifically proven ingredients such as growth factors, antioxidants, retinoids that improve the health of your skin and gives noticeable results by increasing collagen and diminishing fine lines and brightening the skin.
As we age, collagen production diminishes, skin thins, and elasticity decreases, causing facial sagging, fine lines, and wrinkles. SkinMedica products are scientifically formulated and clinically tested to rejuvenate skin and help rekindle your skin's youthful appearance.
EltaMD
EltaMD sunscreens are formulated with transparent zinc oxide and are non-comedogenic, sensitivity-free, fragrance-free, and paraben-free. All EltaMD sunscreens are formulated with zinc oxide, which maintains its protective ability in the sun and is more photostable than some chemical ingredients that may degrade. This protective sunscreen blocks the widest spectrum of UVA and UVB rays, shielding your skin against burning, the premature appearance of aging, and risks of skin cancer. Zinc is safe for even the most sensitive skin types. We can recommend which EltaMD sunscreen is the right one for you.
SkinCeuticals®
SkinCeuticals is a brand of skin care that is renowned for their products with antioxidants and for formulating their products with scientifically proven ingredients. This is an advanced at-home skin care line that works to prevent damage and help enhance the skin through continual daily use. With products made of pure, pharmaceutical-grade ingredients with proven, scientific results, SkinCeuticals can maintain and improve your skin health. Achieving results means more than restoring youthful, radiant skin — it means preventing serious skin conditions, like skin cancer.
Nutrafol®
Nutrafol can be purchased at The Center for Plastic Surgery and Dermatology as a supplementation to your diet if you have hair loss or thinning hair. Nutrafol for Men and Nutrafol for Women are formulated specifically for the needs of each gender. Capsules are available in our office for you to purchase if you would like to thicken your hair from the inside out with pharmaceutical-grade Nutrafol.
Colorescience®
Once you have a surgical procedure on your delicate facial skin, you may want to be very selective about what kind of cosmetics you put on your face. We offer Colorescience cosmetics for this very reason. After your facial surgery, you can depend on products by Colorscience to provide you with light, breathable makeup that also protects you from the sun. Yes, your makeup can protect you from harmful UV rays if you select the right one, like Colorscience. Made of minerals, these cosmetics are safe for our surgical patients of all ages and skin types.
Revision Skincare®
Revision Skincare is the first of its kind to incorporate peptides to combat visible signs of aging. Further, it is the first brand in the U.S. to use THD Ascorbate as the active Vitamin C ingredient at a 30% concentration.  Revision offers neck and body firming creams to improve your nonsurgical and surgical results.
BioCorneum®
For a one-of-a-kind scar treatment, you can purchase a BioCorneum silicone scar treatment. With SPF 30 UV protection, BioCorneum acts as a barrier for your skin, but it also softens and lightens your scar tissue as well. Other benefits of this scar treatment are:
It is a waterproof, silicone product for scars
Breathable and flexible while on the skin
Fast drying
Made to be a comprehensive topical scar management gel, BioCorneum was specially patented, and FDA cleared to protect your skin after surgery.
Drs. Paul & Anita Gill
Combining the science of plastic surgery and dermatology with the art of aesthetic procedures, Dr. Paul Gill and Dr. Anita Gill use their experience and expertise to create attractive results in a comfortable, patient-centered environment.
Meet Dr. Paul Gill
Meet Dr. Anita Gill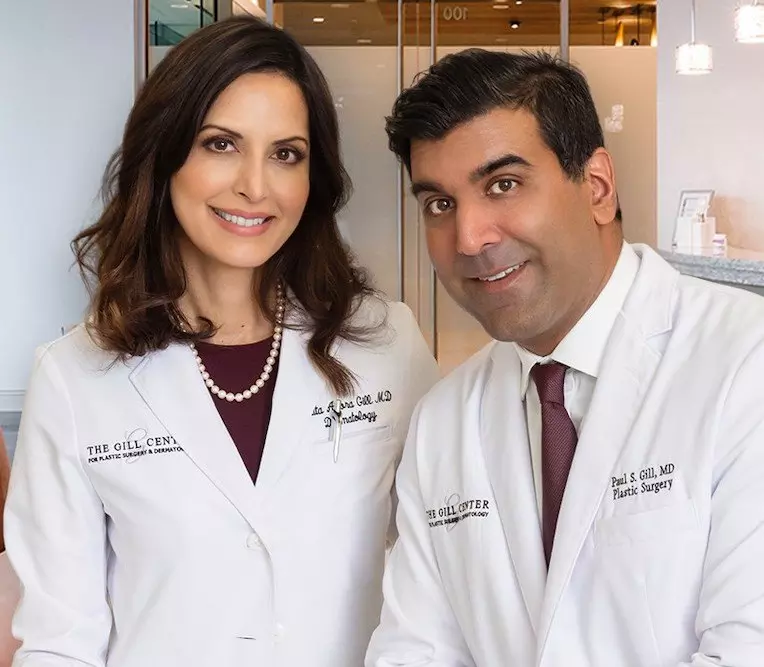 What to Expect
Each product you purchase from The Gill Center for Plastic Surgery and Dermatology is made of the highest quality. You can expect our skin care products to:
Protect your skin from the sun
Some can restore pH balance
Transform your skin at the cellular level
Help thicken your hair with supplementation
If you are curious about our professional product lines and would appreciate help in choosing the product that is right for your needs, please contact us.
Here's to Your Skin Health!
Please ask about our wonderful skin care product lines at The Gill Center for Plastic Surgery and Dermatology. We are conveniently located in North Houston and are easily accessible for residents of Kingwood and Shenandoah, TX. Our team at The Gill Center is highly knowledgeable about each of our products and would be happy to sit down with you to answer any questions you might have about our skin care. Learn more about the medical-grade products that we have available at our office today.
Back to Top