The Gill Center for Plastic Surgery & Dermatology
121 Vision Park Boulevard, Suite 100
Shenandoah, TX 77384
Phone: (281) 853-5308
Mon-Thurs: 8 a.m. – 4:30 p.m.
Friday: 8 a.m. – 2 p.m.

Chin Augmentation
Chin enhancement surgery (or chin augmentation) is a highly sought-after corrective procedure that improves the look of the jawline and chin for patients with a recessive chin. Board-certified plastic surgeon Dr. Paul S. Gill can provide you with a chin augmentation consultation if you feel that your chin lacks shape and size. A small or disproportionate chin can create a weak jawline. Chin augmentation can be performed by Dr. Gill to bring harmony to your face and redefine the size and shape of your chin.
As one of the most common procedures in facial enhancement, a chin augmentation involves inserting an implant to construct a more prominent jawline and a more appealing profile. In Shenandoah, TX, The Gill Center for Plastic Surgery and Dermatology offers surgical and nonsurgical ways for your chin enhancement. In addition to implants created in various sizes and shapes, noninvasive augmentations, such as injectable dermal fillers or fat reduction injections of Kybella, can improve the contour. Using a chin implant, Dr. Gill will increase the projection of your chin, improving your profile and likely improving your self-image, as well. Dr. Gill celebrates your unique profile and only enhances it by augmenting or reshaping what is out of proportion. If you think you would benefit from the placement of a chin implant, call our office in Shenandoah, TX to make an appointment.
Chin Augmentation

Before & After Photos

Before & After
Case #512
Procedure: Chin Augmentation and Liposuction to the jawline/neck.This beautiful patient was looking to improve her receding chin by adding projection. Adding projection with a chin implant + liposuction is a great option to improve profile and create better facial balance.
Read More

Before & After
Keep in mind that each patient is unique and your results may vary.
Ideal Candidates
Chin enhancement (augmentation) is an aesthetic option for men, as well as women. If you are self-conscious because of the size of your chin and do not like the undefined profile it offers, this cosmetic enhancement can improve the lower section of your face and neck. It's also fairly common for our patients to have rhinoplasty as well when they have their chin augmentation procedure. This blend of enhancements offers great reassurance for the prominent structures of your face to be balanced and in proportion.
Chin augmentation surgery is a popular procedure that can increase the projection of the chin to balance out your facial features. Everyone's face varies, but for each person, the chin should be prominent, yet still in proportion with the nose and the forehead. Chin surgery is ideal for individuals who have an inadequate chin bone structure or a chin that is relatively small on the face. The surgery usually involves the surgical insertion of a type of alloplastic implant to add projection to your chin. The best candidates for chin surgery have:
Good health
Unbalanced chin size/proportion
Realistic expectations about cosmetic surgery
If you have severe microgenia or misaligned teeth, you may not be an ideal candidate for this procedure.
Drs. Paul & Anita Gill
Combining the science of plastic surgery and dermatology with the art of aesthetic procedures, Dr. Paul Gill and Dr. Anita Gill use their experience and expertise to create attractive results in a comfortable, patient-centered environment.
Meet Dr. Paul Gill
Meet Dr. Anita Gill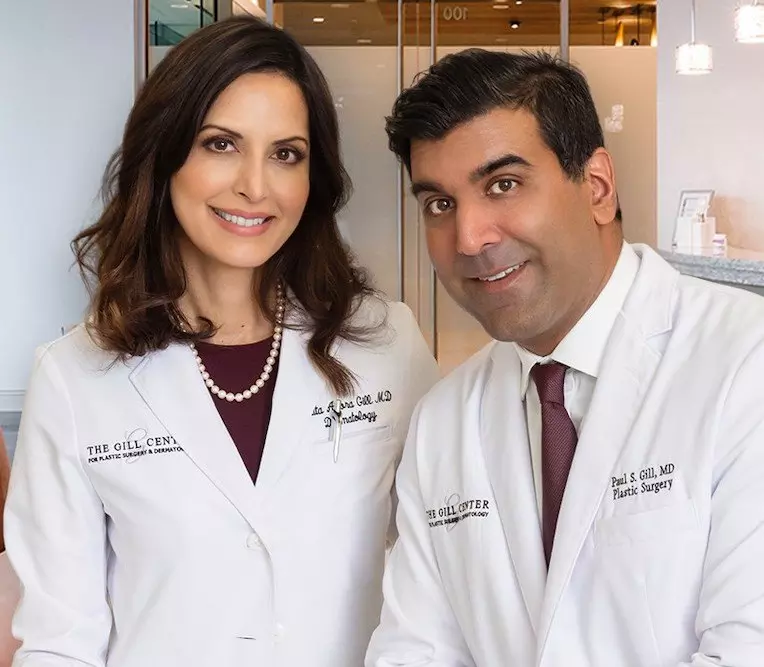 Surgical Technique
If you are to undergo chin surgery, Dr. Gill will have you prepare several days prior by either using a topical antibacterial cleanser on your face or using a medical-grade mouthwash, depending on whether he will make incisions inside or outside your mouth to insert the implant. During this procedure, general anesthesia will be administered, or sedation by IV in some cases. The incision is carefully made just under your chin. In this incision, a pocket is made to keep the implant device in its proper place, which involves removing and shaving some of the bone and cartilage to create grooves to securely hold your implant in position. The chin implant (made of silicone rubber, Goretex, or acrylic) is placed through the incision and positioned on top of the bone, directly below your lower lip. Sometimes, the incision can be created inside the crease in the lower lip where it connects to your gumline. Regardless, both help to conceal scars. Thin sutures are used to connect and close the incisions and your chin will be wrapped with bandages.
What to Expect
After your chin surgery, you will be on a soft diet and must resist touching your chin. Good oral hygiene is paramount and you will need to clean your mouth regularly with mouthwash. You should keep your head elevated during this time. Any pain you experience may be managed with medication.
Chin enhancement treatment creates immediate attractive results, which can be pretty delightful for our patients. Even though redness, swelling, and discoloration will be present after your surgery, this only lasts a short while. For many, chin augmentation takes about 1 – 3 weeks of healing. Heavy exercise should not be performed while in this recovery window. This particular surgery has historically high success rates under the hands of our experienced plastic surgeon, Dr. Gill. We will also provide you with detailed aftercare instructions to help your incisions heal nicely and to prevent infection.
Reviews
"Hands down the best experience! I went to multiple consultations before deciding which doctor I wanted to go with for a breast augmentation, and after I visited Dr. Paul Gill, I knew he was the doctor I would choose! He is very knowledgeable and professional, and his staff is so friendly and so sweet."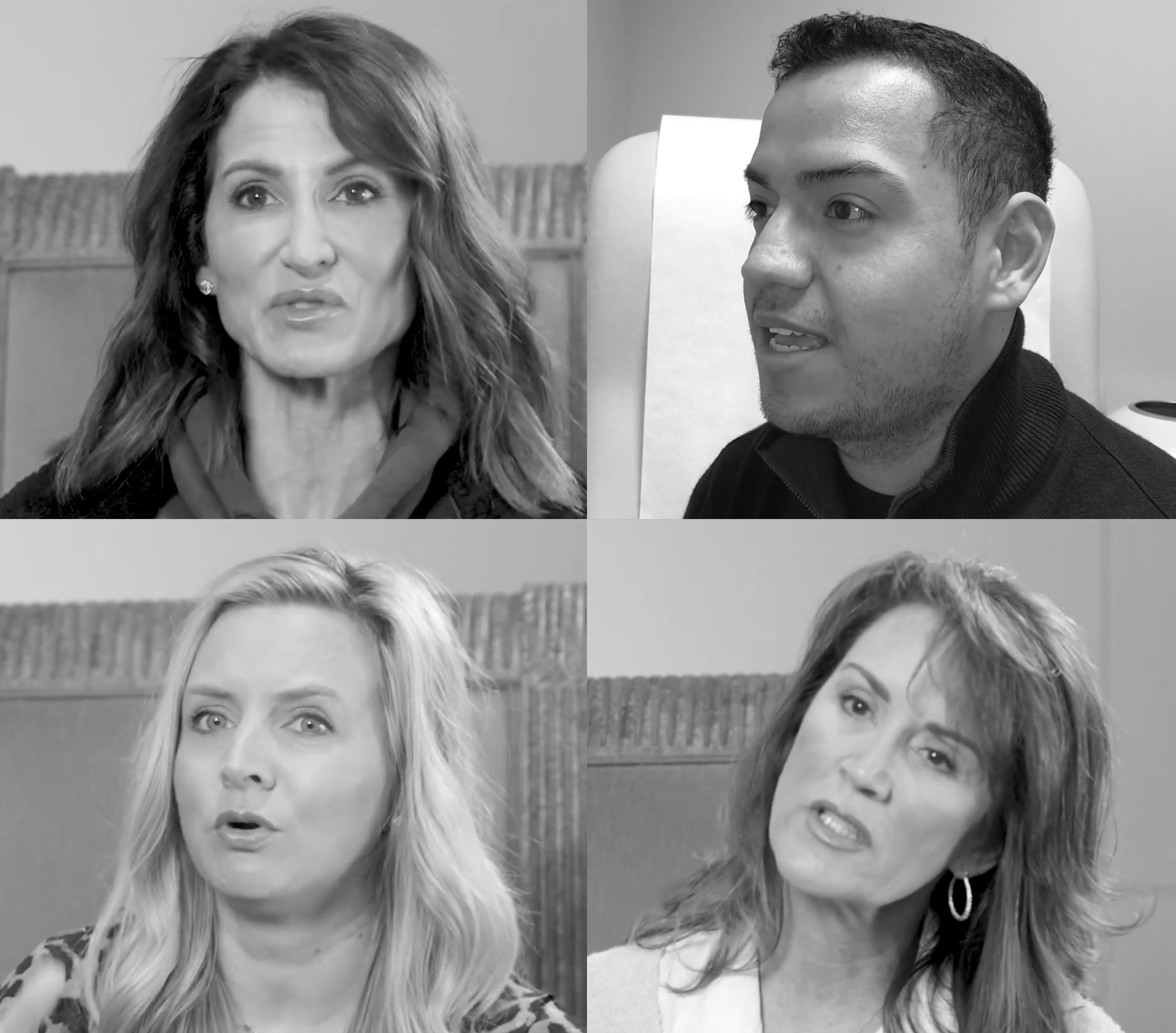 *Real Patients
Frequently Asked Questions
How much does chin augmentation cost?
Dr. Gill can begin to estimate your costs for a chin implant in your initial consultation as soon as your surgical plan is created. Your cost will be based on the size and type of chin implant you select, along with facility, surgical, and anesthesia fees. A surgery, like a chin implant, can produce wonderful, long-lasting results. Focusing on the price is not as important as concentrating on finding a cosmetic surgeon you trust who has proven results and many years of experience, like Dr. Gill. The Gill Center for Plastic Surgery and Dermatology takes several forms of payments and we can give you information on low-interest financing.
Will augmentation fix my double chin?
Surgical chin augmentation is meant to give you a stronger, sharper look to your lower face. If you want to correct a double chin, you might prefer neck liposuction to have the excess fat in your submental area (the upper neck below the jawline) is corrected. Occasionally, neck liposuction on its own can give you a better jawline and appearance without chin augmentation surgery. Dr. Gill will go over your choices and his suggestions in your first appointment.
Can I combine other facial surgeries with chin augmentation?
Many people get a chin implant along with another facial surgery, such as cheek implants or nose reshaping surgery. Dr. Gill can help you choose the procedures to match your concerns and wants in your initial consultation. It might be challenging to decide by yourself what procedure(s) might be best for you, which is why your consultation with Dr. Gill is crucial. He will use his years of experience to help you create your custom plan.
Are there nonsurgical procedures to improve the appearance of my chin?
To correct stubborn fat in your neck that can cause a double chin, Kybella injections are a minimally invasive treatment to improve the appearance of your chin. Kybella has been approved by the FDA (Food and Drug Administration) to eliminate fat in your upper neck (the submental area). This might be all you need or Kybella might be performed along with chin surgery to deliver your optimal results.
What's the difference between mentoplasty and genioplasty?
Chin augmentation surgery, also called mentoplasty, is a procedure that builds fullness to your chin. On the other hand, genioplasty is a procedure to rebuild the chin bone. Based on the state of your chin, plus your cosmetic goals, you might require both surgeries or one. A genioplasty, in addition to being a cosmetic procedure, may also be performed to improve medical concerns, like your dental bite. Dr. Gill can help you choose between a genioplasty, mentoplasty, or both.
Consult with Dr. Gill Today
Chin enhancement surgery continues to be very beneficial to so many Shenandoah, TX patients of plastic surgeon Dr. Gill. Chin augmentation creates harmony and balanced definition by recontouring your facial structure and look. If you do not like the appearance of your jawline and you feel it is recessed or too prominent, chin augmentation can offer a solution. We welcome you to call The Gill Center for Plastic Surgery and Dermatology and schedule your consultation with Dr. Gill to hear more about your cosmetic surgery options.
Back to Top