The Gill Center for Plastic Surgery & Dermatology
121 Vision Park Boulevard, Suite 100
Shenandoah, TX 77384
Phone: (281) 853-5308
Mon-Thurs: 8 a.m. – 4:30 p.m.
Friday: 8 a.m. – 2 p.m.

Mommy Makeover
Board-certified plastic surgeon Dr. Paul S. Gill gets great satisfaction in helping women rejuvenate their appearance after pregnancy, aging, and weight loss. One way to accomplish this goal is by combining body contouring and breast procedures into a single surgery called a mommy makeover. As the husband of a busy dermatologist and father of 2 daughters, Dr. Gill understands the demands women have on their time and the responsibilities of career and family. He knows the importance of giving a patient one surgery date, one recovery period, and one time set aside for downtime to heal her body. Women visit Dr. Gill for mommy makeover plastic surgery in The Woodlands from Conroe, Cypress, Tomball, Spring, Houston, and other nearby Texas communities to improve multiple areas with a single recovery period.
Mommy Makeover

Before & After Photos
WARNING:
This feature contains nudity. Please click OK to confirm you are at least 18 years of age and are not offended by such material.
OK
What Is a Mommy Makeover?
A mommy makeover uses a combination of skin tightening and fat reduction techniques to reshape the breasts, stomach, buttocks, and thighs—or virtually any body part affected by nursing, weight gain, or weight loss. Furthermore, nonsurgical procedures can be incorporated to address surface imperfections, such as skin problems or stretch marks, from the rapid stretching and weight fluctuations. Dr. Gill is a mommy makeover specialist who can help you regain your beautiful figure and self-confidence.
How Much Does a Mommy Makeover Cost Near Houston, Texas?
At our practice in The Woodlands near Houston, the cost of a customized procedure in plastic surgery such as a mommy makeover varies depending on a number of factors, such as the specific procedures included during the surgery and the time needed to complete them. We provide detailed price quotes to patients after their consultations so they can review them at home before making their decisions. Even though the price of a mommy makeover is a factor for virtually all patients, it shouldn't be the primary reason for choosing a plastic surgeon.
What Procedures Are Usually Included in a Mommy Makeover?
There are many mommy makeover options and Dr. Gill collaborates with patients during their consultations to create individualized plans based on their anatomy, their desired goals, and the amount of available downtime to patients.
In some cases, you may experience a loss of breast volume after pregnancy and breastfeeding, causing you to feel self-conscious. Breast augmentation is a cosmetic procedure that increases your breast size and projection, giving you fuller breasts. With this procedure, you can restore or even enhance your breast size by having implants placed. Before the procedure, you'll have a detailed talk with Dr. Gill about the specifications of your implants, options for implant placement, incision options, your expectations from the surgery, and more.
Breast lift surgery, also known as mastopexy, is a procedure that restores the shape of sagging breasts after pregnancy and breastfeeding by removing excess skin. The remaining tissue is then reshaped and tightened to raise the breasts and restore firmness. Asymmetry can be addressed through this procedure, and repositioning and resizing the areola can also be performed.
Most women who choose to have this surgery do so because they're self-conscious about drooping breasts or nipples that point downwards. This procedure fixes these problems effectively. A breast lift will also create more cleavage and upper pole fullness to the breast.
Breast augmentation with a lift is a common technique that works very well for women who have had post-partum deflation and volume loss along with loose skin. This procedure involves the use of an implant to help restore the volume and then a breast lift to help reshape the overlying skin and soft tissues. This can help correct any size or shape asymmetries and help restore the breast envelope to its previous state.
Women who have seen an increase in breast volume after childbirth or as they age can undergo a breast reduction in which excess breast tissue is removed and the remaining loose breast skin is tightened to lift the breast and provide a more natural youthful breast. This procedure can offer a significant improvement in musculoskeletal issues, such as neck and back pain, associated with breast tissue excess.
Breast revision surgery is not uncommon for women who have had a prior breast augmentation and then have babies — only to see loose skin and loss of volume in their breasts. These women are excellent candidates for a revision breast augmentation or breast lift procedure, where the loose skin envelope that has developed can be tightened around an existing implant and either a larger or smaller implant can be placed to optimize shape and symmetry.
Dr. Gill can perform liposuction to address fatty tissues to help restore a leaner look and contour. Lipo offers superb clinical results and is probably the most commonly performed abdominal contouring procedure in Dr. Gill's practice. It can be used on areas like your midsection, hips, arms, buttocks, thighs, knees, back, and neck.
After childbirth, the abdominal area may be left with excess fat, loose skin, drooping muscle tissue, and stretch marks. The tummy tuck, also known as abdominoplasty, is a procedure that can address all of these issues. During this procedure, excess fat is removed using liposuction, hanging skin is trimmed with a scalpel, and the weak underlying muscles are tightened with internal sutures. When excess skin is removed, stretch marks on this skin may also be eliminated.
A mini tummy tuck is designed for women who have loose skin and muscle only in the lower abdomen but maintain good tone and skin quality of their upper and central abdomen. An extended tummy tuck procedure involves the tummy tuck with liposuction, but the incision extends beyond the flank and hip area. Dr. Gill performs the extended tummy tuck in patients who have had multiple pregnancies, pregnancies with twins or triplets, or after extreme weight loss. It allows him to address the flank and hip excess skin in a more elegant and natural fashion.
A body lift or belt lipectomy is a procedure that addresses the loose skin of the lower back, buttocks, and outer thighs, along with the extended tummy tuck. A 360° tummy tuck or circumferential lift is commonly performed in patients who have had a significant amount of weight loss either after bariatric surgery or a notable decrease in weight with diet and exercise (100+ pounds). This is optimal contouring to the trunk.
Drs. Paul & Anita Gill
Combining the science of plastic surgery and dermatology with the art of aesthetic procedures, Dr. Paul Gill and Dr. Anita Gill use their experience and expertise to create attractive results in a comfortable, patient-centered environment.
Meet Dr. Paul Gill
Meet Dr. Anita Gill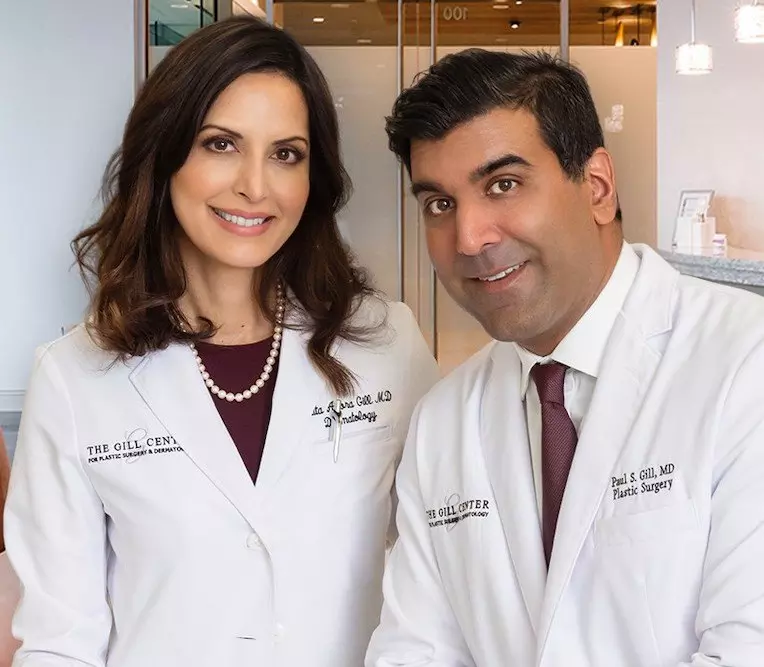 Ideal Mommy Makeover Candidates
Ideal candidates for plastic surgery body contouring and mommy makeover are patients who have undergone pregnancy, weight-loss, and nursing, and have tried to get a younger-looking and tighter body through a consistent, healthy lifestyle with little results. For many women, plastic surgery intervention is recommended to reclaim their figure. If you are past childbearing and are dissatisfied with the changes of your body, such as lifeless, deflated breasts, saggy skin in the abdominal area, or undesirable areas of fat tissue in the hips, thighs, and buttocks, this procedure could help you. The overall goal of Dr. Gill is to help you reclaim your body. Then, you can get back to living life and enjoying your figure again.
Dr. Gill will perform a detailed exam of your body and provide you with options for contouring. He will then assess your body in terms of the amount of skin, fatty tissue, and loose muscle you have. Based on this assessment, Dr. Gill will make recommendations on the contouring procedures that will optimize your results.
Surgical Technique
The mommy makeover procedure is a body contouring surgery that's tailored for each woman by cosmetic surgeon Dr. Gill based on the areas of concern to be repaired. A variety of procedures can be paired together — the most popular treatments are liposuction of the flanks and lower back, as well as breast lift surgery, breast implants, breast reduction, breast revision, and tummy tuck surgery. The mommy makeover surgeries are performed while you are under general anesthesia, lasting 3 to 7 hours, depending on the complexity. Also, a stay at the hospital might be necessary. It is common to also incorporate nonsurgical skin procedures, such as a cosmetic injection or a laser treatment, to smooth facial wrinkles and diminish surface issues. Depending on your condition and the amount of surgery performed on you, we may recommend an overnight stay for your safety and security.
What to Expect
We recognize that many moms have a busy lifestyle taking care of their family and/or trying to balance a professional career. To discuss recovery, it is often best to offer a timeline after knowing what procedures are going to take place. We will always begin with a screening mammogram, pre-operative lab work, and any necessary medical clearance. Our practice will then arrange a pre-operative visit to review your results, to discuss your procedure in terms of recovery/risks/realistic expectations, to go over your pre- and post-operative care instructions, and to give you prescriptions. This visit is a good opportunity to bring a friend or family member who will be there by your side after surgery. This should be the person or people who will be helping take care of you in your recovery.
How Long Does It Take to Recover From a Mommy Makeover?
Recovery experiences vary depending on the procedures performed and individual patient factors. You will see Dr. Gill for follow-up visits at 1, 3, and 6 weeks post-surgery to assess your progress and make appropriate recommendations on your recovery. You will then visit us every 3 months for one year. During that time, we can closely follow and monitor your incisions and results.
Recovery Timeline
Mommy makeover recovery generally proceeds along the following timeline:
Day of surgery: Return home in the care of an adult.
7 to 10 days: Discontinue pain medication.
2 weeks: Drain tubes removed. Resume nonstrenuous work and activities. Bruising fades.
3 to 4 weeks: OK to stop wearing compression garments (if cleared by Dr. Gill).
4 to 6 weeks: Resume strenuous exercise and heavy lifting.
6 months: Achieve final results. (Swelling may not be fully dissipated.)
6 to 12+ months: Scars fade and flatten.
You will receive detailed post-op instructions for minimizing discomfort and the risk of complications after surgery.
Reviews
"Hands down the best experience! I went to multiple consultations before deciding which doctor I wanted to go with for a breast augmentation, and after I visited Dr. Paul Gill, I knew he was the doctor I would choose! He is very knowledgeable and professional, and his staff is so friendly and so sweet."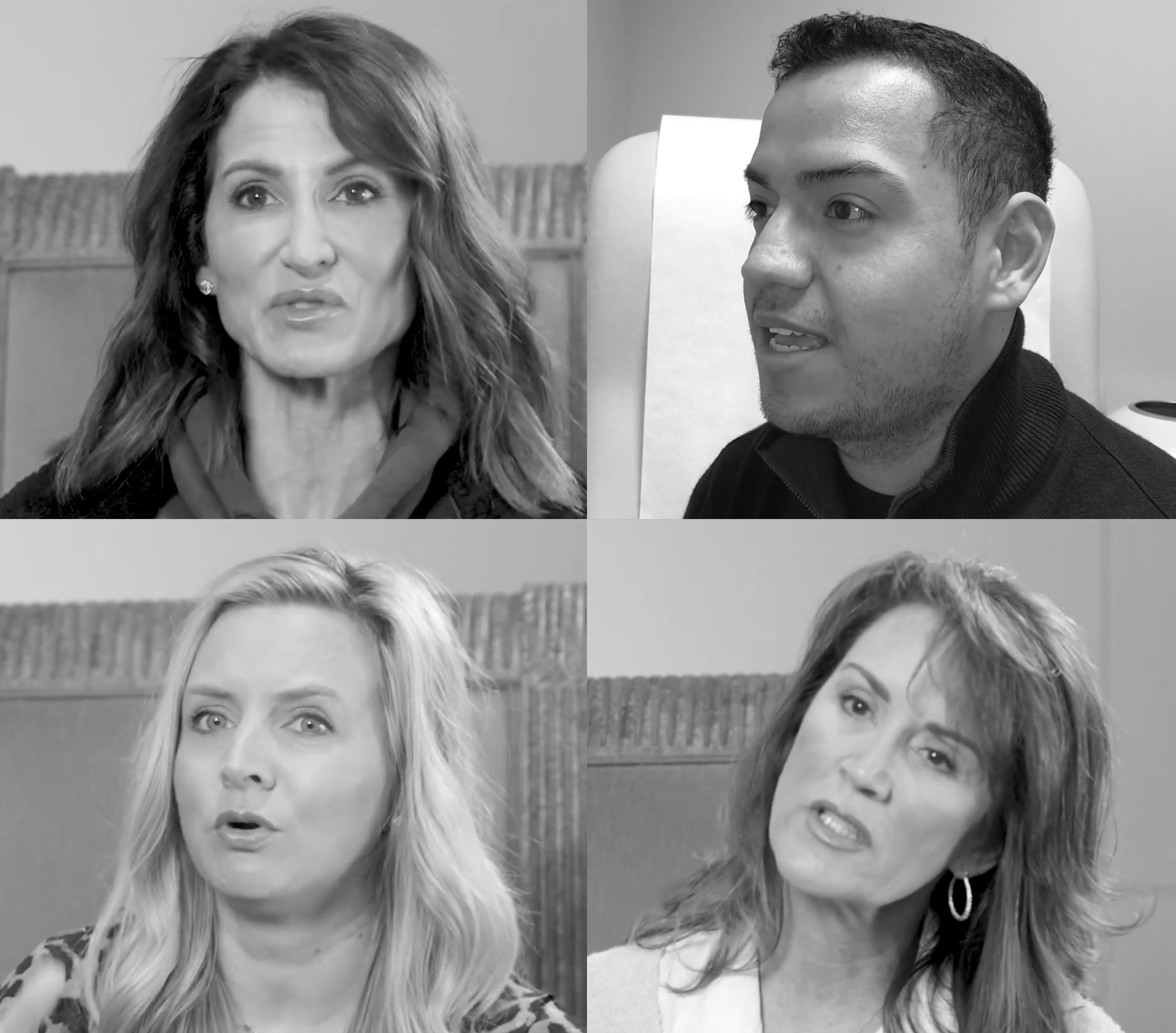 *Real Patients
Frequently Asked Questions
What's the ideal BMI to be at before getting a mommy makeover?
While a specific BMI might not be the same for every patient, it's important to be at a healthy, stable weight before any surgery, especially before more complicated surgeries like mommy makeovers. Dr. Gill explains why in this blog post.
How do I decide what to include in my mommy makeover?
During your consultation with Dr. Gill, he will discuss your wants and needs before performing a physical examination. Following this, he can give you suggestions on what to include in your treatment plan. Women often want cosmetic breast surgery (an augmentation, lift, or both) together with a tummy tuck and liposuction.
What about nonsurgical treatments?
Childbirth and pregnancy are hard on your body, which is why nonsurgical procedures usually aren't enough to produce significant improvements. In your consultation, Dr. Gill will go over both nonsurgical and surgical treatments. After listening to your concerns and goals, he will tell you if these procedures, such as CoolSculpting® or laser skin resurfacing, may be helpful.
Will I have scars?
Although a mommy makeover gives you a rejuvenated figure, it does leave surgical scars. Dr. Gill will create clean, small incisions. Most scars will be placed so they can be hidden behind your swimsuit or underwear. When reviewing your post-surgical care instructions, Dr. Gill or a member of his team will give you tips on scar care so your sutures heal flat and eventually fade.
What if I get pregnant again?
Ideally, you should hold off on getting a mommy makeover until your family is complete so your results aren't compromised. In most cases, all treated areas of your body are at risk for changing if you were to get pregnant again. Should you have another child after a mommy makeover, a revision mommy makeover surgery may be done to restore your results.
How much weight do you lose with a mommy makeover?
Even though Dr. Gill removes some excess fat during mommy makeover procedures, weight loss isn't the goal of the surgery. Patients may lose a few pounds because of the surgery.
Experience You Can Trust
If you're looking for a mommy makeover specialist in Conroe or Spring, TX, we welcome you to contact The Gill Center for Plastic Surgery and Dermatology in The Woodlands to hear more about the body contouring options we offer. During the consultation process, Dr. Gill will address your concerns and aesthetic goals and create a personalized treatment plan to repair each area. Let's talk about your mommy makeover today!
Back to Top