The Gill Center for Plastic Surgery & Dermatology
121 Vision Park Boulevard, Suite 100
Shenandoah, TX 77384
Phone: (281) 853-5308
Mon-Thurs: 8 a.m. – 4:30 p.m.
Friday: 8 a.m. – 2 p.m.

'How Soon Can I Drive?': A Guide to Your Mommy Makeover Recovery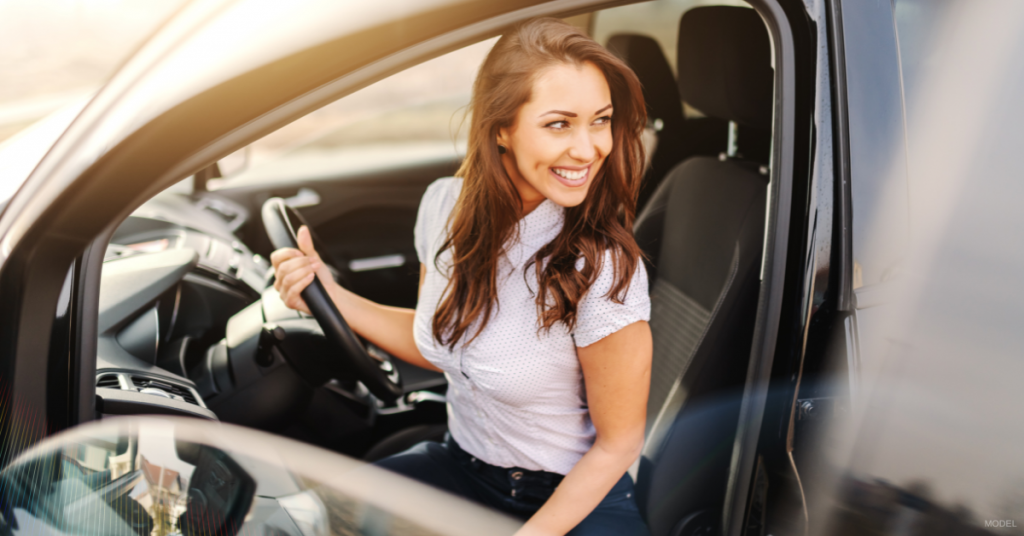 Busy moms juggling work, carpools, and a thousand other obligations that come with being a parent often neglect to take care of their own needs. Some of the women we see considering mommy makeover surgery at our practice in The Woodlands, TX, say they're concerned about a lengthy recovery putting them on the parenting sidelines for too long. How soon can you drive after a mommy makeover? How long do I have to avoid lifting my kids? What do I do about child care? These are just a few of the concerns patients often have about their downtime.
Why Choose a Mommy Makeover?
We understand that the choice to get mommy makeover surgery—which typically combines a tummy tuck, liposuction, and a breast lift with or without implants—is a big commitment. Board-certified plastic surgeon Dr. Paul Gill and board-certified dermatologist Dr. Anita Gill have 2 daughters and know that parents get stretched thin.
Having children, though, results in changes to the body that no amount of working out or following strict diets can address, such as tightening loose abdominal skin or repairing separated abdominal muscles. And deflated breasts won't magically regain their volume or shape. If those changes have undermined your confidence and you're looking for a way to regain your pre-pregnancy body, a mommy makeover is an excellent option.
Dr. Gill is hands down the best surgeon out there. From pre-op to post-op, I am 100% happy with my Mommy Makeover. I went to several surgeons, prior to choosing Dr Gill. By far, Dr. Gill had the best bedside manner, listening to MY wants and needs, then making his recommendations. He has the most amazing and caring staff, calling you often. Day of surgery was seamless. I hired a nurse after, who takes care of cosmetic surgery patients. She has seen many surgeries, and when she said my results are one of the best she has ever seen, That tells you a lot! Thank you Dr. gill and staff for treating me like royalty, and with my new body I feel like royalty too! – 5 Star Google Review
With that in mind, this blog post can serve as a guide to what you can expect after the procedure and recommend ways you can prepare before the procedure to help the recovery process go as smoothly as possible.
What To Expect During Mommy Makeover Recovery
This timeline is based on Dr. Gill's extensive experience performing mommy makeover procedures. It's important to understand, though, that it's a general guide and each patient's own recovery depends on the extent of their surgery and how quickly they normally heal.
Expect 2 to 3 Weeks of Downtime
There's no sugarcoating it; the first week of recovery is uncomfortable and you'll do little but sleep, eat, get up to use the bathroom, and take short, slow walks around your home to help boost blood circulation. You'll need to remain slightly bent over during these brief walks to avoid putting strain on your tummy tuck incision.
Taking prescription pain medication minimizes the discomfort during the first 7 to 10 days of recovery. We want patients to be able to stop the pain meds sometime during the second week after surgery. Most people return to work after 2 to 3 weeks, though this timeline may vary a bit depending on how physically demanding your job is.
To answer the question about how soon it will be before you can drive, the timing depends on when you are no longer taking prescription pain medication and how soon you can turn your body comfortably. That should coincide with returning to work.
Line Up Child Care and Other Help
If you're a mother of a young child or children, one of the most challenging aspects of recovery is having to avoid lifting your toddler during the first month to 6 weeks following surgery. If possible, arrange to have your kids stay with close friends or family members for the first few days of your recovery. That will enable you to get enough rest throughout the day.
If your spouse or partner continues working during the recovery period, you'll need someone to help out around the house, shuttle children to and from school, and ensure that you can focus on resting. Preparing meals before your surgery is one way to limit the amount of help you need.
Other preparations include filling prescriptions ahead of time and creating a "recovery nest" that includes everything you'll want to have within arm's reach. This could be a smartphone, remote controls, medications, snacks, water, pillows, cold packs, and blankets. If you're not used to sleeping on your back, sleeping in that position in the weeks leading up to your surgery date is also a good idea.
'When Will I Feel Normal?'
If working out at the gym and feeling energized throughout the day is your definition of "normal," you should expect it will take about 6 weeks before you regain that feeling. You'll gradually increase your level of activity throughout those 6 weeks, but it's important to resist the urge to push yourself physically until you are completely healed.
You'll return to our office to meet with Dr. Gill several times during the recovery process for follow-up appointments, including a 6-week check where he can assess your progress and give you the all-clear for strenuous exercising. Of course, we encourage patients to contact us with any questions or concerns they have during the recovery period.
Dr. Gill discusses mommy makeover recovery:
Take the First Step
If you're looking for a mommy makeover specialist in Conroe or Spring, TX, request a consultation using the online form to meet with Dr. Gill. He can address all of the questions you have about the procedure and what to expect during recovery. You can also call us at (281) 853-5308 to schedule an appointment.
Tagged with: Breast Augmentation • breast implants • breast lift • liposuction • mommy makeover recovery • Tummy Tuck

* All information subject to change. Images may contain models. Individual results are not guaranteed and may vary.
Back to Top