The Gill Center for Plastic Surgery & Dermatology
121 Vision Park Boulevard, Suite 100
Shenandoah, TX 77384
Phone: (281) 853-5308
Mon-Thurs: 8 a.m. – 4:30 p.m.
Friday: 8 a.m. – 2 p.m.

Gynecomastia Surgery
Are you bothered by the size and shape of your chest? Have you ever been diagnosed with gynecomastia? You are not alone. As an adolescent or man with gynecomastia in Conroe, Cypress, Tomball, Spring, or even outside the area, you may want to consult with a plastic surgeon to discuss your options. Board-certified plastic surgeon Dr. Paul S. Gill, performs male breast reduction for gynecomastia at our practice in The Woodlands, TX.  Dr. Gill's experienced aesthetic eye, high level of training, and friendly bedside manner make for an exceptional surgical experience.
Reasons for Male Breast Reduction
If you have gynecomastia, you may try to hide your feminine-like breasts with baggy clothes or by never exposing your chest at the beach, pool, or gym. The exact cause of gynecomastia is unknown; however, many times it can be related to a hormonal imbalance, a medication reaction, steroid usage, or heredity. Excess chest fat or glandular tissue can be nonresponsive to weight loss, diet, and/or exercise, which can be highly frustrating. There may also be some tenderness or a slight sensitivity to the breast and/or nipples on your chest. Not to mention, many men with this condition often feel anxious, self-conscious, and worried about their health and appearance. In a private and confidential gynecomastia treatment consultation at his practice in Shenandoah, TX, Dr. Gill can discuss with you the options you have to reshape your chest into a more masculine and lean shape.
Ideal Candidates
The best candidates for corrective gynecomastia surgery are men who are healthy, at a stable body weight, and have a realistic view of the expected outcome. Smokers should quit several weeks before their surgery. Before considering male breast reduction, it may be necessary to investigate the possible causes of your condition and make lifestyle changes with the guidance of a physician. Male breast reduction treatment is reserved for men with oversized breasts that cannot be treated through medications or diet. If you feel anxiety or are bothered by the size and shape of your chest (but you're healthy and at a good weight), you may benefit from a male breast reduction surgery by Dr. Gill at The Gill Center for Plastic Surgery and Dermatology. Adolescent teens may also obtain positive results from gynecomastia treatment; however, an additional procedure may be needed later as an adult if excess breast tissue continues to develop. In your initial consultation with Dr. Gill, he will present you with a treatment plan that is in your best interests.
Drs. Paul & Anita Gill
Combining the science of plastic surgery and dermatology with the art of aesthetic procedures, Dr. Paul Gill and Dr. Anita Gill use their experience and expertise to create attractive results in a comfortable, patient-centered environment.
Meet Dr. Paul Gill
Meet Dr. Anita Gill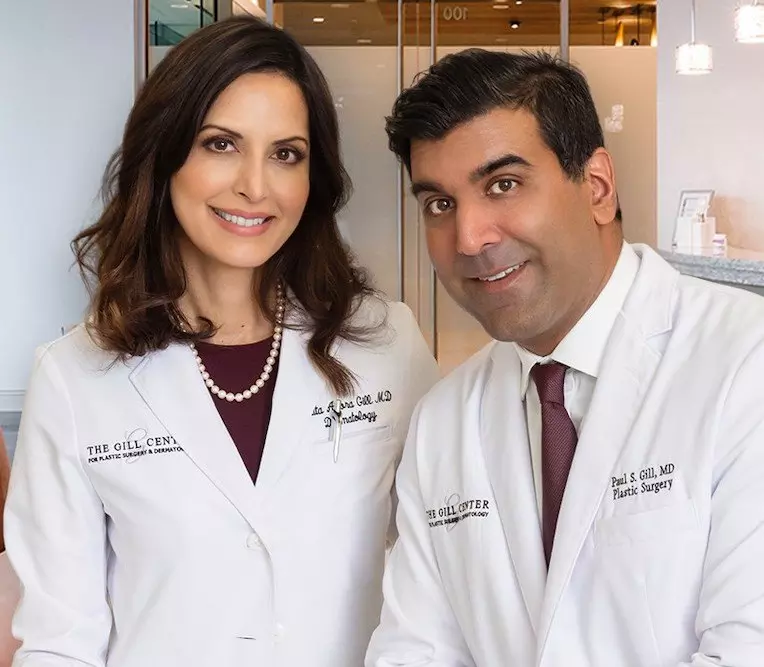 Surgical Technique
Before surgery, Dr. Gill may request an MRI to analyze the composition of your breast tissue, to discern if it is largely fat or glandular tissue. Male breast reduction surgery requires about 1 hour to complete. A local or general anesthesia may be used, depending on the extent of your tissue removal. Incisions are made around the nipple and areola, or in some cases, near the underarm. Glandular tissue can be removed from the breast using a scalpel, while fat is typically removed with liposuction. If a large amount of tissue is removed, the doctor may need to remove the loose skin as well. The incisions are then closed with sutures and your chest will be wrapped in gauze. For complex cases where a more intricate approach was used, a small tube for draining may be properly positioned to help with fluid. The outcomes following this procedure are almost immediately visible and most men are extremely excited about the cosmetic enhancement.
What To Expect
After your male breast reduction surgery, you should be back to your normal routine in about one week (minus heavy workouts). The surgical incisions and stitches will be wrapped in gauze, and the stitches will be removed during a post-operative follow-up appointment with Dr. Gill. You will need to avoid strenuous exercise for at least 3 weeks. With your new, masculine-appearing chest, our practice requires a medical clearance from Dr. Gill to incorporate exercise and weight training, which will help accentuate the surgical results. This is for your protection and to keep your incisions intact. Most of our gynecomastia treatment patients return to the gym for weight training about three weeks after their surgeries.
As the swelling subsides, you will be better able to appreciate the results of your male breast reduction. With exercise and a healthy lifestyle, the results can be further improved and long-lasting. Risks or possible complications of a male breast reduction can include but are not limited to scarring, infection, pigmentation changes, and asymmetry. Ask Dr. Gill for more details if you are concerned about the risks involved with plastic surgery.
Reviews
"Hands down the best experience! I went to multiple consultations before deciding which doctor I wanted to go with for a breast augmentation, and after I visited Dr. Paul Gill, I knew he was the doctor I would choose! He is very knowledgeable and professional, and his staff is so friendly and so sweet."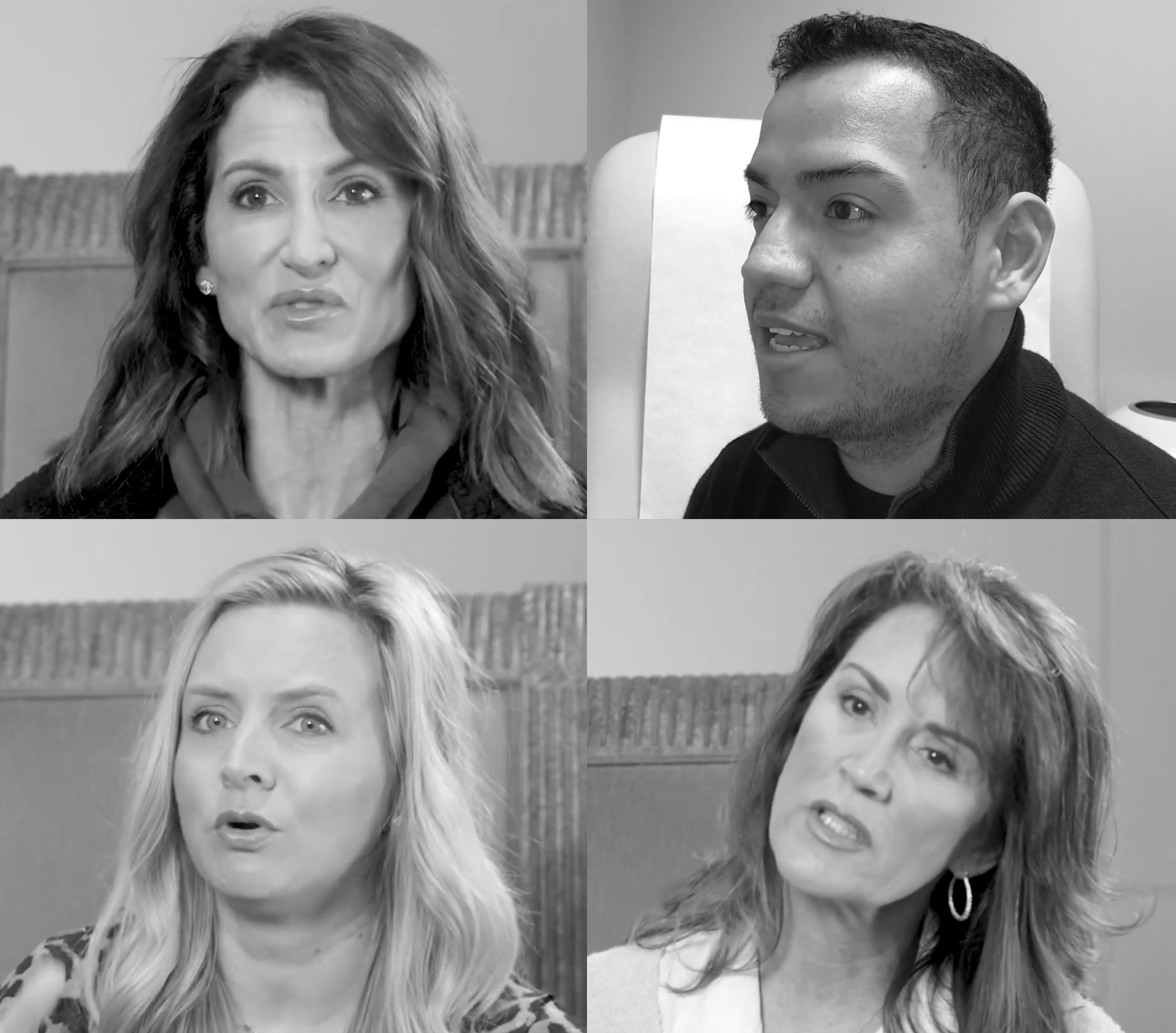 *Real Patients
Frequently Asked Questions
How much does male breast reduction cost?
Excessive male breast tissue (gynecomastia) is a medical problem that is best handled by an experienced surgeon. For this reason, Dr. Gill suggests you focus on how to get your best results rather than costs. To make male breast reduction surgery fit your budget, The Gill Center for Plastic Surgery and Dermatology takes several payment methods and we can also offer you low-interest financing. While surgery for gynecomastia is generally not covered by insurance, it's worth contacting your insurer to check.
What causes gynecomastia?
Many in the medical industry believe that gynecomastia develops in men when there is a hormonal imbalance. For instance, gynecomastia is connected to the use of androgens and anabolic steroids as it alters hormones. It may also be the result of using illegal drugs, including marijuana or heroin. Gynecomastia might also be triggered by some medical conditions (hyperthyroidism, hypogonadism, and tumors) or some medications (highly active antiretroviral therapy for AIDS, chemotherapy, and anti-anxiety medications).
How can I tell if I have gynecomastia?
Gynecomastia occurs in men when there is an overgrowth of breast tissue in the chest, which can cause pain, swelling, and breast/nipple tenderness. Some patients might have pseudogynecomastia (false gynecomastia) so Dr. Gill suggests his patients with extra breast tissue lose weight by following an exercise plan and a healthy diet before considering surgery. If you have excess breast tissue when you are at a healthy weight, Dr. Gill will perform a physical exam and order diagnostic tests. This might include a mammogram, blood tests, or a biopsy to look for other causes, like an infection or another medical condition.
Can gynecomastia be treated with exercise or pills?
Male breast reduction surgery is the most effective treatment for gynecomastia. Currently, the FDA (Food and Drug Administration) hasn't approved any medications for the treatment of gynecomastia. Although they aren't approved for gynecomastia, a few breast cancer medications (Raloxifene or Tamoxifen) might give minimal improvements. Upper-body weight training to increase the pectoral muscles will not reduce the excess breast tissue and could even make the breasts look bigger.
Will this fix puffy or pointy nipples?
Puffy or pointy nipples may be caused by glandular gynecomastia. If you are concerned about this, be sure to tell Dr. Gill at your consultation. He will personalize your surgical plan to select the best incision pattern and technique to improve your nipple appearance. Oversized areolas may also be corrected in surgery for gynecomastia. It is crucial to be honest with Dr. Gill about all your concerns and wants during your initial consultation.
Let's Evaluate Your Chest
Schedule a private, one-on-one consultation with Dr. Gill to learn about our male breast reduction procedure at The Gill Center for Plastic Surgery and Dermatology. Once you've had treatment for gynecomastia (male breast enlargement), you won't have to keep hiding your chest when you go to the gym and beach. We have assisted so many Shenandoah, TX, men and have enjoyed helping them re-establish their self-esteem. Call us at (281) 853-5308 and schedule your male breast reduction for the treatment of gynecomastia. We look forward to meeting you.
Back to Top