The Gill Center for Plastic Surgery & Dermatology
121 Vision Park Boulevard, Suite 100
Shenandoah, TX 77384
Phone: (281) 853-5308
Mon-Thurs: 8 a.m. – 4:30 p.m.
Friday: 8 a.m. – 2 p.m.

Neck Lift
Your neck skin can show the negative consequences (like the visible neckbands and deep lines and wrinkles) of getting older. You might even be wearing turtlenecks or layered scarves throughout the year to cover the loose flaps of skin on your neck. Board-certified plastic surgeon Dr. Paul S. Gill can surgically remove these unappealing features through skin and tissue tightening techniques at his practice in The Woodlands, TX. A neck lift, also known as cervicoplasty or platsymaplasty, reshapes and tightens the area on the underside of your chin and along the neck by eliminating the lax skin that creates the "turkey neck," "turkey wattle," or a "double chin" appearance.
A neck lift is a great way for women and men from cities like Conroe, Cypress, Tomball, and Spring to even out creases and lines from under the chin and on the nearby neck skin. After the surgery, the neck can look visibly tighter and smoother. With a neck lift, Dr. Gill can give your neck a renewed, youthful appearance. Results from your surgery should last for a long time. You may be able to combine your neck lift with other facial rejuvenation procedures, which will allow you to match the revitalized skin on your neck with other areas of your face.
Ideal Candidates
If you have hanging neck skin, you are a likely candidate for a neck lift. The loss of elasticity in your neck skin is often caused by ranging factors, including aging and/or a dramatic weight loss. Whatever the reason may be, loose neck skin produces an older, unbecoming look, which (in most cases) can only be cosmetically fixed with skin excision and tightening techniques. If you are physically healthy and at a good weight but you feel embarrassed by lines, wrinkles, and hanging skin along the neck, a neck lift may be a recommended solution. Ask yourself if your neck skin exhibits:
Sagging neck tissues
Hanging jowls
Prominent neckbands
Excess fat deposits in the neck
Many people complain of developing jowls, which are hanging flabby areas on the jawline and the appearance of a double chin. Fatty deposits can build up over the years and overstay their welcome. Have you been noticing unwanted fat on your jawline and on your neck? If so, a neck lift with liposuction would be very beneficial by recontouring your neck and jawline.
Drs. Paul & Anita Gill
Combining the science of plastic surgery and dermatology with the art of aesthetic procedures, Dr. Paul Gill and Dr. Anita Gill use their experience and expertise to create attractive results in a comfortable, patient-centered environment.
Meet Dr. Paul Gill
Meet Dr. Anita Gill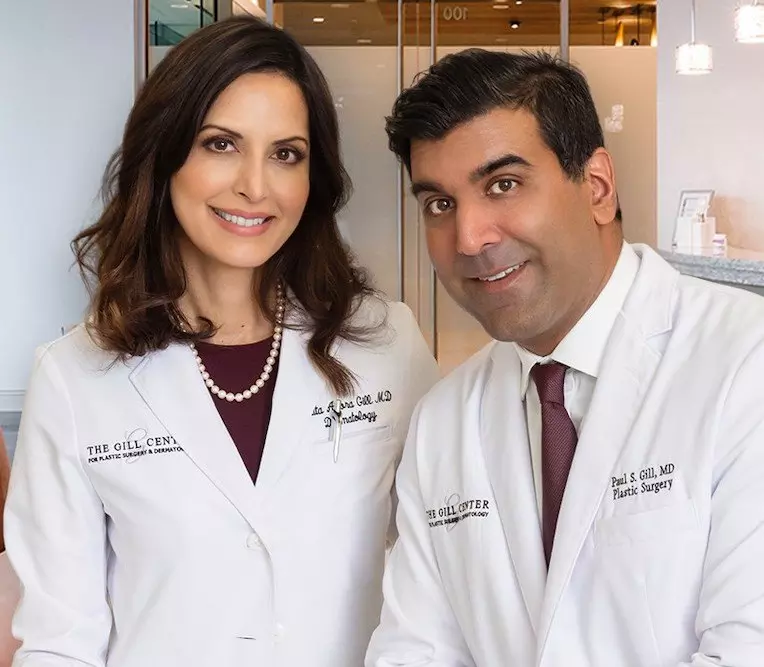 Surgical Technique
For your surgery, which may last 1 – 2 hours, you will likely be placed under a general anesthetic or a local anesthetic with sedation in an outpatient setting. Dr. Gill will provide you with a detailed surgical plan based on your needs. He may perform the following techniques:
For fatty deposits
If isolated areas of fat exist, fat removal with liposuction would be the first step in the surgical process. To remove fat from the neck area, Dr. Gill will perform liposuction to pull fat from your neck area via cannula.
For excess skin
Any sagging, loose, or hanging skin will be carefully excised and the underlying tissue and remaining skin will be pulled tight and sutured. This method of skin tightening is conducted until the desired contour has been achieved. Even though sutures are placed at the incision area, scars should not be noticeable since they were placed beneath your chin.
For a loose platysma muscle
To tighten loose platysma muscle tissue, Dr. Gill may perform a platysmaplasty. This includes an incision under your neck and also behind your ears. If necessary, Dr. Gill will eradicate sagging muscle tissue.
The recovery process for neck lift surgery will depend on techniques performed during your procedure. You will be sent to our post-op recovery until Dr. Gill discharges you to go home. Dr. Gill will require you to wear compression garments for up to three weeks and keep all follow-up appointments.
What to Expect
After a neck lift, there will probably be some mild swelling and discoloration from bruising, but these side effects will dissipate within a week or two. You should rest and try to avoid exercise or strenuous activity for a couple of weeks to support your recovery. While healing a neck incision, all fitted tops should be avoided. You should notice visible aesthetic differences almost immediately.
Reviews
"Hands down the best experience! I went to multiple consultations before deciding which doctor I wanted to go with for a breast augmentation, and after I visited Dr. Paul Gill, I knew he was the doctor I would choose! He is very knowledgeable and professional, and his staff is so friendly and so sweet."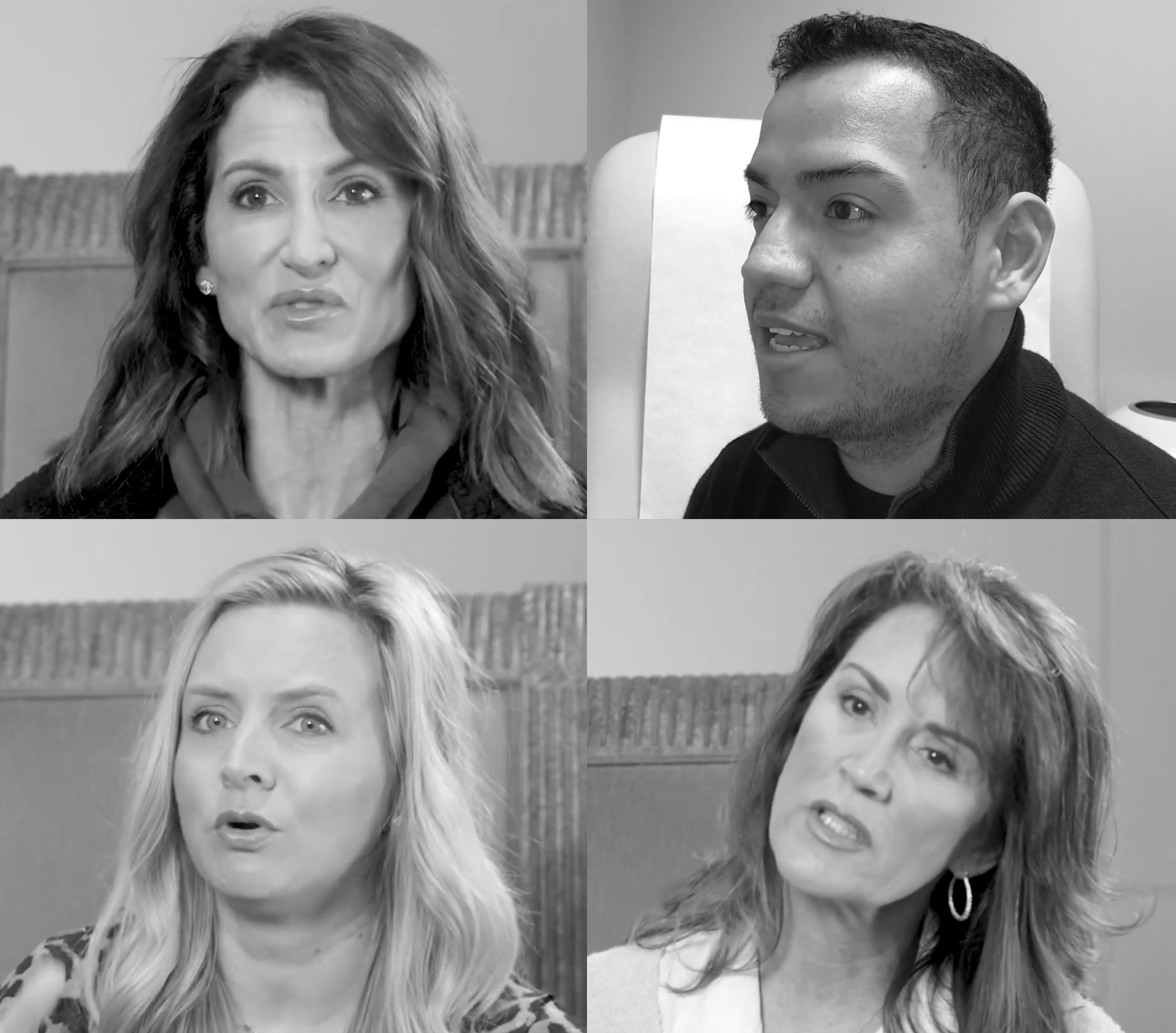 *Real Patients
Frequently Asked Questions
Should I get a neck lift or liposuction?
Based on your concerns and goals, you might want to get a neck lift with liposuction. A neck lift plus liposuction may be ideal if you are concerned about both loose skin and fat pockets in your neck. Dr. Gill can help you choose whether a lift, liposuction, or a combination of both should be included in your surgical plan.
What about nonsurgical options?
Neck lift surgery is the genuine option in getting rid of excess skin, particularly if the skin droops or hangs. Although there are several nonsurgical skin tightening procedures that may give you mild improvements, neck lift surgery offers the most significant improvements. A popular, minimally invasive injection treatment called Kybella targets fat in the submental area, which gives the appearance of a double chin; however, it doesn't improve excess skin.
Other nonsurgical choices can improve your skin's texture and signs of aging, such as laser skin resurfacing, a chemical peel, or an IPL treatment, to produce a soft and smooth appearance.
Will I have visible scars?
Your neck lift incisions are made in a way that is difficult for others to see. Dr. Gill tries very hard during neck lift surgery to avoid visible scarring. One of our dedicated team members at The Gill Center for Plastic Surgery and Dermatology will explain scar management instructions to you so that your incisions heal flat and thin.
Can I combine a neck lift with other facial surgeries?
At your consultation, you can bring up that you are thinking about another surgery, like a facelift or chin augmentation, along with a neck lift. It's normal for two or more face surgeries to be done together. Dr. Gill can develop a plan that meets all your goals
Get in Touch with Us
With time, the skin on your neck can become saggy and loose. A neck lift is a surgical procedure that can impart a youthful appearance to the neck again with innovative plastic surgery techniques performed by Dr. Gill. He can reshape your neck, improve lines and wrinkles, tighten loose folds of skin, and liposuction excess fat from your neck area to rid your "turkey neck" profile. If you are tired of feeling embarrassed about loose skin and wrinkles on your neck, please contact The Gill Center for Plastic Surgery and Dermatology in Shenandoah, TX to learn more.
Back to Top