The Gill Center for Plastic Surgery & Dermatology
121 Vision Park Boulevard, Suite 100
Shenandoah, TX 77384
Phone: (281) 853-5308
M-Th 8 a.m.–5 p.m.
F 8 a.m.–2 p.m.

Facelift
Facial aging occurs gradually as the skin loses elasticity and underlying tissues sag and descend. The women and men who come to us for facelift surgery in The Woodlands, TX, between Conroe and Spring, often say that the lines, sagging, and jowls on their lower faces make them appear older than they feel. It's also common to worry about looking unnatural after getting plastic surgery. The good news is that double board-certified plastic surgeon Dr. Paul S. Gill uses his experience and technical skill to create results that let you look like a refreshed version of yourself.
How Is a Facelift Performed?
Facelift techniques used today are much different than those used years ago that focused primarily on pulling the skin tight and removing the excess. The results looked unnatural because the procedure didn't address the tissue and muscle below the skin. Dr. Gill's approach focuses on this deeper layer of tissue, the superficial muscular aponeurotic system (SMAS), that helps provide facial structure. Called a SMAS facelift, the procedure produces long-lasting and natural-looking results.
Dr. Gill customizes facelift surgery based on the specific concerns and goals of his patients. Some patients may only need to address sagging in the midface and nasolabial folds, while others may also be concerned about jowls and loose skin and fat below the chin and jawline. He uses different incisions and techniques based on the extent of the corrections needed. The procedure is performed using a general anesthetic and can take between 2 and 5 hours, depending on the extent of the surgery.
Your facelift options include:
Full Facelift
Sometimes called a "traditional facelift," this procedure involves making incisions close to the hairline and extending down to the area near the temples, wrapping around the base of the ears. After carefully lifting the skin, Dr. Gill repositions and tightens the SMAS layer to create the lift that restores a more youthful face shape. After re-draping the skin and removing the excess, Dr. Gill sutures the incisions. Full facelift patients may choose to combine this procedure with eyelid surgery to address signs of aging around the eyes.
Mid-Facelift
A mid-facelift addresses flattened or hollow cheeks, lines around the chin and mouth, and laxity in the upper jaw. The incisions used for this procedure are made near the ears and are a good option for patients whose concerns are limited to the middle to lower areas of the face, including jowls.
Lower Facelift
If you are concerned about the appearance of your chin, jaw, and neck, a lower facelift may be the best approach. An incision made just below the chin is part of this procedure. Women and men who want to reduce fat below the chin but whose skin retains most of its elasticity may be candidates for nonsurgical treatments, such as KYBELLA® injections.
Mini Facelift
Dr. Gill also makes small, thin, incisions near the ears to perform a mini facelift, which can enhance the mouth, jawline, and jowls, but is less invasive than a full facelift. This technique creates subtle enhancements that produce very natural-looking results.
It's common to combine any of these approaches with a brow lift, eyelid surgery, or cosmetic injectables such as fillers to create the comprehensive outcome our patients desire.
Drs. Paul & Anita Gill
Combining the science of plastic surgery and dermatology with the art of aesthetic procedures, Dr. Paul Gill and Dr. Anita Gill use their experience and expertise to create attractive results in a comfortable, patient-centered environment.
Meet Dr. Paul Gill
Meet Dr. Anita Gill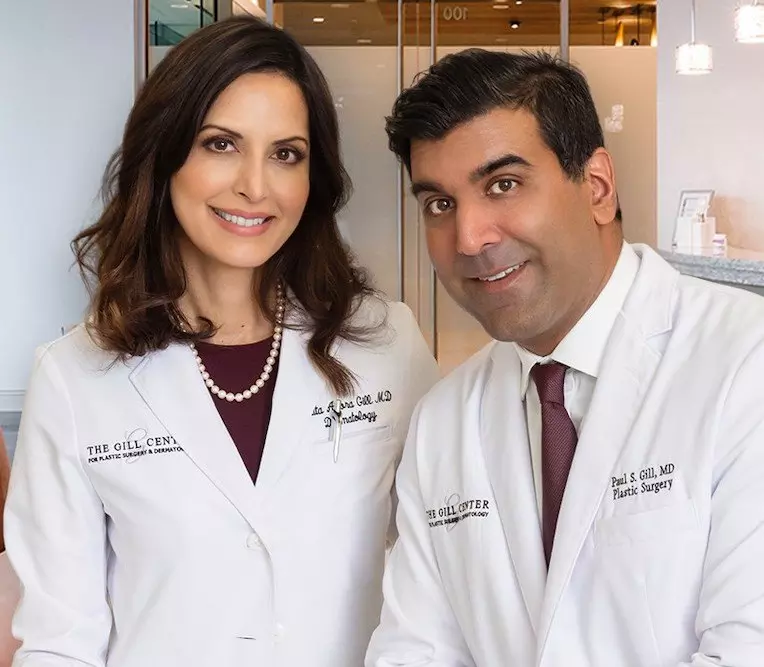 What Is Recovery Like After a Facelift?
Many of our patients are pleasantly surprised that the recovery following a facelift involves less discomfort than expected. Your experience and the length of the recovery are unique but closely following the post-op instructions provided can minimize the risk of complications. Getting enough rest is important, especially during the first week, but we also want patients to take brief walks around the house to ensure good circulation.
You can expect some swelling and bruising which may take a couple of weeks to fully resolve. Dr. Gill encourages his patients to contact him with any questions or concerns during the recovery process. Even though many patients feel comfortable returning to work within a week or 2 after undergoing facelift surgery, patients who are planning to attend a significant social event (such as a wedding or class reunion) should schedule their surgeries at least 6 weeks earlier. That should allow enough time to fully heal.
Reviews
"Hands down the best experience! I went to multiple consultations before deciding which doctor I wanted to go with for a breast augmentation, and after I visited Dr. Paul Gill, I knew he was the doctor I would choose! He is very knowledgeable and professional, and his staff is so friendly and so sweet."
Read All Dr Anita Gill's Reviews
Read All Dr Paul Gill's Reviews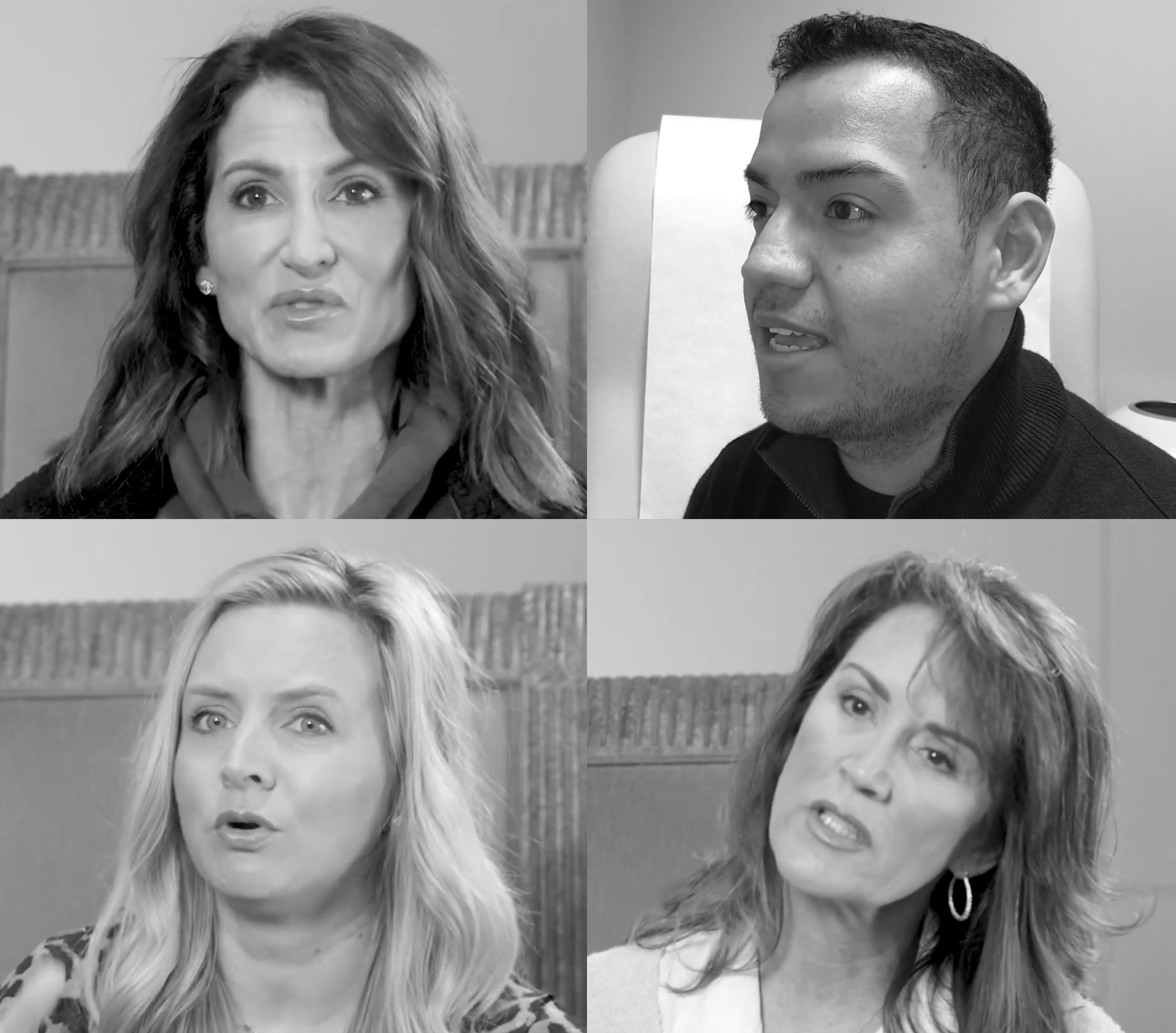 *Real Patients
How Much Does a Facelift Cost in The Woodlands, TX?
Depending on the extent of the procedure, the average cost of a facelift in The Woodlands, Conroe, and Spring, TX, is between $12,000 and $13,000. The cost of a facelift depends on the techniques used, the training and qualifications of the plastic surgeon, the location of the plastic surgery practice, and a number of other factors. After performing a physical examination and discussing your concerns and expectations during the consultation, Dr. Gill recommends a surgical plan and our team provides a detailed price quote.
Women and men looking for a facelift specialist in Conroe, Spring, or The Woodlands, TX, choose The Gill Center to have Dr. Gill perform their procedures. He's a double board-certified plastic surgeon with the experience, training, and bedside manner that sets him apart from most other surgeons. Request a consultation using the online form to meet privately with Dr. Gill or call our office at (281) 853-5308 to schedule an appointment.
Back to Top