The Gill Center for Plastic Surgery & Dermatology
121 Vision Park Boulevard, Suite 100
Shenandoah, TX 77384
Phone: (281) 853-5308
Mon-Thurs: 8 a.m. – 4:30 p.m.
Friday: 8 a.m. – 2 p.m.

How Long Will a Facelift Last?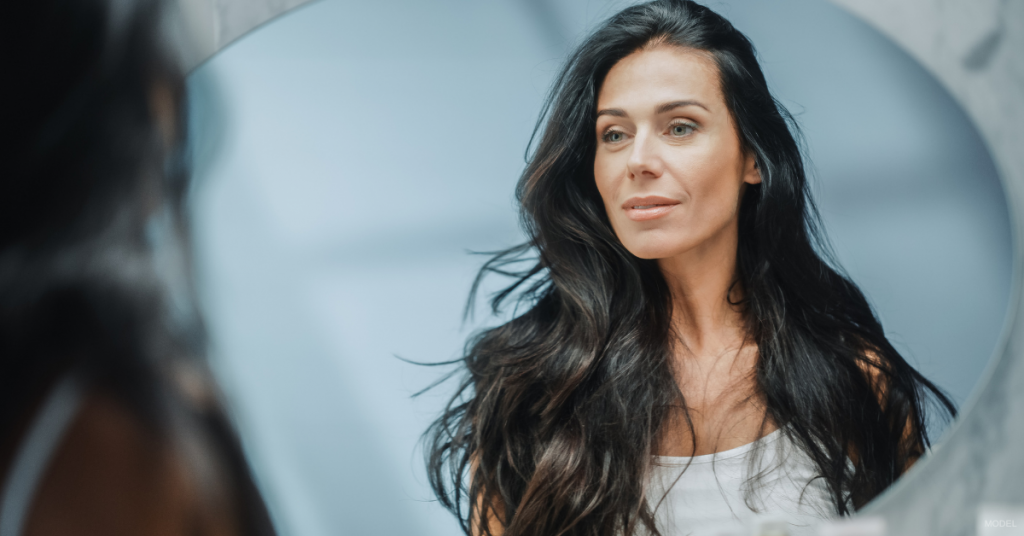 If you've been relying on nonsurgical treatments to fend off signs of aging but are tired of frequent maintenance treatments, a facelift offers a longer-term solution. Still, you might be wondering how long a facelift will last. As you might guess, there is no definitive answer because several factors influence the duration of your results.
What Affects the Longevity of Facelift Results?
Probably the 2 most important of those factors are the plastic surgeon performing the surgery and the facelift technique they use. Choose a surgeon with expertise in facial plastic surgery who performs a SMAS (superficial muscular aponeurotic system) procedure that lifts and repositions the layer of tissue and muscle underlying the skin. This is often called a full facelift as opposed to a mini facelift or a lower facelift, which addresses different concerns.
Surgeons who focus too much on tightening lax skin rather than repositioning the SMAS produce results that not only look like you've had "work" done but also that won't last as long.
How Much Younger Do You Look After a Facelift and for How Long?
So, how long will a full facelift last? You can expect to look like you did about 10 years earlier. Turning back the clock a decade, however, doesn't mean the clock stops. The aging process begins as soon as your recovery is complete. However, the goal is that my patients still look better 10 years after a facelift than they would if they never had facial plastic surgery.
Something to keep in mind: Younger facelift patients (in their 40s and 50s) typically enjoy their results for more than 10 years because their skin retains more elasticity.
Extending the Results of Your Facelift
Once you've made the choice to get a facelift—and invested your time and financial resources—it makes sense to try to keep your appearance looking youthful and refreshed. There are several things you can do to prolong your facelift results and postpone considering a second procedure.
Here's what we recommend to get the most out of your facelift:
Protect yourself from the Texas sun: Besides the natural aging process, sun exposure is the primary reason our skin ages. You can't do anything about the march of time, but you can follow good sun protection habits. Use sunscreen daily and wear a wide-brimmed hat if you're going to be in the sun for extended periods of time.
Your diet matters: Many people only think about their diet in relation to their weight. But unhealthy eating habits can also age your skin. Limiting your consumption of refined sugar helps your skin retain collagen. Start by eating more vegetables, whole grains, and fruits. Also try proteins, such as eggs, beans, and lean meats. Some fat is OK, especially if it's from a healthy source of fat like olive oil or avocados.
If you smoke, quit: At a minimum, you'll need to stop smoking for several weeks before and after your facelift procedure. Use this opportunity to quit for good. If you decide to smoke after a facelift, you're directly contributing to the breakdown of your results.
Use quality skin care products: A daily skin care regimen that includes professional-grade products is a proactive step that all facelift patients should take to maintain their results.
If you're looking for a plastic surgeon to perform a facelift in The Woodlands, between Conroe and Spring, Texas, you can contact our office using the online form to request a consultation. Or call us at (281) 853-5308 to schedule an appointment. You can also see the types of results you can expect by browsing our gallery of facelift before-and-after photos.
Tagged with: facelift recovery • facelift results • facial plastic surgery

* All information subject to change. Images may contain models. Individual results are not guaranteed and may vary.
Back to Top