The Gill Center for Plastic Surgery & Dermatology
121 Vision Park Boulevard, Suite 100
Shenandoah, TX 77384
Phone: (281) 853-5308
Mon-Thurs: 8 a.m. – 4:30 p.m.
Friday: 8 a.m. – 2 p.m.

Breast Reduction
Many women believe that the ideal result of cosmetic surgery is to leave a plastic surgeon's office with larger breasts, which is fine. However, if you are a woman who has naturally large, pendulous breasts, you may benefit from a breast reduction. In The Woodlands, TX, our board-certified plastic surgeon, Dr. Paul S. Gill, understands that everyday life can be difficult for you physically and emotionally. He consults with women of all ages considering breast reduction surgery who visit from Conroe, Cypress, Tomball, Spring, and other nearby towns.
Breast Reduction

Before & After Photos
WARNING:
This feature contains nudity. Please click OK to confirm you are at least 18 years of age and are not offended by such material.
OK
What Is Breast Reduction?
Also known as a reduction mammoplasty, breast reduction is a surgical procedure that removes skin, fat, and breast tissue to decrease the size, shape, and weight of overly large breasts that limit social, functional, and physical movement. There are many factors besides aesthetic appearance for a breast reduction, such as back, neck, and shoulder pain. Heavy breasts can also cause a slumped posture, indentations on the shoulders from bra straps, mild to severe skin irritations/infections, and chronic rashes beneath and between the breasts. Dr. Gill performs breast reduction surgery to alleviate these types of problems that are weighing you down. A breast reduction procedure can alleviate a variety of symptoms. At The Gill Center for Plastic Surgery and Dermatology, our plastic surgery team is knowledgeable and caring and will communicate with you on everything you need to know about the breast reduction process.
Ideal Candidates
When you have oversized breasts, you will present poor posture, rashes underneath the breasts, bra strap marks, and pain in the back, neck, and shoulders. Additionally, it can be difficult to perform physical activities, find clothes that fit comfortably, and feel confident in public. To be considered a candidate for a breast reduction, you will need to have a consultation with Dr. Gill where he can examine your breasts in person. He will discuss your health and weight history, ask about your lifestyle, and get to know you better. Other factors that contribute to the need for a breast reduction may be that one breast is larger than the other, or the breasts are so heavy that the nipples point downward. Dr. Gill can design a treatment plan based on your level of need for a reduction and what type of techniques he can use to make your breasts better for your overall health, not just for aesthetic appearance.
Drs. Paul & Anita Gill
Combining the science of plastic surgery and dermatology with the art of aesthetic procedures, Dr. Paul Gill and Dr. Anita Gill use their experience and expertise to create attractive results in a comfortable, patient-centered environment.
Meet Dr. Paul Gill
Meet Dr. Anita Gill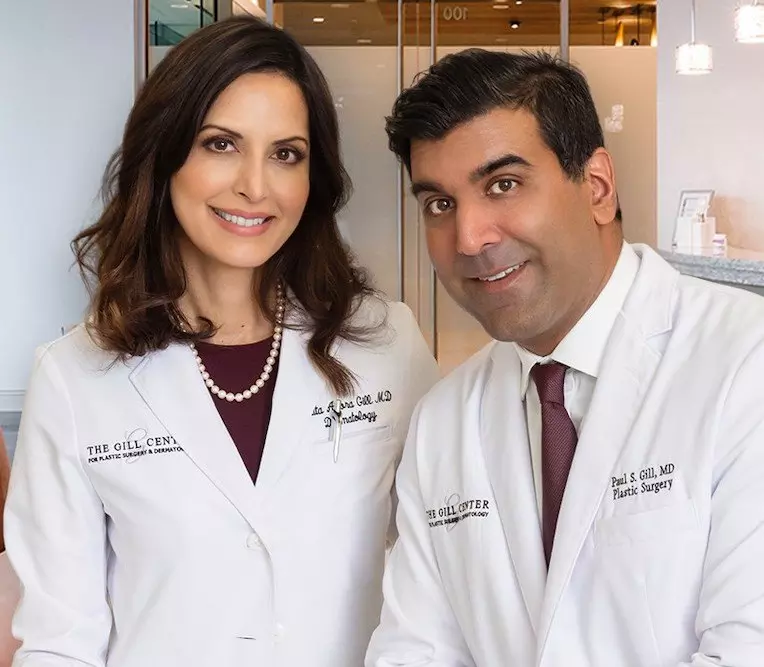 Surgical Technique
In an outpatient setting, a breast reduction surgery can be performed by Dr. Gill in 2 – 4 hours with you under a general anesthetic. To begin your surgery, Dr. Gill will make an incision around the areola and down to the breast crease through which he will remove extra skin, tissue, and fat. Then, he will use skin and tissue tightening techniques, like excision and liposuction. The nipple will then be reshaped and elevated to a higher position. Once the surgery is complete, Dr. Gill will close your incisions with sutures and cover it with a sterile dressing. In some cases, a small, tube-like draining device will be inserted near the incision area to relieve the pressure and reduce bleeding and swelling. After you are awake in recovery, one of our post-operation nurses will help you into a special compression bra that will hold your breasts in place while you heal.
What to Expect
Breast support is an important aspect throughout the breast reduction recovery process. It will be vital to make sure that your breasts are properly supported during this period since the tissues will be weak and will be settling into their new positions. To help support your breasts, your post-surgical bra should be worn for around 1 – 2 weeks of breast reduction recovery. This garment will be free of an underwire to ensure comfortable healing. Not only does it offer your breasts support, but the bra will also help control post-operative swelling. Any pain you may experience may be managed with medication, and the swelling and bruising you may see are temporary. Changes in nipple and breast sensation caused by swelling may also be apparent during this time.
After a breast reduction, many of our patients say they feel less weighed down and more comfortable in their own body. Following surgical breast reduction, you can expect that you will be able to wear the clothes you could not wear before and feel enthusiastic about your new figure.
Reviews
"Hands down the best experience! I went to multiple consultations before deciding which doctor I wanted to go with for a breast augmentation, and after I visited Dr. Paul Gill, I knew he was the doctor I would choose! He is very knowledgeable and professional, and his staff is so friendly and so sweet."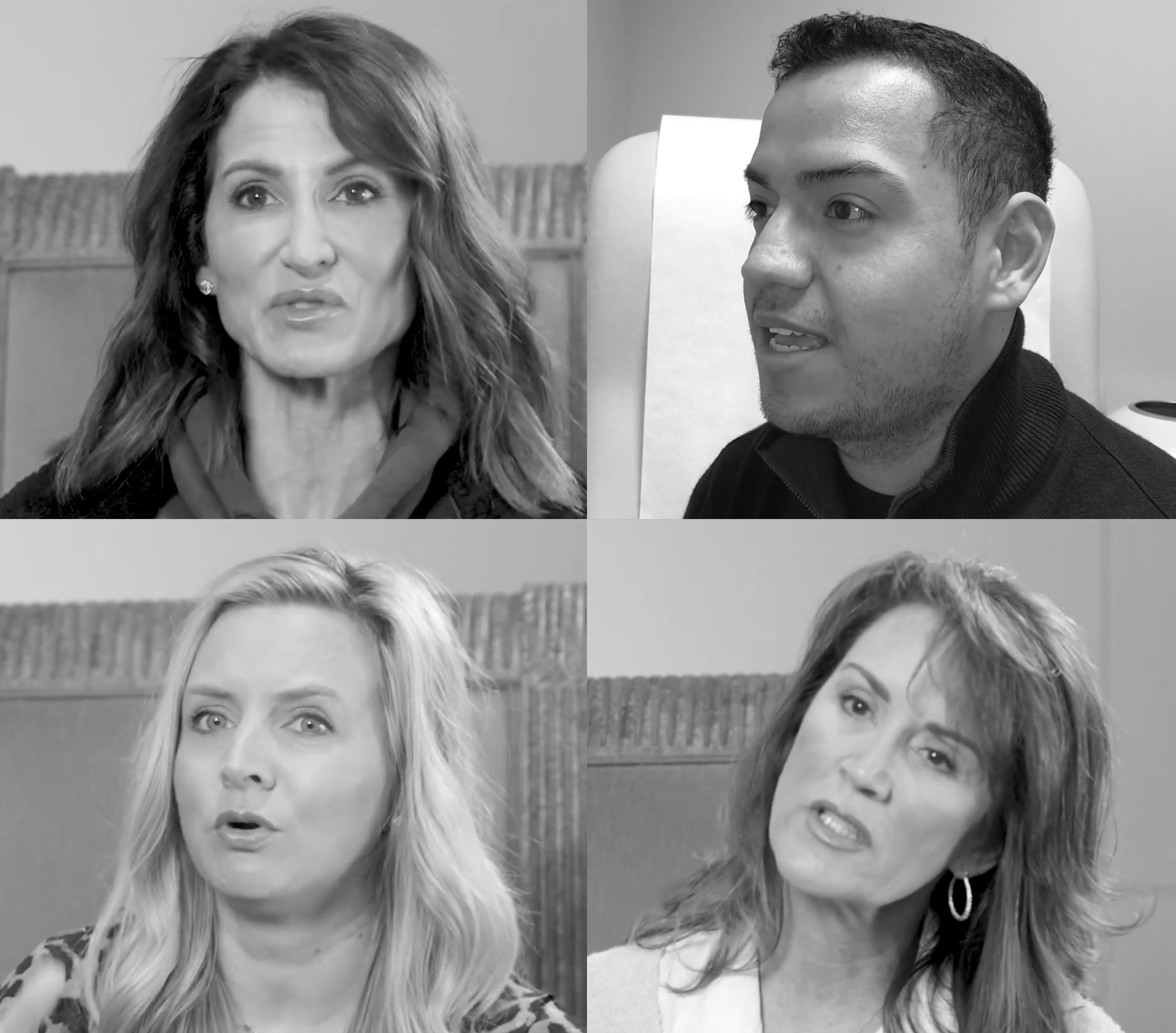 *Real Patients
Frequently Asked Questions
How much does breast reduction surgery cost?
The cost of breast reduction surgery in The Woodlands, Conroe, and Spring, TX, varies depending on the extent of the procedure. A detailed price quote is presented at your consultation that you can review at home. Once Dr. Gill has created your treatment plan, it will be easier to calculate your costs, including facility fees, anesthesia, and more. Breast reduction surgery usually leads to a dramatic improvement in all aspects of life, which is why we will do our best to assist you in finding financial assistance with one of the medical loan companies we accept.
Will my insurance cover breast reduction?
Your health insurance might pay part of the cost of your surgery if it's considered medically necessary. If you want to use your insurance, you have the following choices:
Find a surgeon who is in-network with your insurance company and covers breast reduction.
Have Dr. Gill perform your breast reduction and bill your insurance company on your own after surgery for reimbursement since he does not accept insurance.
There will probably be a considerable amount of documentation on your condition and lots of paperwork to fill out. You should contact your health insurance provider to find out if your policy might pay for the surgery and the exact information they require. Your insurance might need vital measurements, like your weight, height, body surface area, and body mass index (BMI).
Will my nipples be moved?
Usually, the nipples and areola will be moved up to a new position during breast reduction surgery. If a significant amount of tissue and skin is eliminated, your nipple-areola complex may be cut out and relocated. Dr. Gill will select an incision technique so that the areola and nipples are accessible for elevation. It's also possible for Dr. Gill to perform an areolatome to reduce the size of the areolas in a consistent shape. Your options will be explained in your consultation before Dr. Gill designs the best plan to match your objectives.
Can I breastfeed after a breast reduction?
Reduction surgery can affect breastfeeding. Although some women can still breastfeed after a surgical reduction, other women cannot. It's difficult to know whether your breast reduction will interfere with breastfeeding. This is why Dr. Gill suggests that patients be done with breastfeeding before considering breast reduction surgery.
Can my breasts regrow after surgery?
Following reduction surgery, your breasts may get smaller or bigger with dramatic weight changes. This is why it is better to be at a healthy weight prior to your surgery that you can easily maintain. In your consultation, Dr. Gill will discuss the best ways to prepare for your reduction and what you can do after to help make sure your results last.
Scale Back Your Bustline
Dr. Gill has helped so many women regain their body, mind, and spirit for a more engaging life with surgical reduction of the breasts. During your consultation at The Gill Center for Plastic Surgery and Dermatology, Dr. Gill will go over all of the steps of a customized surgical plan to fit your needs. There's no reason to continue simply accepting the lack of confidence or discomfort that can accompany large breasts. Please call our office at (281) 853-5308 in Shenandoah, TX to discover more about this life-changing breast reduction surgery.
Back to Top