The Gill Center for Plastic Surgery & Dermatology
121 Vision Park Boulevard, Suite 100
Shenandoah, TX 77384
Phone: (281) 853-5308
Mon-Thurs: 8 a.m. – 4:30 p.m.
Friday: 8 a.m. – 2 p.m.

Arm Lift
One big challenge when getting older or losing weight is gaining excess skin — especially in highly visible body parts, like your upper arms. At The Gill Center for Plastic Surgery and Dermatology, Dr. Paul S. Gill offers upper arm lift surgery (also called brachioplasty) as an option if you cannot manage to tone or tighten your arm skin with natural methods. Excess skin from the elbow to the shoulder is very typical, particularly for people who are getting older or have lost significant amounts of weight. An upper arm lift excises this hanging skin, sometimes known as "bat wings." Our board-certified plastic surgeon in Shenandoah, TX, Dr. Gill, is very knowledgeable in fat removal and skin tightening techniques. If you want to hear more information about how brachioplasty can correct the shape of your upper arms, please contact us for an appointment at The Gill Center for Plastic Surgery and Dermatology.
An arm lift can be performed as a body contouring procedure alone or staged with other surgeries (especially for post-bariatric surgery or traditional weight loss patients with several areas of loose skin). You can also inquire about our other body contouring procedures, such as the thigh lift, body lift, or tummy tuck.
Ideal Candidates
You may be considering arm lift surgery if you are plagued by the appearance of your upper arm skin. Many people (women in particular) become self-conscious about their arms as they become older. The problem usually occurs because of fluctuations in body weight, which causes the skin on your arms to stretch out and hang from the upper arm. The best candidates for an upper arm lift are healthy nonsmokers motivated to change the appearance of their upper arms and capable of understanding the risks and benefits involved with surgery. Good candidates for arm lift surgery also have an adequate degree of skin elasticity. It is important to know that arm lift surgery leaves surgical incision scars. The right candidates, however, are willing to accept this drawback in order to gain a slimmer, more contoured arm shape.
Drs. Paul & Anita Gill
Combining the science of plastic surgery and dermatology with the art of aesthetic procedures, Dr. Paul Gill and Dr. Anita Gill use their experience and expertise to create attractive results in a comfortable, patient-centered environment.
Meet Dr. Paul Gill
Meet Dr. Anita Gill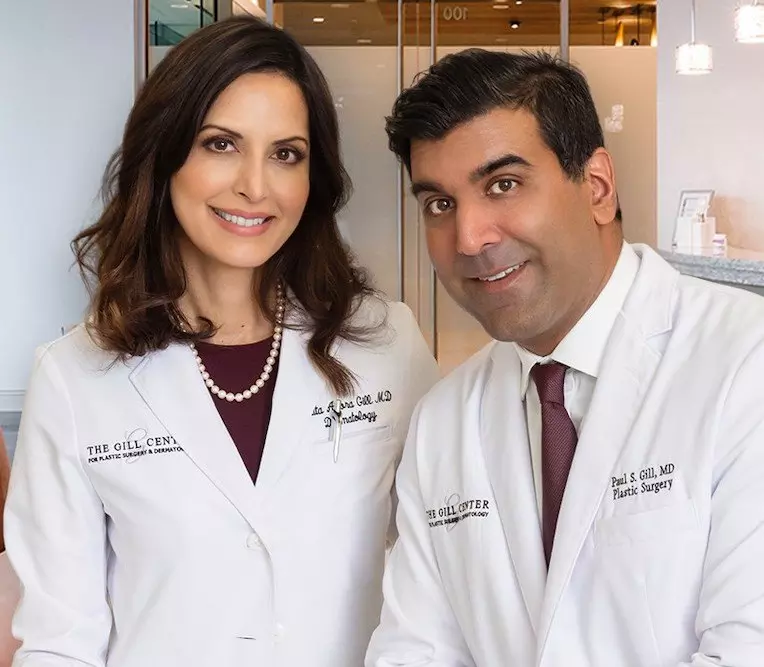 Surgical Technique
In most cases, your upper arm surgery will be performed in an outpatient facility, except in cases where several cosmetic surgeries are to be performed at one time. An upper arm lift may be performed with other surgeries (often completed at a facility with inpatient monitoring), including a tummy tuck, thigh lift, or mommy makeover — as long as Dr. Gill considers it appropriate. An arm lift takes about 1 – 2 hours while you are under a general anesthetic. A full brachioplasty includes incisions that are made on the inside of your arms (from the underarm to the elbow). Keep in mind that the length of the incisions varies patient to patient. To reshape each arm, Dr. Gill will alter each arm with skin removal techniques and liposuction. Dr. Gill can also perform liposuction only if that is all that is required to recontour the shape of your arm to look lean and healthy. Sutures are put in place to close the incisions and maintain your new arm shape. You will have to care for the incisions by keeping them cleaned, covered, and supported with compression garments.
What to Expect
A typical recovery time frame may take an estimated 2 – 4 weeks with lots of rest. Give your body time to heal. You use your arms for almost everything so you should slowly make your way back to performing your usual daily activities. If needed, a suture removal appointment will be scheduled about 10 days following surgery. Compression garments must be kept on until you receive permission from Dr. Gill to stop wearing them. For at least one month, all exercise and strenuous activity must be postponed, except frequent, short walks. If you notice uncontrolled bleeding, excessive swelling, fluid buildup (hematoma), signs of infection, numbness in the hands or arms, or unusual scarring, please contact The Gill Center for Plastic Surgery and Dermatology for medical assistance. Ask Dr. Gill for more details if you are concerned about the risks of cosmetic surgery.
Reviews
"Hands down the best experience! I went to multiple consultations before deciding which doctor I wanted to go with for a breast augmentation, and after I visited Dr. Paul Gill, I knew he was the doctor I would choose! He is very knowledgeable and professional, and his staff is so friendly and so sweet."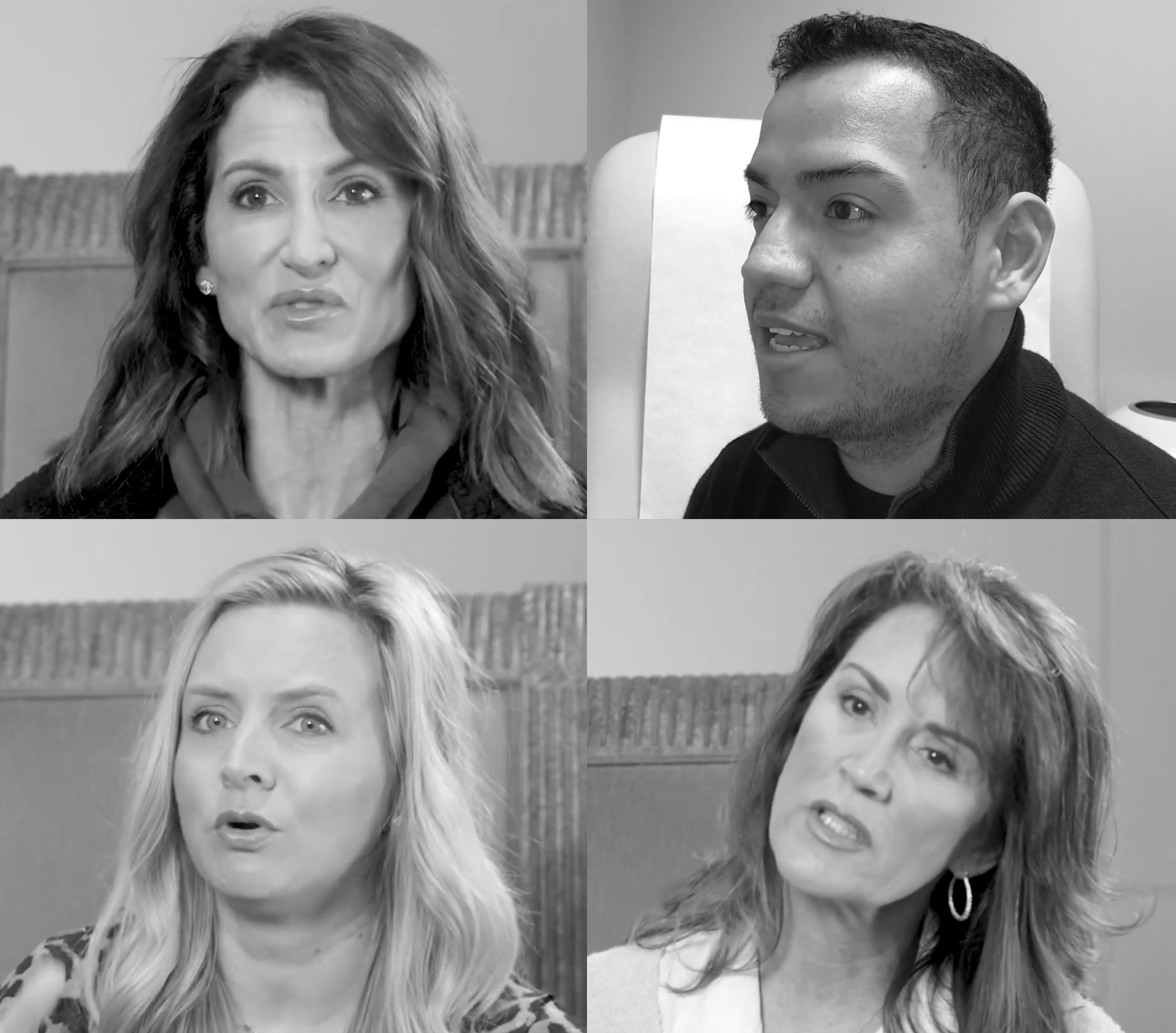 *Real Patients
Frequently Asked Questions
Can I combine an arm lift with other surgeries?
It's normal for patients who want an arm lift to create a custom treatment plan with another surgery. This is often known as an upper body lift and can combine liposuction, a breast lift, or tummy tuck. Arm lift surgery is also frequently included in an after weight loss surgery for those who have lost a significant amount of weight and need contouring throughout their body. In your initial consultation with Dr. Gill, complementary surgeries can be talked about so your personal treatment plan matches all your needs and goals.
Will there be scars on my arms?
A surgical arm lift needs incisions in order to cut away excess skin, which leads to scars. However, Dr. Gill will make every effort to place the small incisions in inconspicuous areas. Following your arm lift, creams that help with healing will be suggested along with our tips for minimizing scarring. Dr. Gill also suggests you limit UV exposure for at least one year to protect the scar from becoming discolored. In general, patients consider the overall benefits of an arm lift are worth the minimal scars created.
What results can I expect from an arm lift?
A surgical arm lift is used to excise loose skin and small amounts of fat. You should follow a healthy lifestyle with regular exercise and a balanced diet to avoid a dramatic change in your weight, which might undo your results. After your lift, as soon as you are recovered and Dr. Gill has given permission, you should start strength training. This is a good way to improve the shape of your upper arms and strengthening the muscles.
Are there nonsurgical treatments to improve my arms?
Although there are a lot of noninvasive skin tightening options, they can only give you small improvements. To correct moderate to severe skin laxity, arm lift surgery is your best choice. In addition to treating loose skin, Dr. Gill also uses liposuction on small pockets of fat and smoothes the tissue and remaining skin. If you're interested in learning about nonsurgical procedures, Dr. Gill can tell you about these in your consultation and then help you choose which fits your goals.
Shape Up Your Upper Arms
An upper arm lift is an innovative surgery that can provide physical and emotional benefits. If you're at or close to a healthy, stable weight but still can't get rid of the skin and flab that hangs off your arms, please contact us to arrange a consultation with Dr. Gill. If you are motivated to improve your appearance and lose the sagging skin in your upper arm, please call The Gill Center for Plastic Surgery and Dermatology. Look and feel fitter and younger with upper arm lift surgery.
Back to Top