The Gill Center for Plastic Surgery & Dermatology
121 Vision Park Boulevard, Suite 100
Shenandoah, TX 77384
Phone: (281) 853-5308
Mon-Thurs: 8 a.m. – 4:30 p.m.
Friday: 8 a.m. – 2 p.m.

Facial Fat Grafting
Advanced facial fat grafting techniques at our practice in The Woodlands, TX, can help reduce wrinkles, depressed scars, and other defects in the contour of one's skin. Performed by board-certified plastic surgeon Dr. Paul Gill, this procedure is a long-lasting, natural alternative to treatment with injectable dermal fillers. Lost volume, frequently caused by aging, is usually most pronounced in the areas around the cheeks, eyes, and jawline. Autologous fat transfer to the face may be used to minimize some of the more typical signs of aging, and it increases volume by smoothing fine lines, wrinkles, and folds on your face using your transferred fatty tissue. With an autologous fat transfer to the face, our patients from Conroe, Cypress, Tomball, Spring, and beyond don't just see a refreshed facial appearance, they have curves slimmed where fat is harvested with liposuction.
Ideal Candidates
A fat transfer can help if you want to add volume that looks natural to certain places in your face. Transferring fat to your face may improve wrinkles, such as smile lines, laugh lines, and crow's feet. Plus, the fat may also minimize the visibility of pitted areas and scars. Enhance your cheeks and lips for a rejuvenated appearance with your own fat instead of fillers. With results similar to an injectable dermal filler, such as Restylane or Juvéderm, a facial fat transfer is a great treatment if you'd like longer-lasting results. In order to be a candidate for a fat transfer, you need to have enough extra fat to fulfill your goals.
While Dr. Gill offers exciting dermal filler and injectable treatments to smooth away lines and wrinkles on the face, you may actually be an ideal candidate for facial fat grafting, which utilizes your own tissues to combat visible aging signs. This procedure uses liposuction and then lipoinjection techniques to treat the following facial issues:
Deep lines and wrinkles
Laugh lines
Thin lips
Depressed scars
Hollow areas of skin
General facial contouring techniques
Individuals of many ages and skin types are ideal for this autologous fat transfer technique. You should be a healthy nonsmoker and have an adequate amount of fat cells in the harvest site, which may include your midsection, thighs, flanks or buttocks, and other approved locations.
Drs. Paul & Anita Gill
Combining the science of plastic surgery and dermatology with the art of aesthetic procedures, Dr. Paul Gill and Dr. Anita Gill use their experience and expertise to create attractive results in a comfortable, patient-centered environment.
Meet Dr. Paul Gill
Meet Dr. Anita Gill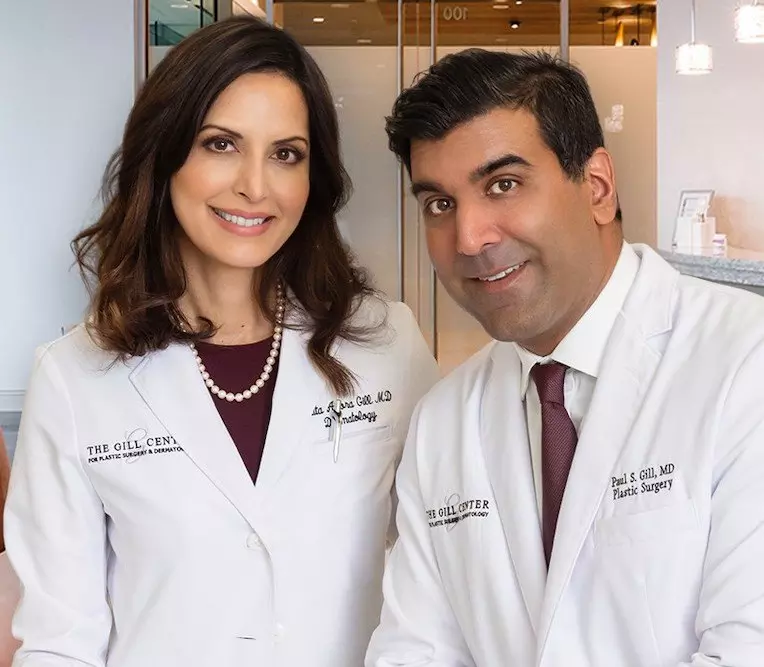 Surgical Technique
The facial fat grafting procedure, as performed by Dr. Gill, uses advanced techniques in a two-step process that can be performed in 1 – 2 hours while you are given a local anesthetic and sedation. According to your treatment plan, Dr. Gill will remove fat cells using minimally invasive liposuction. This involves removing the necessary amount of fat cells with a syringe or a small tube called a cannula.
After he has harvested, cleansed, and purified for injection, it will be ready for your facial fat grafting at the chosen site. When injecting the purified fat cells, Dr. Gill will carefully place them to achieve the desired aesthetic result. He may also carefully massage the area to ensure proper placement. Given that this process utilizes tissue from your own body, some of it may reabsorb naturally over time.
What to Expect
Following your fat grafting procedure, you should expect a recovery period of up to a few days. You may experience some swelling and discomfort at both the harvest and injection sites, and you may be prescribed medication to manage pain. The duration of your results may vary; some patients see the benefits of facial fat grafting for more than one year, while others see the results for 3 – 6 months after treatment.
Reviews
"Hands down the best experience! I went to multiple consultations before deciding which doctor I wanted to go with for a breast augmentation, and after I visited Dr. Paul Gill, I knew he was the doctor I would choose! He is very knowledgeable and professional, and his staff is so friendly and so sweet."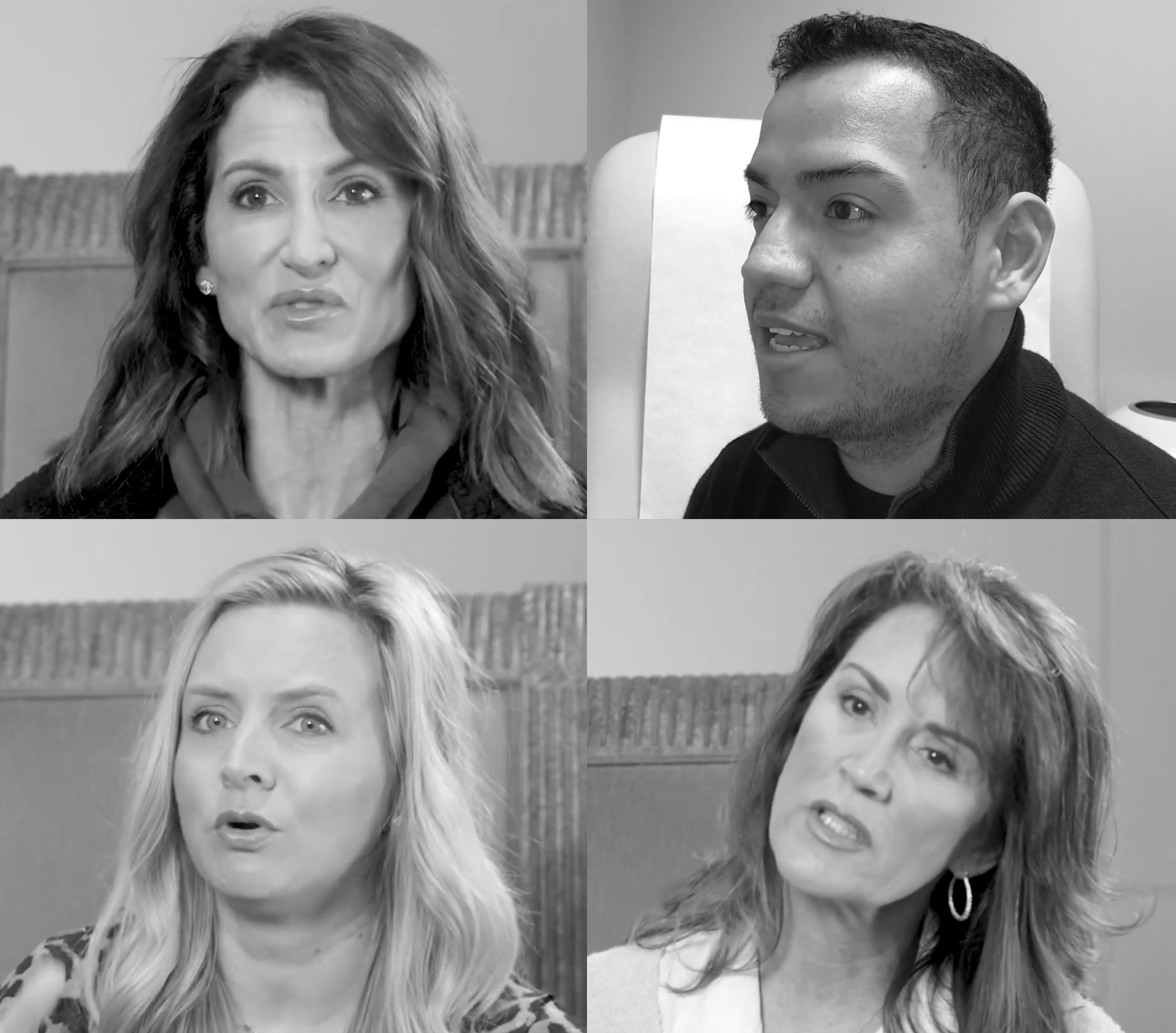 *Real Patients
Frequently Asked Questions
How much does facial fat grafting cost?
Your cost for a facial fat graft will include liposuction and will vary, depending on the amount of volume being transferred. Following a complete examination, Dr. Gill will decide how much fat is required to achieve your goals and develop a personal plan. After this, he can start to calculate costs, like anesthesia and other fees.
Should I get a dermal filler or fat transfer?
Both a facial fat graft and an injectable dermal filler may correct the visibility of fine lines and static wrinkles while also restoring facial volume. Although wrinkle fillers may create wonderful results, a fat graft to the face usually lasts longer and looks more natural. If you need help deciding how much volume you want and in which areas, Dr. Gill might recommend using wrinkle fillers. As soon as you've decided what you like, Dr. Gill will schedule a fat graft to your face for long-lasting results.
Can facial fat grafting be combined with another procedure?
A fat transfer to the face may be performed with another procedure, like BOTOX® Cosmetic injections or a facial treatment. A fat transfer is also a good way to enhance another cosmetic surgery. A fat graft will increase volume to improve the proportions of your face during a facelift or chin augmentation. Talk to Dr. Gill in your consultation about your needs and wants so he can develop a plan with nonsurgical and surgical procedures that reach all your aesthetic goals.
How long does facial fat grafting take?
The length of time needed for your facial fat graft will depend on the amount of fat being taken, plus the volume required to reach your goals. As soon as your plan is developed in your initial consultation, Dr. Gill will discuss what you can expect, like how long it will take. Dr. Gill takes his time to carefully place even layers of fat with advanced techniques so your outcomes are beautiful.
Which areas of the face can be improved with fat grafting?
A fat transfer may be used in several areas to increase volume or reduce lines. A fat transfer is great to enhance the cheeks so that the area looks lifted and fuller without surgery. Additionally, transferred fat may be utilized to add volume to your lips. You can also use a fat graft to improve the hollow under-eye areas. A fat transfer to your face may also treat scars and wrinkles (for example, marionette lines or brow furrows). Dr. Gill will develop your unique treatment plan to focus on your needs and aesthetic goals.
Fullness Without Synthetics
Fat transfer is a wonderful way to add volume, even out age lines, and enhance your gorgeous face. When you desire a more youthful, bright look with a short recovery, we urge you to find out more about a fat transfer at The Gill Center for Plastic Surgery and Dermatology and find out how it can help you meet your aesthetic goals. It's an outstanding choice for men and women who want a natural alteration and long-lasting results. Contact our Shenandoah, TX practice at your earliest convenience to set up your appointment with Dr. Gill for this groundbreaking procedure.
Back to Top