The Gill Center for Plastic Surgery & Dermatology
121 Vision Park Boulevard, Suite 100
Shenandoah, TX 77384
Phone: (281) 853-5308
Mon-Thurs: 8 a.m. – 4:30 p.m.
Friday: 8 a.m. – 2 p.m.

Laser Hair Removal
Unwanted hair is a problem that always finds a way to come back. Shave it, wax it, or strip it, it still grows back in a week or two. What's worse is that it is often messy and the pain may be unbearable. Why hasn't anyone found a way to prevent unwanted hair from coming come back? Happily, they have – laser hair removal in The Woodlands, TX, at The Gill Center for Plastic Surgery and Dermatology.
Why Choose The Gill Center for Laser Hair Removal?
There are many laser hair removal options available in Spring, Conroe, Cypress, Tomball, and other nearby towns, but our Candela GentleMax Pro® is one of the greatest. Why? Our laser hair removal treatments are:
Fast – If you have a smaller area to be covered, this laser only takes a few minutes to complete the treatment.
Effective – Unlike traditional methods, like waxing and shaving, hair removal with the Candela GentleMax Pro Laser will ensure that with every session, hair growth is reduced considerably until unwanted hair in the area disappears.
Less discomfort – Gone are the days when the thought of hair removal brought tears to your eyes. The most pain felt with Candela GentleMax Pro Laser can be compared to the pinch of a rubber band snap, which is a pain that can be prevented with a topical anesthetic, if necessary.
The Candela GentleMax Pro laser hair removal system offers many capabilities. Not only can it reduce wrinkles, spider veins, scars, and stretch marks, but it can also remove unwanted body and facial hair within a short period of time. It uses a combination of intense pulsed light (IPL) and fractional laser energy for this purpose. Schedule your consultation today.
How Much Does Laser Hair Removal Cost in The Woodlands?
Laser hair removal is a procedure that varies in cost, depending on the coverage area being addressed on the body, as well as how many sessions are needed to obtain a smooth, hairless result. When we discuss pricing with our patients, we often bring up the costs associated with waxing and how this can add up over time, especially if you get waxed on a regular basis year after year. Laser hair removal is more costly than waxing or other hair removal methods, but it is generally the most effective. We will create a custom plan for you that includes the total number of sessions recommended and pricing options to consider.
Areas of Treatment
Laser hair removal is safe and effective just about everywhere women and men have unwanted hair, including the:
Face (such as the upper lip, chin, or cheeks)
Underarms
Legs
Bikini area
Shoulders and back
Ideal Candidates
Reducing hair follicle growth with a laser is a safe process that is suitable for many patients. In your initial consultation, we will talk about your concerns, needs, and goals so we can decide if you should get this treatment. Ideal candidates for laser hair removal treatments:
Want to reduce hair on their face or body
Want to stop using other hair removal methods (waxing, shaving, bleaching, depilatory creams)
Have darker hair with lighter skin
Are in good, overall physical health
Drs. Paul & Anita Gill
Combining the science of plastic surgery and dermatology with the art of aesthetic procedures, Dr. Paul Gill and Dr. Anita Gill use their experience and expertise to create attractive results in a comfortable, patient-centered environment.
Meet Dr. Paul Gill
Meet Dr. Anita Gill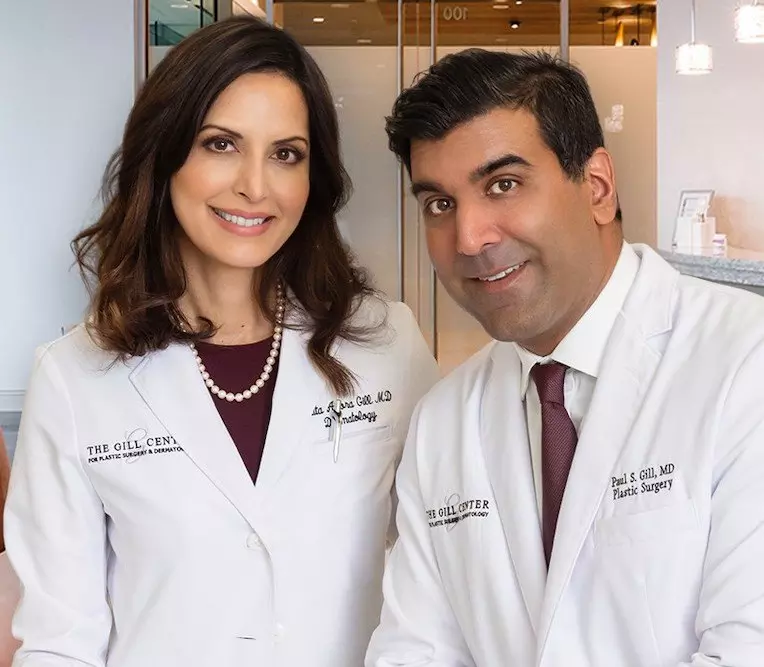 Procedure Technique
On the day of your laser hair removal appointment, you can relax in a private treatment room as areas of your face and/or body are being treated. We will make sure to cleanse away all the oil, dirt, and moisturizers on your skin before the session starts. During the procedure, your skin will be stretched out in the area to create a clear pathway between the root of the hair follicle and the laser. The laser's energy will focus on and disable the follicle growth, which stops the hair from growing again.
How Many Laser Hair Removal Treatments Will I Need?
Typically, patients need 6 to 8 treatments each spaced 6 to 8 weeks apart to see the greatest results. Your appointments will be staggered to give the area a chance to heal. It also allows time for follicles in the dormant phase to reach the phase of active growth so the laser will effectively treat them. The state-of-the-art technology we use at The Gill Center for Plastic Surgery and Dermatology targets only the hair follicle to preserve the skin and other tissue in the area being treated.
Recovery After a Laser Hair Removal Treatment
Laser hair removal does not require downtime, so you will be able to go back to all normal activities right away. Treated areas of your skin may look slightly sunburned initially since the laser energy impacts the skin's follicles. At home following your appointment, we suggest applying a soothing cream or an ice pack to the area for any mild discomfort.
For at least 24 hours after treatment, be sure to avoid the following:
Participating in strenuous activity
Applying antiperspirant/deodorant to underarms if treated
Spending time in the sun
Scrubbing, exfoliating, or applying irritating substances
It's a good idea to wear high-quality sunscreen (at least 30 SPF) on a daily basis to protect your skin while it is sensitive.
Reviews
"Hands down the best experience! I went to multiple consultations before deciding which doctor I wanted to go with for a breast augmentation, and after I visited Dr. Paul Gill, I knew he was the doctor I would choose! He is very knowledgeable and professional, and his staff is so friendly and so sweet."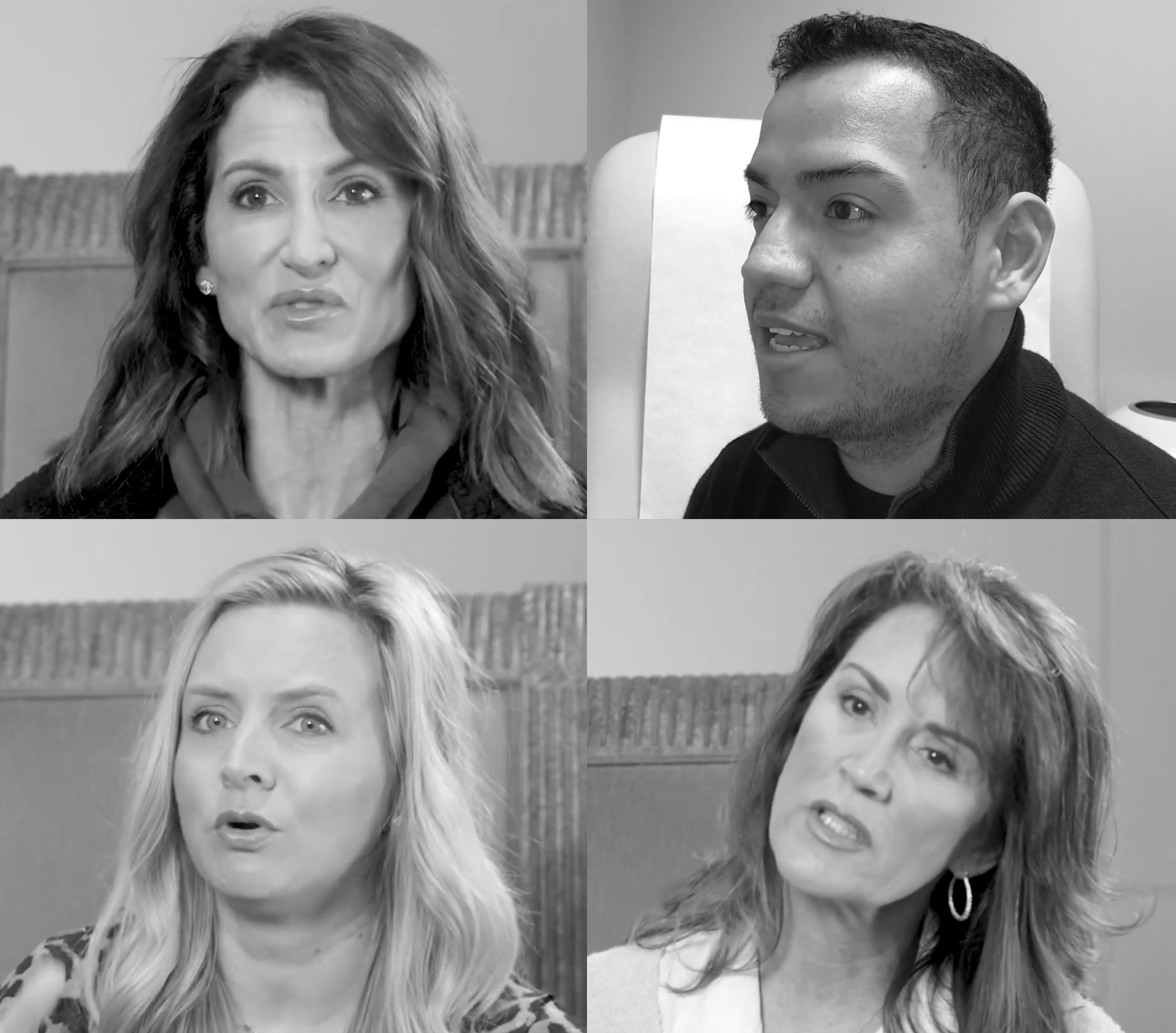 *Real Patients
Frequently Asked Questions
How effective is laser hair removal?
Laser hair removal is known to be a solid solution for hair removal. While some men and women can enjoy the benefits of the treatment for years, it is considered semi-permanent in some cases, meaning, there could potentially be some hair growth that occurs in areas where the laser technology did not hit. Regardless, patients find the majority of the hair will be gone after their treatment plan has concluded and even if some hairs pop up, it is very easy to manage. Most patients find they receive a smooth result. Additional laser hair removal treatments can also be scheduled to take care of any stragglers or new growth as well.
Why do I need multiple laser hair removal sessions?
Hair growth occurs in varying cycles. While some hair may be in a live growing phase, others may be dormant. Since each follicle grows in various stages, multiple treatment sessions are typically needed to target each hair and follicle at its growing phase. Between treatment sessions, the hairs that do grow can be shaved because the follicle is not affected. Laser hair removal removes the hair from the follicle, but the laser must be able to see the hair to remove it. If a follicle is dormant, it is harder for the laser to read. Spreading out your sessions over various weeks helps remove each follicle for the smoothest, most effective result.
Does laser hair removal hurt?
Laser hair removal may cause some minor discomfort, but it is not considered a painful procedure. Most patients will feel a slight sting when the laser targets and removes the hair follicle. We can apply a numbing ointment to the surface of the skin prior to the start of the treatment session. Patients who are used to getting waxed often report that laser hair removal causes much less discomfort than a normal waxing session.
Which laser is best to remove hair?
There are many great lasers on the market today. The Gill Center for Plastic Surgery and Dermatology is proud to offer the latest hair removal technology for patients of varying hair types. The lasers we invest in provide excellent results; we continue to upgrade our technologies as newer lasers enter the marketplace and become available. We encourage you to ask us about our in-house technology during your laser hair removal consultation.
Arrange a Hair Removal Consult
If you are tired of spending energy, money, and time on shaving, plucking, and waxing, make an appointment to find out more information on laser hair reduction sessions at The Gill Center for Plastic Surgery and Dermatology in Shenandoah, TX. Laser hair reduction performed by our team will treat the unwanted follicles on your body and/or face. Make your Candela GentleMax Pro laser hair removal consultation appointment today. Those pesky hairs won't be coming back anytime soon!
Back to Top