The Gill Center for Plastic Surgery & Dermatology
121 Vision Park Boulevard, Suite 100
Shenandoah, TX 77384
Phone: (281) 853-5308
Mon-Thurs: 8 a.m. – 4:30 p.m.
Friday: 8 a.m. – 2 p.m.

Lower Body Lift
Board-certified plastic surgeon Dr. Paul S. Gill is known for giving patients who have undergone significant weight loss a "wow factor" through 360º circumferential body lift surgery in The Woodlands, TX. When excess, lax skin takes over your lower body, it can be very disheartening to not be able to see and feel all of the physical improvements from losing weight. Skin that hangs from the torso, buttocks, and thighs can make certain clothing difficult to wear, sometimes even painful. Mobility and flexibility may also be restricted because of the complications of excess skin (not to mention if there are also chronic skin infections). If you are looking for an experienced plastic surgeon to walk you through this process, we extend an invitation for a consultation at The Gill Center for Plastic Surgery and Dermatology.
Body Lift

Before & After Photos
WARNING:
This feature contains nudity. Please click OK to confirm you are at least 18 years of age and are not offended by such material.
OK
Why Choose Dr. Gill for Your Body Lift?
With a lower body lift, Dr. Gill's objective is to eliminate the loose, redundant skin on the mid and low body, including the buttocks, stomach, flanks, back, and thighs. This type of body contouring requires an incision all the way around the waist, which grants the highest amount of lift and skin excision for you. Finding a caring and talented plastic surgeon to perform a lower body lift with compassion may seem like a wish list when it comes to your surgery. However, as many of his patients will attest, Dr. Gill is the whole package. He understands that the weight you lost has disfigured your skin and that you need someone who can artistically reshape your lower body without the excess. Alongside his amazing team at The Gill Center, who are all personable and generous with their knowledge, Dr. Gill can provide you with a lower body lift experience that will provide results you will love. We appreciate your time and consideration for choosing Dr. Gill as your plastic surgeon and look forward to meeting you in the office. While this is not a surgery to achieve weight loss goals, it is considered to be an amazing conclusion to a weight loss journey (with a tight body that appears healthy and refined).
Ideal Body Lift Candidates
Simply put, candidates for a lower body lift have skin on the abdomen, buttocks, and thighs that will not stay put unless restricted in clothing or shapewear. Why? The weight that was lost damaged the skin to the point that all elasticity was expended. This means you are left with:
Stretch marks, wrinkles, and skin that does not "snap back" into place
Skin that hangs from the entire abdomen (it may hang over your pubic area)
Folds of skin that overlap each other on the abdomen, buttocks, and thighs
Chronically irritated skin from being in constant contact or friction from clothing
Asymmetric areas of the body because of uneven weight loss or skin damage
Clothes that do not fit properly or are uncomfortable due to the skin
Pain from the weight of the skin as it pulls on your body
If you experience this with your excess skin, we invite you to have a one-on-one consultation with Dr. Gill. Tell him about your concerns. He will listen and provide you with helpful feedback, realistic aesthetic goals, and give you the right information to make an informed decision about your care. Many post weight loss patients benefit from arm lift, thigh lift, and butt lift procedures along with body lift surgery.
Drs. Paul & Anita Gill
Combining the science of plastic surgery and dermatology with the art of aesthetic procedures, Dr. Paul Gill and Dr. Anita Gill use their experience and expertise to create attractive results in a comfortable, patient-centered environment.
Meet Dr. Paul Gill
Meet Dr. Anita Gill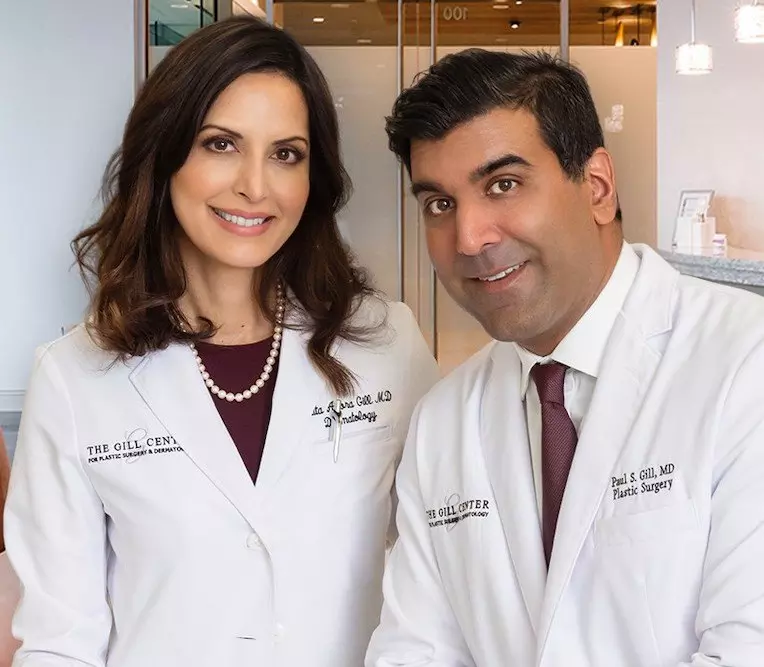 Surgical Technique
Most likely, you will have the lower body lift by Dr. Gill in a hospital setting where you can stay overnight. While under a general anesthesia, your surgery can take up to 4 to 7 hours. In surgery, Dr. Gill will make an incision along the area where a belt is worn, which is why it is sometimes known as a circumferential 360 lift or beltectomy. The skin will be lifted off your body and set to the side. After the incision is precisely made by Dr. Gill, he will perform surgical liposuction on the areas of excess fat to make the skin lay flat. Then, the remaining skin will be pulled taut and closed with sterile sutures and bandaged. Compression garments will be worn on the lower body to minimize bleeding, bruising, and swelling. You will stay at least one-night inpatient for observation.
What to Expect
As a lower body lift is a pretty detailed procedure involving a large area of your body, you will need to prepare for lots of downtime and rest after this surgery. Historically, it has taken many lower body lift patients at least two or more weeks to get back to easy activities. Your body will feel, look, and move differently after a lower body lift. Dr. Gill will provide you with clear instructions and information on caring for the incisions so that they heal seamlessly. While the recovery period may feel long, the results can be extraordinary.
We will discuss in full detail and come up with a plan of action for how you will recover from the surgery. You may also have your surgeries staged, which means you won't have the entire treatment in one operation. Many patients feel it's one of the most valuable elective surgeries available today.
Reviews
"Hands down the best experience! I went to multiple consultations before deciding which doctor I wanted to go with for a breast augmentation, and after I visited Dr. Paul Gill, I knew he was the doctor I would choose! He is very knowledgeable and professional, and his staff is so friendly and so sweet."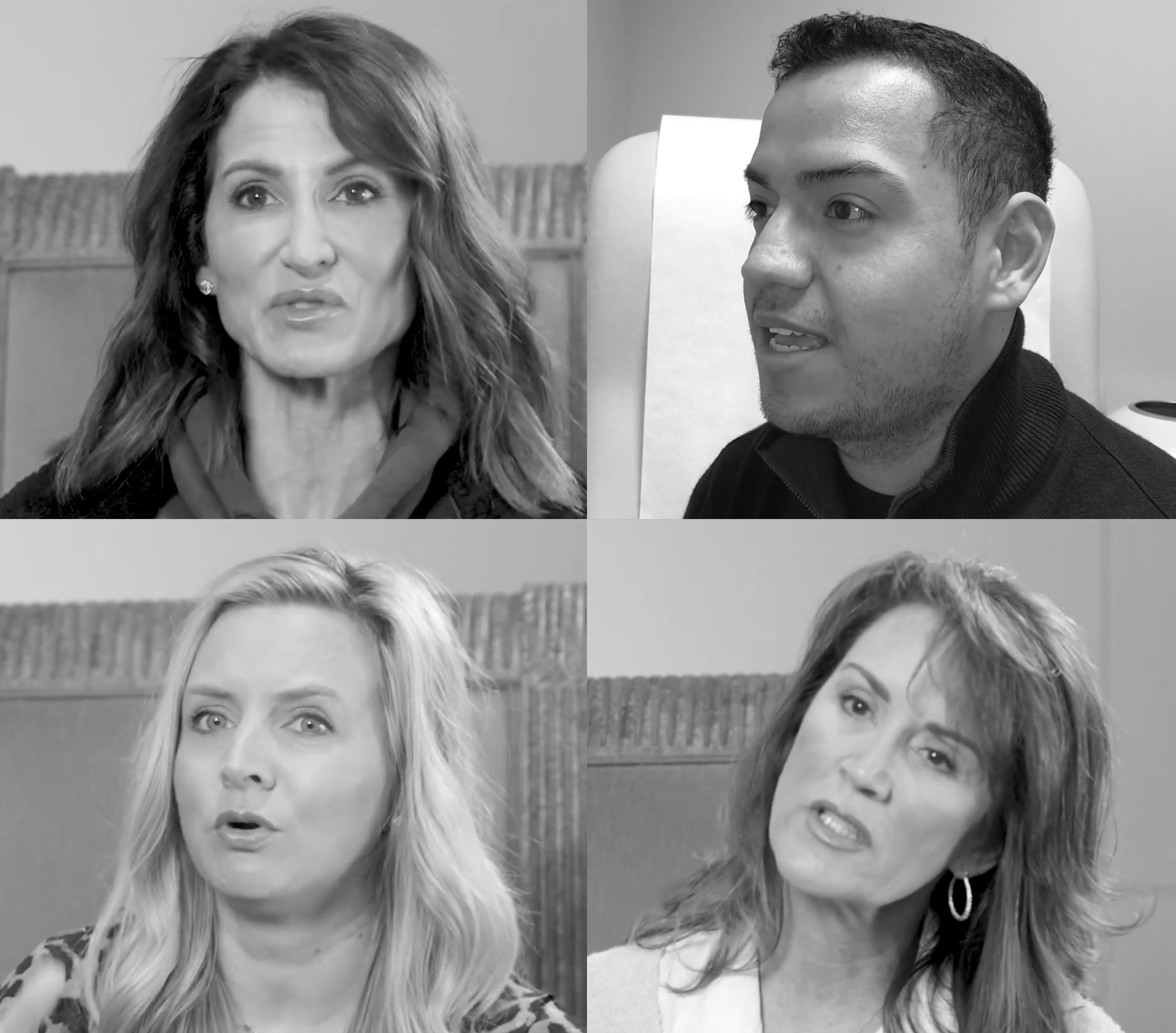 *Real Patients
Frequently Asked Questions
Will I have visible scarring?
Several factors will determine how many scars you have and their visibility after a lower body lift. Dr. Gill plans incision points so each incision can be simply covered by undergarments or in less visible areas, like the natural skin folds. Many patients that have the lower body lift are so pleased with their results that having the scars from this surgery are worth it. You may feel differently. Keep in mind that for your sutures to heal correctly, you must follow all of your post-op instructions so the scars heal smooth, and in time, blend into your skin.
What can I expect during recovery?
Following your lower body lift, you will likely have moderate inflammation and bruising in and around the treated areas. Appointments for follow-up exams are important so Dr. Gill can observe your incisions and recovery. It's crucial that you contact The Gill Center for Plastic Surgery and Dermatology if you see any signs of an infection (fever, discharge, or change in the appearance of your incision that concerns you) or if you have any questions.
When should I consider getting a lower body lift?
When you're thinking about getting a surgical lift on your lower half, make an appointment with Dr. Gill to learn more information about the procedure and when is the right time for you to schedule surgery. You need to be at or close to a sustainable weight because losing or gaining a lot of weight following a lift can impact your appearance. Before surgery, Dr. Gill will also complete a physical assessment to make sure that you're strong enough to undergo the procedure.
Will I have to stay overnight in the hospital?
Usually, Dr. Gill requires his patients to stay a minimum of one night in a medical facility following surgery. This overnight stay is to ensure your safety and comfort, to control your pain, and to monitor your overall health after this major surgery. Based on the number of areas treated and how you respond after surgery, Dr. Gill might suggest you stay two or more nights. In your initial consultation, Dr. Gill will talk about options for aftercare treatment, as well as how long he thinks you may need to stay. Regardless, he will only be requiring this if it is in your best interest.
Feel At Ease With Dr. Gill
Dr. Gill will not rush you into a decision, as he wants you to understand your procedure in detail. His recommendations will all be based on you. The Gill Center for Plastic Surgery and Dermatology takes pride and joy in working with our patients, especially when making it to their aesthetic goals. If you are concerned about extra skin and sagging folds on the middle or lower areas of your body, you could be a candidate for a lower body lift. Contact us today to schedule a consultation with Dr. Gill and let him go over this treatment with you.
Back to Top