The Gill Center for Plastic Surgery & Dermatology
121 Vision Park Boulevard, Suite 100
Shenandoah, TX 77384
Phone: (281) 853-5308
M-Th 8 a.m.–5 p.m.
F 8 a.m.–2 p.m.

Breast Augmentation
Women come to our practice in The Woodlands, TX,  for breast augmentation for a variety of reasons. Some want to enhance naturally small breasts, while others seek to restore fullness lost after weight loss or having children. For many women, having fuller, more feminine breasts can improve self-confidence and quality of life. One thing all of our breast augmentation patients have in common is the desire for exceptional results and a safe, personalized procedure. Double board-certified plastic surgeon Dr. Paul Gill uses his experience and training to create beautiful results that look natural and exceed patients' expectations.
Breast Augmentation
Before & After Photos
WARNING:
This feature contains nudity. Please click OK to confirm you are at least 18 years of age and are not offended by such material.
OK
Breast Augmentation
Before & After Photos

Keep in mind that each patient is unique and your results may vary.

Keep in mind that each patient is unique and your results may vary.
How to Choose Breast Implants
Choosing breast implants involves considering both your personal preference and the physical characteristics of your body. We can customize breast augmentation procedures based on these factors because we offer the widest variety of breast implant options in our community. At The Gill Center in The Woodlands, your breast augmentation procedure is tailored to your body and your lifestyle, and choosing the right implants is a big part of that. There are several factors to consider before selecting your implants. These include:
What is the best breast implant material?
There is no definite "best" fill material for breast implants because the choice depends on the patient's anatomy and personal preferences. Here are the choices we offer at The Gill Center:
Saline implants are the most affordable option. These implants are rolled up, inserted into the breast through a tiny incision, and filled with harmless saltwater. They do not feel as natural as silicone and can ripple and slosh. We offer a complete range of available implants and profiles.
Silicone gel implants are available for breast augmentation patients who are at least 22. This is the most popular choice because they give the breast a natural look and feel. You can choose from the different degrees of cohesiveness depending on the look and feel you prefer. "Gummy bear" implants, for example, are the most cohesive and feel a bit firmer than less cohesive implants.  We offer silicone gel implants with 3 different levels of cohesiveness and 6 different profiles.
IDEAL IMPLANT® is an alternative to silicone implants for patients who want saline with a more natural look and feel. These implants are more expensive than regular saline implants.
How do I choose my breast implant size?
Choosing the size of your implants can be both exciting and overwhelming. Dr. Gill can help you make a decision after listening closely to you describe how you want to look and taking measurements of your chest wall. One thing to keep in mind is that the size implants that you think look great on a friend or family member may not be right for you because each woman's body is different.
How do you determine breast implant profile?
When choosing implant profile, Dr. Gill accounts for the width of your natural breasts and the breast shape you hope to attain. The breast implant profile, also known as "projection," specifies how far the implants (and therefore the breasts) will protrude from the chest wall. Implant profiles generally range as follows:
High profile provides the most projection and the narrowest base. This profile enables women with a small breast diameter to have higher volume implants.
Moderate profile offers moderate projection and volume for nicely proportioned, natural-looking breasts.
Low profile covers more of the chest and provides the least amount of projection. This profile increases volume more in the cleavage and upper breast areas. These are best for women with wider chests.
Depending on the implant manufacturer, profiles may be broken down into more categories such as "moderate plus" and "extra high" profile. Dr. Gill will help you choose the profile that works with your body to provide the breast size and shape you want.
Drs. Paul & Anita Gill
Combining the science of plastic surgery and dermatology with the art of aesthetic procedures, Dr. Paul Gill and Dr. Anita Gill use their experience and expertise to create attractive results in a comfortable, patient-centered environment.
Meet Dr. Paul Gill
Meet Dr. Anita Gill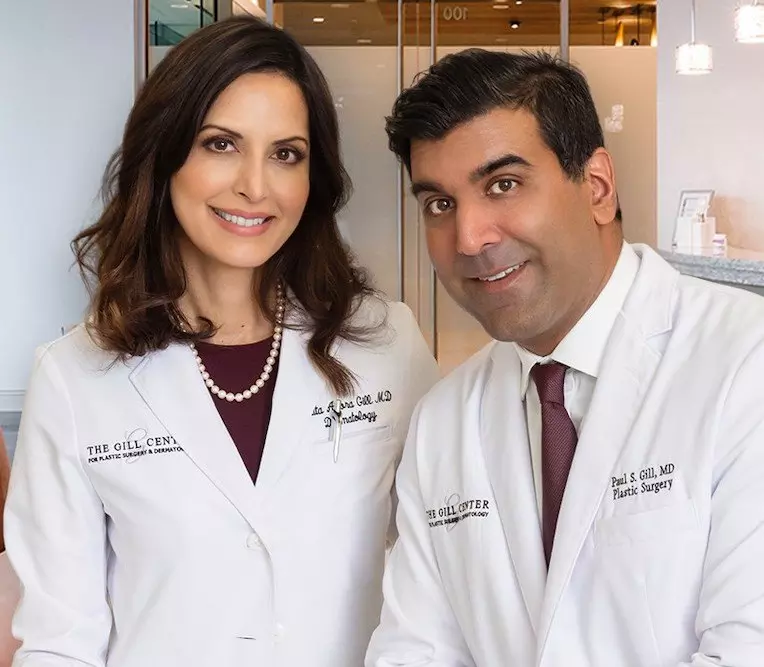 What are IDEAL IMPLANT breast implants?
The IDEAL IMPLANT is a saline-filled implant that includes a unique structure, with several inner shells called "baffles" that add support to the implant. Dr. Gill offers this unique saline implant as part of his commitment to providing the largest selection of implants in the area. It is a great implant for the right patient but is limited because it doesn't come in different profiles. Dr. Gill can discuss if this might be the right implant for you during your consultation.
How Much Does Breast Augmentation Cost in the Houston Area and The Woodlands?
In The Woodlands and around the Houston area, breast augmentation can range from $5,500 to $9,000. The cost of breast augmentation surgery depends on several factors, including the type of implants you choose, the plastic surgeon's training and experience, and the location of the practice. We will provide you with a customized price quote at your consultation. Cost is something that virtually all patients need to consider but choosing a surgeon based on price alone can lead to additional expenses in the long run if you're not happy with the results.
How Is Breast Augmentation Performed?
Besides the choice of implants, you also have options involving where Dr. Gill makes the incisions and whether you want the implants placed in front of or behind the chest muscle. Dr. Gill helps patients make these decisions by carefully explaining how different choices will influence the results and how their lifestyles factor into the decision.
There are 3 primary incision locations for breast augmentation:
Inframammary: This is the option commonly preferred by patients. Dr. Gill makes a short incision at the base of the breast, just above the crease where it connects to the torso. About 95 percent of our patients choose inframammary incision because it involves the least risk and allows direct access to the breast pocket.
Transaxillary: Made in the armpit, this incision also doesn't result in any scarring on the breast. However, it doesn't provide a direct view of the implant pocket and the results are less predictable.
Periareolar: Making an incision along the lower edge of the areola has the benefit of being well camouflaged after it heals. The drawbacks of periareolar incisions include the risk of losing nipple sensitivity, particularly in women with smaller areolas. There is also a risk of breastfeeding challenges in the future, as the milk ducts can be affected by this type of incision.
Breast Implant Placement
In general, the 2 choices are in front of the muscle (subglandular) or behind the muscle (submuscular). A subglandular placement may be the right approach for some patients, but Dr. Gill prefers submuscular placement because it's safer. There is less risk of capsular contracture, infection, sensation change, and milk duct damage. Breast implants behind the muscle also don't interfere with mammograms.
Specialized Breast Augmentation Techniques
Dr. Gill performs "no-touch" breast augmentation using the Keller Funnel®, a single-use device that enables surgeons to insert implants with minimal handling. This results in a greatly reduced risk of infection and much less trauma to the breast tissue.
Another technique offered by Dr. Gill is fat transfer breast augmentation, which is available for patients who want only a modest increase in breast size. The procedure involves taking excess fat from one area of the patient's body, purifying it, and then re-injecting it into the breasts. Dr. Gill can discuss this with you during the consultation. In some cases, Dr. Gill may recommend combining a breast lift with implants.
Reviews
"Hands down the best experience! I went to multiple consultations before deciding which doctor I wanted to go with for a breast augmentation, and after I visited Dr. Paul Gill, I knew he was the doctor I would choose! He is very knowledgeable and professional, and his staff is so friendly and so sweet."
Read All Dr Anita Gill's Reviews
Read All Dr Paul Gill's Reviews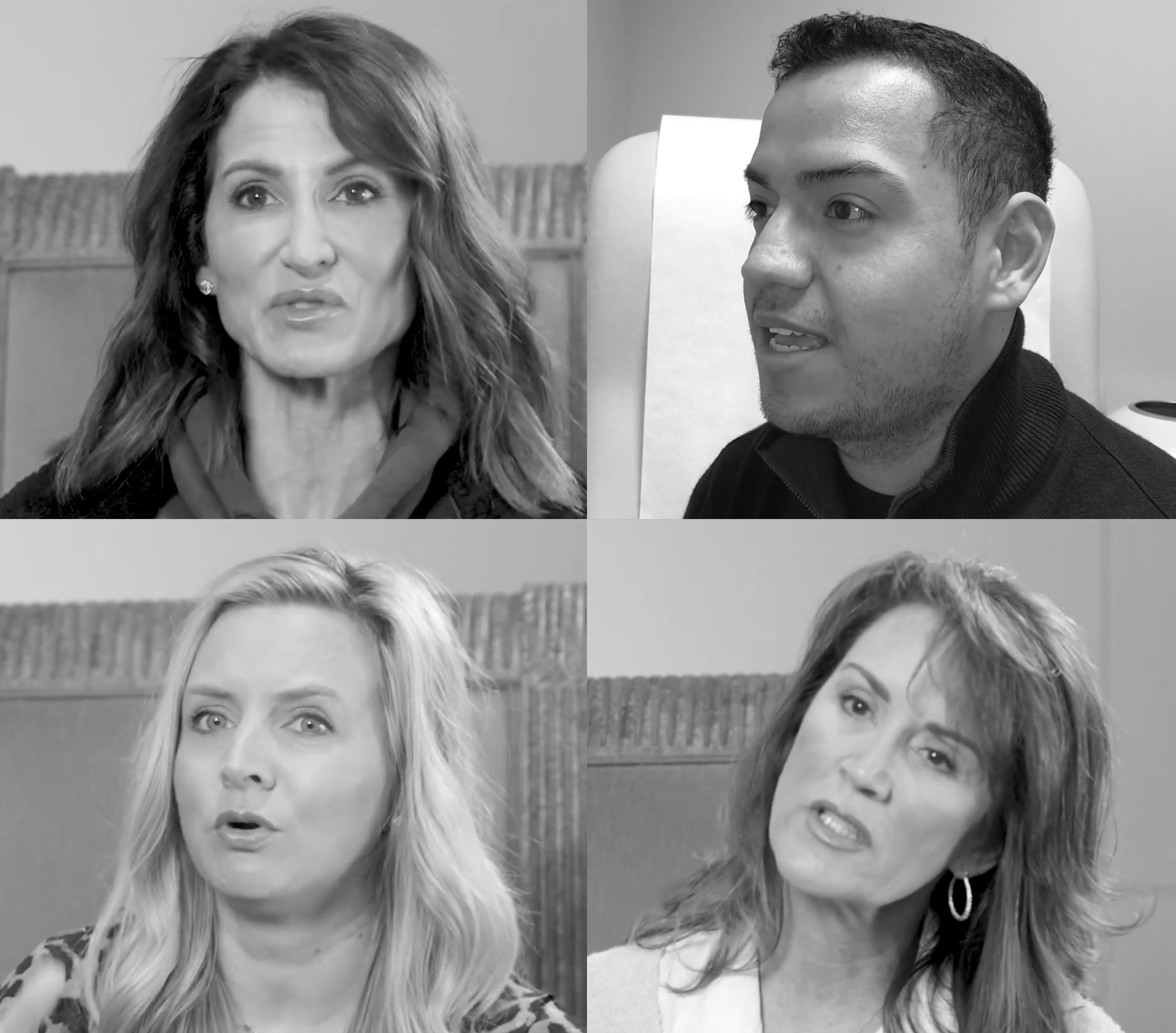 *Real Patients
How Long Does It Take To Recover From Breast Augmentation Surgery?
Each patient recovers at her own pace but Dr. Gill uses techniques that are designed to help you get back to your normal routine as quickly as possible. He wants patients to begin walking within the first 24 hours following the surgery and prescribes medication to help manage discomfort. Most women can return to non-strenuous work within a week. It is normal to have bruising and swelling, and these resolve on their own over the initial days and weeks following your surgery. It can take several months for your implants to settle into their final location.
We provide detailed post-op instructions that should be closely followed. These cover everything from activity restriction timelines to what type of bra to wear. Dr. Gill will be there to monitor your healing and answer your questions at every step of the way.
Breast Augmentation FAQs
How should I sleep after breast augmentation surgery?
Sleeping after getting breast implants can be a big adjustment for some patients. It's important to sleep on your back with your torso slightly elevated. This position helps reduce swelling, minimizes the build-up of fluid, and enhances circulation. It also keeps the breasts in a more natural position as they heal. Usually, patients can resume sleeping on their sides after about 2 weeks.
What should I avoid after breast enhancement surgery?
Besides not sleeping on your stomach, there are other things to avoid after getting implants. For example, you should not take aspirin-type medication because it can increase bleeding. Pushing or pulling anything is another no-no. Many women want to know how long they have to wait before resuming exercise. For runners, Dr. Gill believes that patients can begin some light jogging 2 weeks after the procedure. He recommends avoiding heavy lifting, playing any sport, and exercises targeting the upper arms or pectoral muscles for 6 weeks.
What type of bra should I wear after breast augmentation surgery?
Dr. Gill initially wraps compression bandages around the breasts to help the healing process. After they're removed, you may want to wear a post-surgical bra or a sports bra that doesn't have underwire. Even though it's exciting to shop for fun new bras that fit your new breasts, you should wait until the swelling has resolved and the breasts have settled. You may also want to get a professional bra fitting to ensure the correct fit and support.
How long does the pain last after a breast augmentation?
The post-op experience for each patient varies. Some women are more sensitive to pain or discomfort than others, and patients who get implants under the muscle may have a little more soreness compared to patients who get implants above the muscle. You may still be having some minimal discomfort 4 weeks or so after the procedure. That's normal, but Dr. Gill encourages patients to contact him if they have concerns.
When should I start massaging after breast augmentation?
Dr. Gill recommends beginning massage therapy after the patient's first post-op visit, which usually occurs 4 to 7 days after the surgery. Massaging the breasts earlier than that can increase tension on the incisions, making it more difficult for the wounds to heal. It will also increase the patient's soreness, and Dr. Gill wants his patients to stop taking pain medication as quickly and safely as possible. Finally, early massage can increase the risk of bleeding and lead to complications.
Enhance Your Bustline
Women considering breast augmentation travel from Houston and other areas surrounding The Woodlands to have Dr. Gill perform their procedures. He's a double board-certified plastic surgeon with the experience, training, and bedside manner that sets him apart from most other surgeons. Request a consultation using the online form to meet privately with Dr. Gill or call our office at (281) 853-5308 to schedule an appointment.
Back to Top