The Gill Center for Plastic Surgery & Dermatology
121 Vision Park Boulevard, Suite 100
Shenandoah, TX 77384
Phone: (281) 853-5308
Mon-Thurs: 8 a.m. – 4:30 p.m.
Friday: 8 a.m. – 2 p.m.

Tips for Sleeping After a Mommy Makeover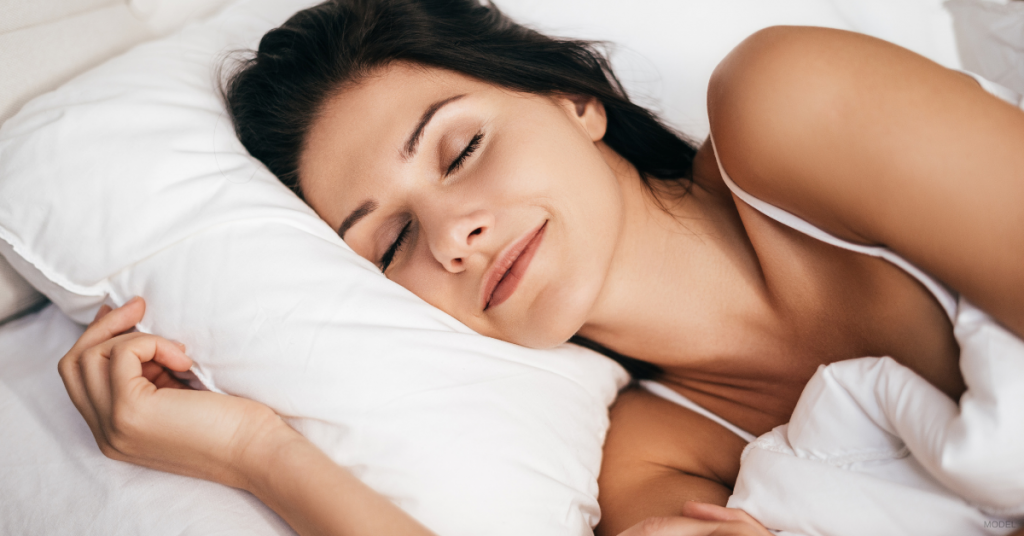 If any group of people knows all about the perils of sleep deprivation, it's moms. Not getting enough sleep can tax even the most patient individuals when you're raising children. For women who choose to restore their pre-baby bodies with a mommy makeover, sleep is important for a speedy and healthy recovery. But the procedure, which combines a tummy tuck with a breast lift or breast augmentation at our practice in The Woodlands, can pose challenges when it comes to getting comfortable. Swelling, snug compression garments, and in some cases new breast implants conspire to make it difficult to rest comfortably and get the sleep needed to help the body heal.
I help my mommy makeover patients at The Gill Center by providing tips to follow during their recoveries and decided to share those tips on our blog for anyone considering body contouring surgery.
Start Out in a Recliner
Keeping your upper body elevated during the initial recovery period is key to getting enough sleep. Having the torso raised helps with swelling and reduces the buildup of fluid in the abdomen during the first 2 weeks after surgery. It also reduces tension on your abdominal sutures, and it's easier to rise to a standing position from a recliner than a bed.
Transition to Sleeping on Your Back
There's a reason we don't normally sleep in recliners; sleeping on our backs is better in general. It's also especially beneficial during recovery after surgery to reduce pressure on the chest and abdomen. If you were used to sleeping on your stomach or side before surgery, the transition to sleeping on your back can be difficult. It helps if you start sleeping in that position for a few weeks before your procedure, and positioning pillows on either side can help prevent rolling over to your side or stomach.
Don't Remove Compression Garments
The tight-fitting garments worn by tummy tuck patients aren't designed for comfort, but it's important to wear them while sleeping. These garments, sometimes called compression wear, help reduce swelling and ease tension on the incisions. They also protect the treatment area while it heals.
Modify Your Pre-Bedtime Routine
Breaking your sleep habits is difficult, but you can help by avoiding certain lifestyle routines that can make it harder to fall asleep. Pass on having a nightcap before bed and don't have caffeine or sugary drinks or foods at night. Many of us now scroll through our smartphones before going to sleep, but that can keep you awake even when you're tired. Changing these habits after surgery may lead to adopting a new, healthier routine even after your recovery.
Don't Forget To Move Around
Even though we counsel patients to get plenty of rest, taking short walks throughout the day is equally important for a speedy recovery. This may just be walking around the house for a few minutes on the first few days after surgery and then slowly building up to taking short walks in your neighborhood. Walking improves circulation, which reduces the risk of blood clots and also helps you feel tired at the end of the day.
One thing you shouldn't lose sleep over is whether you chose the right surgeon. If you're looking for the best plastic surgeon in The Woodlands, TX, to perform a mommy makeover, take a look at our before-and-after photos to see the results our patients enjoy. You can contact our practice using the online form to request a consultation to discuss your goals or call us at (281) 853-5308 to schedule an appointment.
Tagged with: abdominoplasty • Breast Augmentation • breast implants • breast lift • mommy makeover recovery • sleeping after mommy makeover

* All information subject to change. Images may contain models. Individual results are not guaranteed and may vary.
Back to Top