The Gill Center for Plastic Surgery & Dermatology
121 Vision Park Boulevard, Suite 100
Shenandoah, TX 77384
Phone: (281) 853-5308
Mon-Thurs: 8 a.m. – 4:30 p.m.
Friday: 8 a.m. – 2 p.m.

Dermal Fillers
Signs of aging etched into your face appear as wrinkles and fine lines. Additionally, cheeks and the area under the eyes can begin looking hollowed out. We offer JUVÉDERM® and other dermal fillers at The Gill Center in The Woodlands, TX, to help patients from Cypress, Spring, Conroe, Tomball, and other nearby towns soften static wrinkles, restore volume, and give their lips a fuller appearance.
Which Fillers Are Right for You?
People experience loss of volume in the face for various reasons, but the most common reasons are aging and weight loss. Injectable fillers are a minimally invasive treatment for women and men who want to reverse these signs of aging without surgery. When you come to The Gill Center, our providers can recommend the filler or fillers that best address your specific concerns. These products are now formulated to target certain areas and types of wrinkles or folds.
JUVÉDERM and Restylane® are 2 of the most common filler brands and each includes several specialized products. The right fillers for you depend on what aesthetic concerns you have.
How Much Do Injectable Fillers Cost in The Woodlands, TX?
The cost of an injectable filler treatment will vary, depending on the type of filler and how much is needed to achieve desired results. During your initial consultation, we will create a customized treatment plan that best fits your needs. We will also provide you with an estimated cost for your treatment and give you information about specials we run on injectable fillers to help make your filler as affordable as possible.
Drs. Paul & Anita Gill
Combining the science of plastic surgery and dermatology with the art of aesthetic procedures, Dr. Paul Gill and Dr. Anita Gill use their experience and expertise to create attractive results in a comfortable, patient-centered environment.
Meet Dr. Paul Gill
Meet Dr. Anita Gill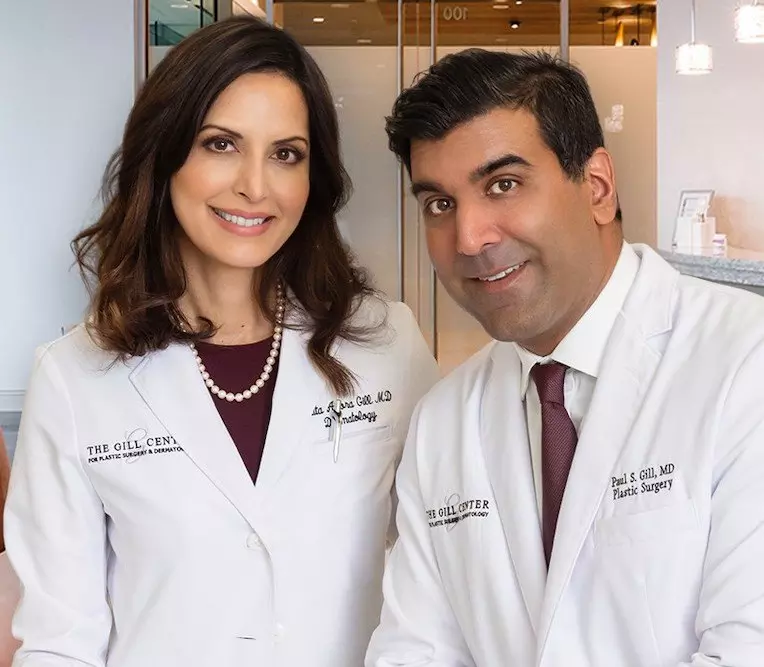 Areas Treated by Fillers
Here are the areas we frequently treat using fillers:
Under the eyes (tear troughs)
Around the mouth
Cheeks
Nasolabial folds
Lips
Temples
Our Menu of Fillers
We offer both the JUVÉDERM and Restylane filler product lines. Both are formulated using hyaluronic acid, which is naturally found in the skin. Treatment areas targeted with hyaluronic acid are hydrated and the filler acts as a sort of scaffolding for your skin. It will support the skin at the depression or wrinkle site, helping it to appear smoother and younger. Virtually all fillers include a local anesthetic to help minimize discomfort during the treatment.
Fillers specifically formulated to address certain areas are available. Your options include:
JUVÉDERM
VOLUMA: Approved by the FDA to restore volume to the cheeks, VOLUMA is ideal for women and men with a hollowed-out appearance of the mid-face. Cheek augmentation results with VOLUMA can last up to 2 years.
VOLLURE: This filler treats medium or deep wrinkles and lines in various areas of the face, including nasolabial folds and other lines around your nose and mouth. The results last for about 12 months.
VOLBELLA: Lip augmentation with filler injections is extremely popular among both younger and older women. VOLBELLA can also minimize fine lines around the lips, with results lasting up to a year.
Restylane
Refyne & Defyne: Both fillers are specifically formulated with the proprietary XpresHAn TechnologyTM to address smile and laugh lines around the mouth. Refyne treats early signs of aging, while Defyne is best for patients with moderate to severe wrinkles and lines.
Lyft: This versatile filler can help restore volume in many areas of the face, but it is an excellent option for cheeks that have a sunken appearance.
Silk: Approved by the FDA specifically for lip enhancement and to smooth fine lines around the mouth, Silk is a popular lip filler for people who want plumper, more sensual lips.
Ideal Candidates for Dermal Fillers
Women and men who are in good health and want to rejuvenate or enhance facial features make great candidates for dermal fillers. Results are temporary and may be reversed when hyaluronic acid fillers are used.
Are Dermal Fillers Better Than BOTOX?
While fillers and BOTOX® Cosmetic are both injectable facial rejuvenation treatments, they offer different benefits. One is not "better" than the other.
Dermal Fillers
Provide immediate results
Add and restore facial volume to flat cheeks and hollows around the eyes
Smooth away smile lines (nasolabial folds) and static wrinkles
Plump and define the lips
BOTOX
Smoothes out lines caused by facial muscle contractions (dynamic wrinkles) like crow's feet and frown lines
Prevents dynamic wrinkles in younger patients
Reduces a gummy smile
Slims an overdeveloped jawline
Many patients attain a more complete facial rejuvenation through a combination of fillers and other cosmetic injectables, such as BOTOX. This personalized treatment is often called a liquid facelift.
What Happens During Filler Injections?
The treatment plan is based on the consultation when we discuss your concerns and cosmetic goals. Before injecting fillers, we apply a topical numbing cream to help you remain comfortable during the treatment. After the injections, the provider gently massages the site to ensure a smooth, even application. Keeping the desired result in mind, either a portion of or an entire syringe can be used during your appointment. The treatment itself usually takes less than 20 minutes.
Reviews
"Hands down the best experience! I went to multiple consultations before deciding which doctor I wanted to go with for a breast augmentation, and after I visited Dr. Paul Gill, I knew he was the doctor I would choose! He is very knowledgeable and professional, and his staff is so friendly and so sweet."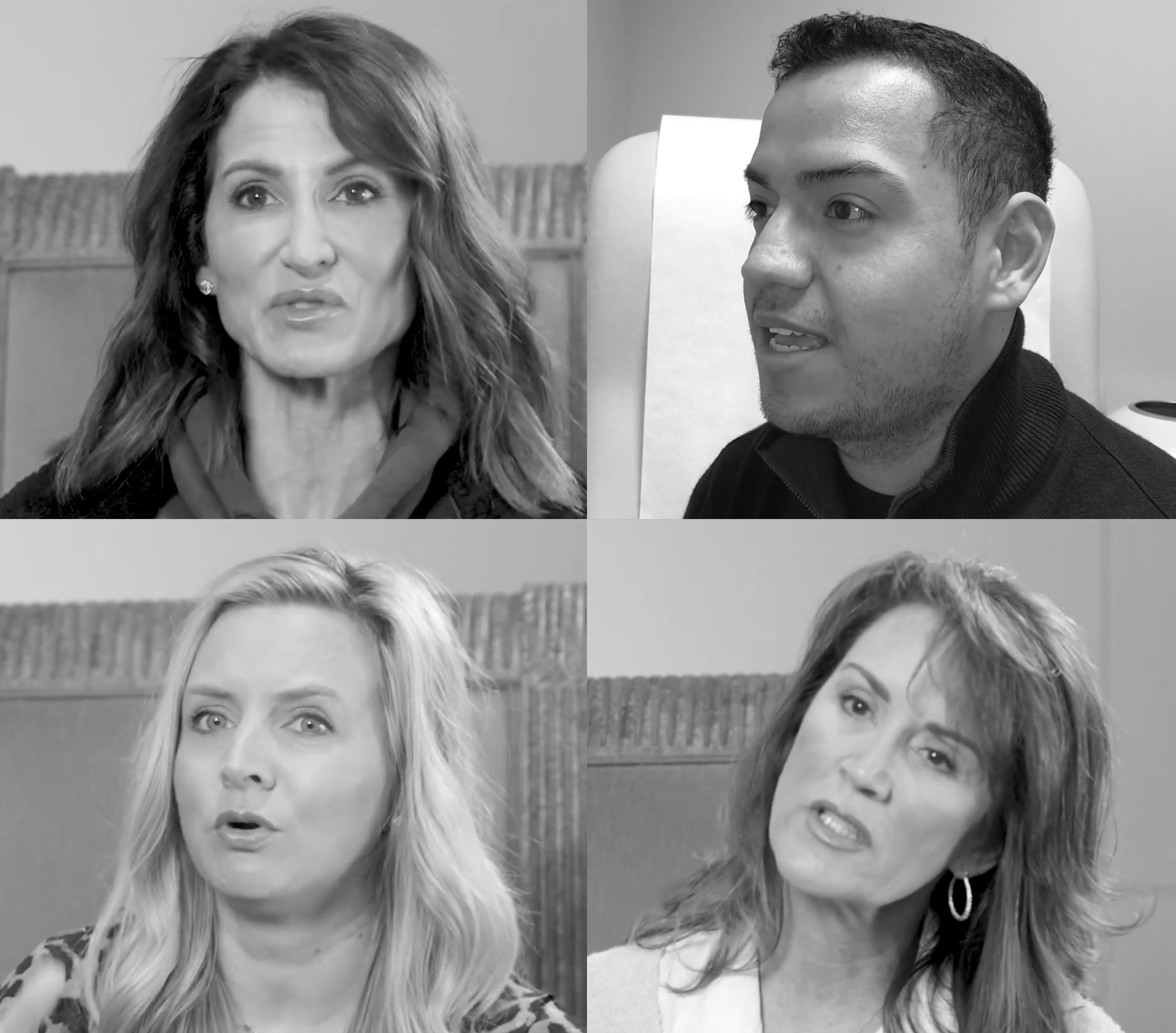 *Real Patients
What Is Recovery Like?
No downtime is needed after filler treatments, but you should expect some immediate swelling and bruising. These symptoms typically fade within a couple of days. Applying an ice pack can help minimize side effects. Avoiding alcohol and strenuous activity for the first 24 hours after treatment is also important.
How Long Do Fillers Last?
Depending on the type of filler or fillers used, your results may last from 6 months to 2 years. We recommend touch-up appointments to maintain the results seamlessly.
Dermal Filler FAQ
Will fillers make you age faster?
Restylane and JUVÉDERM fillers contain hyaluronic acid, a substance that keeps the skin plump and hydrated and declines with age. Fillers don't speed up the aging process; they won't stop it either. With regular treatments, fillers help women and men maintain a youthful appearance for years.
What's the best filler for lip injections?
We offer multiple fillers formulated specifically for the lips, including VOLBELLA and Silk. The best one for your lip injections will depend on your individual needs and cosmetic goals.
Are there any side effects?
Side effects from filler treatments are typically temporary and commonly include bruising, redness, and tenderness at the injection sites for a few days.
Can fillers look natural?
At The Gill Center, our highly skilled and experienced injectors are known for providing beautiful, natural-looking results with dermal filler treatments.
Men and women who want facial rejuvenation without surgery choose dermal fillers at our Houston-area practice. You can request a consultation using the online form or call The Gill Center at (281) 853-5308 to schedule an appointment.
Back to Top