The Gill Center for Plastic Surgery & Dermatology
121 Vision Park Boulevard, Suite 100
Shenandoah, TX 77384
Phone: (281) 853-5308
Mon-Thurs: 8 a.m. – 4:30 p.m.
Friday: 8 a.m. – 2 p.m.

What Is Typically Included in a Mommy Makeover?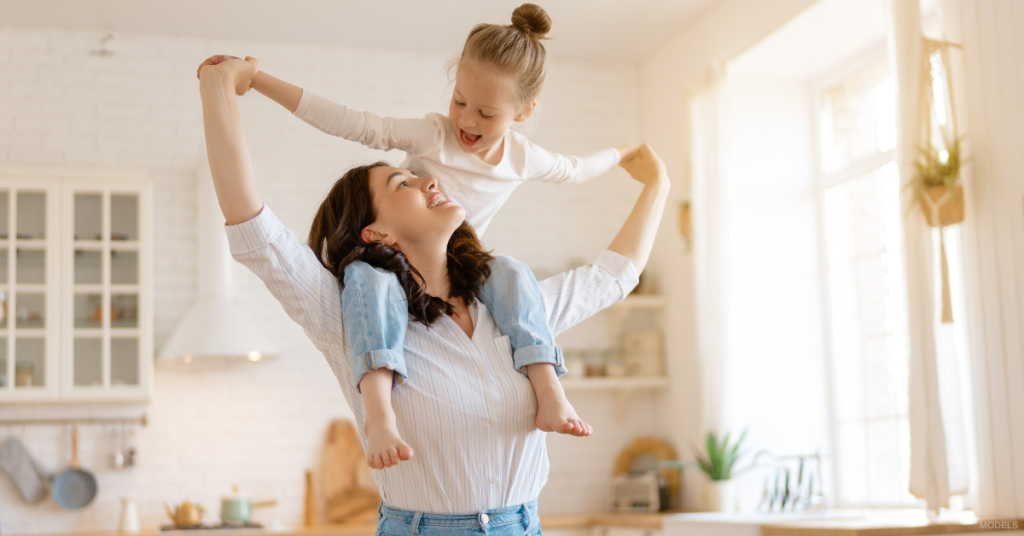 If you want a flatter midsection, fuller and more lifted breasts, and a well-sculpted waist and midsection, a mommy makeover can do just that. Most people include breast augmentation, a breast lift, tummy tuck surgery, and liposuction in their mommy makeover procedures to address common post-pregnancy issues. But the good news is, you don't have to be a mom to enjoy a mommy makeover. This combination of procedures is an excellent option for anyone who wants to reshape their body and regain confidence in their appearance.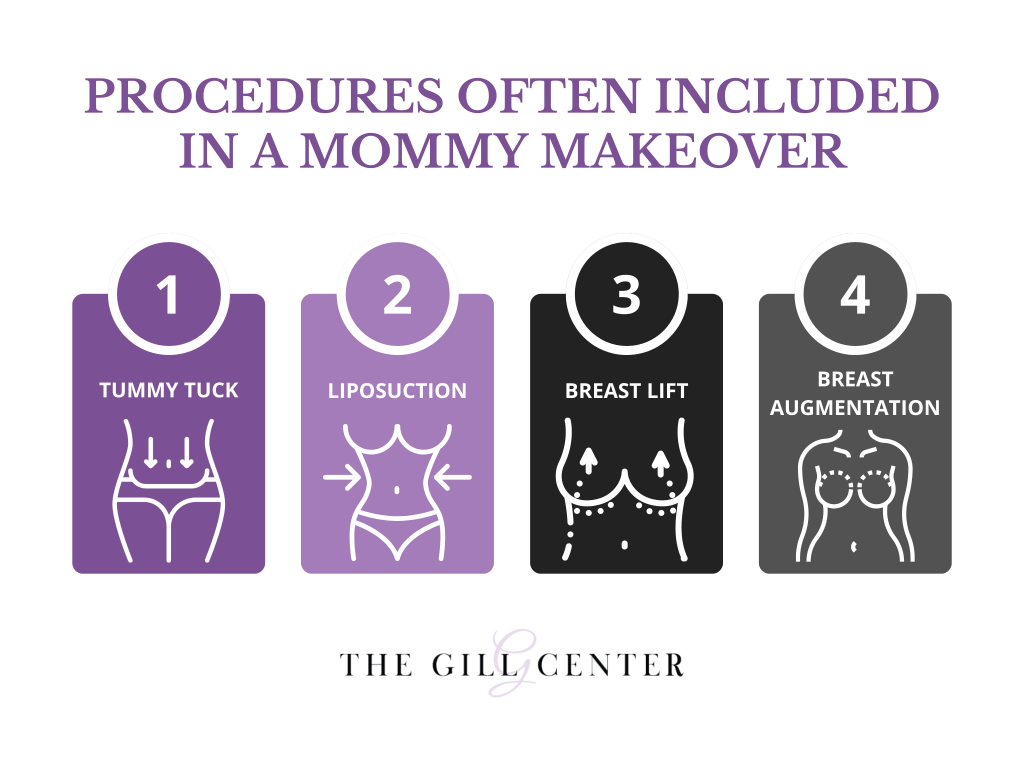 Our team at The Gill Center understands your frustration when diet and exercise don't give you the results you want. And while a mommy makeover does not help you lose weight, it can sculpt and contour your body if you have loose, excess skin after pregnancy or weight loss. Read our related blog post to learn more about weight goals before a mommy makeover procedure.
The great thing about a mommy makeover is that you can customize it to fit your goals and needs, whether you want a breast reduction and arm lift or a breast lift, liposuction, and body lift. In the before and after photos below, though, you can see how the combination of breast enhancement, a tummy tuck, and liposuction transforms our patients' bodies.
Mommy Makeover Before and After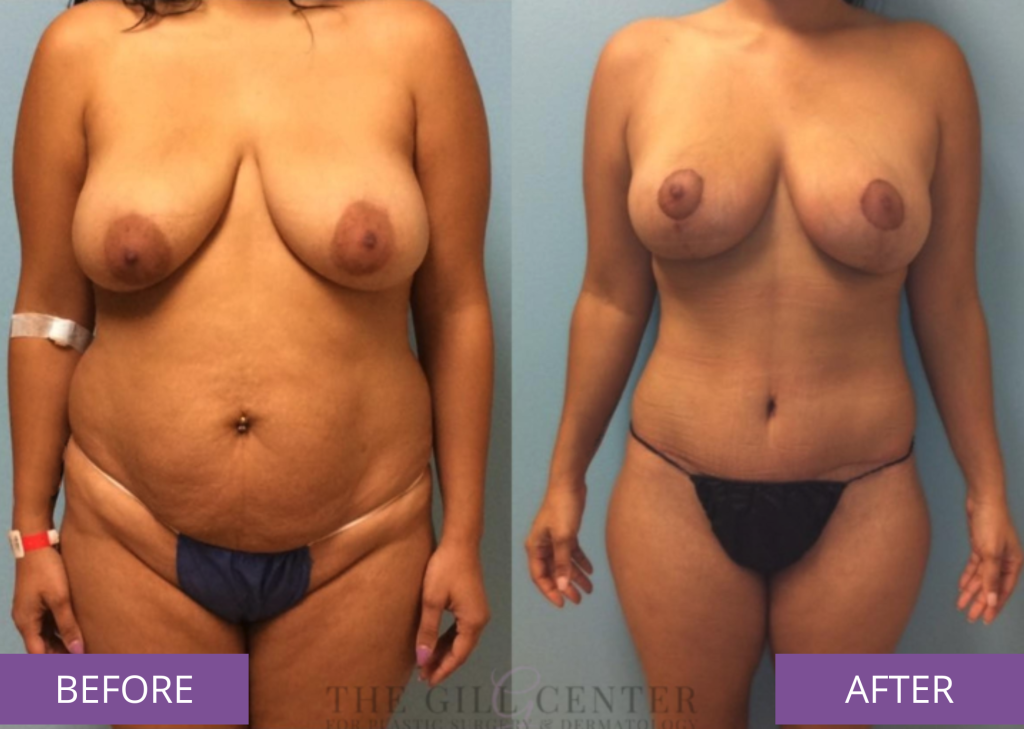 This patient wanted to lift and shape her breasts as well as flatten her midsection. Dr. Paul Gill performed a tummy tuck to remove excess skin and fat from her abdomen and gave her breasts a lift. The result was a sculpted midsection and perky breasts that look beautiful and shapely.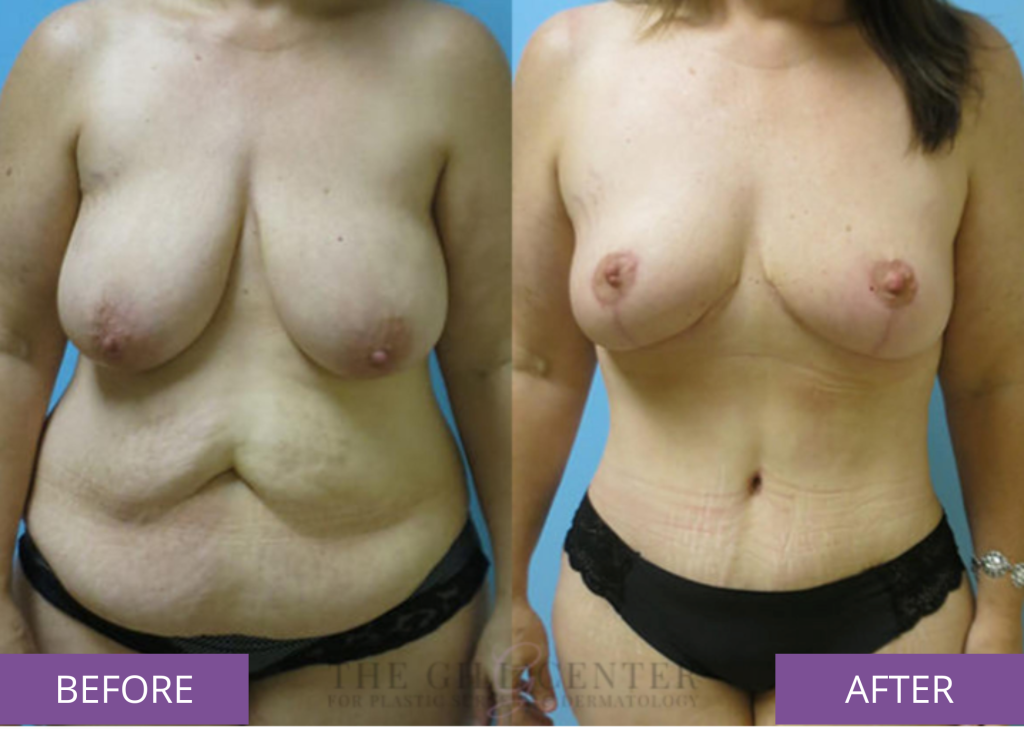 This mom was experiencing extensive breast sagging and loose skin on her abdomen. She opted for a breast lift for a more lifted appearance and an extended tummy tuck to eliminate loose tummy skin and create a flatter and firmer midsection. One of the benefits of a tummy tuck is a reshaped bellybutton, and you can see in these photos how beautifully shaped her navel is post-surgery.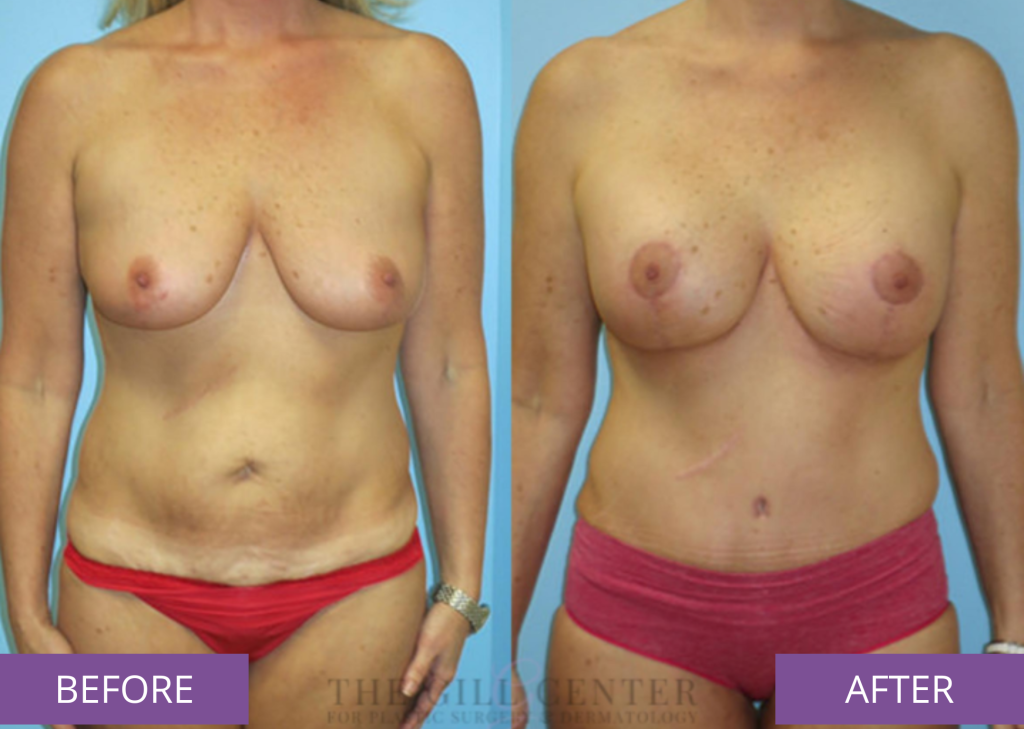 Already in great shape, our patient only wanted some minimal tweaking. Dr. Paul Gill gave her a breast lift with augmentation to reshape and lift her breasts. A tummy tuck took care of her loose skin and strengthened her abdominal muscles. Additionally, she had liposuction on her flanks to eliminate stubborn fat deposits and achieve a more toned appearance.

This patient in her early 50s was a perfect candidate for a mommy makeover. After pregnancy and weight loss, she was frustrated with loose abdominal skin, sagging breasts, volume loss in her breasts, and stubborn fat deposits. Her mommy makeover included a tummy tuck, a breast lift with auto-augmentation, and liposuction to her flanks.
Case 460

To reshape sagging breasts and a soft abdomen, this patient chose to have a breast lift with auto-augmentation to elevate and add shape and symmetry to her breasts. During the breast augmentation, Dr. Paul Gill resized her nipples so they better fit the proportion of her lifted breasts. She also had an extended tummy tuck and liposuction on her flanks and upper and lower back to smooth and define her contours.
Want to see other examples of mommy makeover combinations? Take a look at our photo gallery to see the different procedures our patients chose for their mommy makeovers.
If you want to increase your body confidence with a mommy makeover, request a consultation at our practice near Houston or call us at (281) 853-5308 to schedule an appointment.
Tagged with: body contouring • body contouring surgery • Breast Augmentation • breast lift • liposuction • lower body lift • Tummy Tuck

* All information subject to change. Images may contain models. Individual results are not guaranteed and may vary.
Back to Top