The Gill Center for Plastic Surgery & Dermatology
121 Vision Park Boulevard, Suite 100
Shenandoah, TX 77384
Phone: (281) 853-5308
Mon-Thurs: 8 a.m. – 4:30 p.m.
Friday: 8 a.m. – 2 p.m.

Plastic Surgery For Men: 5 Procedures To Boost Your Look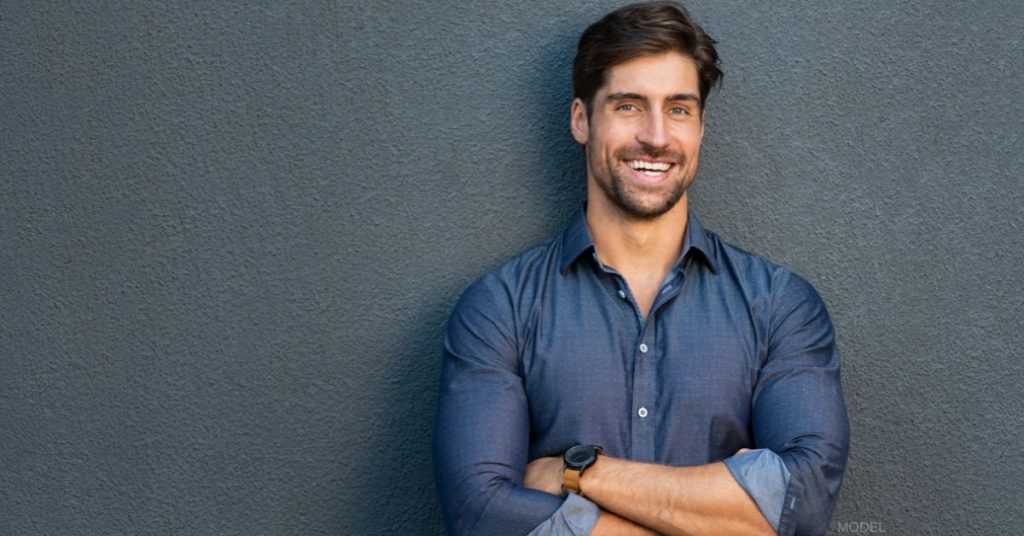 While the majority of patients we see are women, plastic surgery for men is on a steep rise. Men are becoming more comfortable embracing the idea that plastic surgery can improve their appearance and body image. And with that shift in attitude, we're seeing more male patients express interest in procedures that make them look and feel younger, more masculine, and self-confident.
Which procedures are considered the best plastic surgery options for men today? Below, we share a few of the top aesthetic surgeries men are choosing and explain their benefits.
1. Facelift & Neck Lift Surgery
Facial plastic surgery procedures for men rejuvenate, define, and sculpt male facial features to revitalize and enhance their appearance. A facelift with a neck lift takes about 10 years off a man's appearance and offers a few other unexpected perks. One study showed that men who had facelifts were perceived as more trustworthy and likeable, while those who had neck lifts were seen as more masculine and extroverted.
Many men who simply want to address a "turkey neck" (loose, excess skin under the chin) often find highly satisfying results from a T-Z plasty. This procedure removes excess neck skin and tightens the submental area without the extensive incisions of a face and neck lift.
2. Upper Facial Enhancement
A forehead or brow lift for men reduces the deep creases and heavy brows that can make men look stern, tired, or unhappy. Similarly, droopy, sagging eyelid skin and under-eye bags can make men feel that their appearance doesn't match how vital and youthful they feel. Eyelid surgery (blepharoplasty) removes excess eyelid skin, tightening and smoothing the area to help men look more relaxed and refreshed.
Many men also pursue nonsurgical aesthetic treatments to address early signs of aging or contour their facial features. The most popular nonsurgical treatments include BOTOX® Cosmetic and dermal fillers. These injectables can smooth crow's feet around the eyes, add fullness to the cheekbones, smooth under-eye shadows, and ease forehead lines with little to no downtime.
3. Liposuction for Men
Despite regularly hitting the gym, many active men struggle with stubborn love handles and pockets of body fat. If you're yearning for a 6-pack, liposuction tones and sculpts your physique by suctioning unwanted fat from areas of the body such as the chest, abdomen, hips, flanks, thighs, back, buttocks, and neck. Thanks to men and women embracing this fat removal procedure, the International Society of Aesthetic Plastic Surgery ranks liposuction as the most popular plastic surgery treatment in the world.
4. Tummy Tuck for Men
Many times, liposuction is paired with a tummy tuck. While it's not a substitute for weight loss, a tummy tuck tones the midsection and tightens the underlying muscles. One of our related blog posts explains how combining body contouring procedures like liposuction and tummy tuck can benefit men and women.
5. Breast Reduction for Men
Some men suffer from a condition called gynecomastia, in which their breast tissue is enlarged or overdeveloped. If you have gynecomastia, it may make you feel self-conscious about taking off your shirt at the pool or beach or keep you from wearing more form-fitting shirts. Male breast reduction surgery corrects this issue by improving masculine chest contours and giving men greater self-confidence.
Choosing the Best Plastic Surgeon for Men in The Woodlands, TX
If you're considering plastic surgery, we recommend you do your due diligence by selecting a provider with experience performing a variety of plastic surgery procedures on female and male patients. They should be well-versed in how aesthetic preferences differ between men and women and have the skill to achieve each patient's specific goals. When consulting with a plastic surgeon, it's a good idea to ask to see before-and-after photos that showcase the surgeon's skill in the procedure you're considering.
Times have changed, and plastic surgery isn't just for women any longer. Men also deserve to improve their self-confidence by investing in their appearance. If you're ready to take the next step, request a consultation online or call us at (281) 853-5308 to get started.
Tagged with: breast reduction • brow lift • eyelid surgery • Facelift • gynecomastia • liposuction • male plastic surgery • Neck Lift • Tummy Tuck

* All information subject to change. Images may contain models. Individual results are not guaranteed and may vary.
Back to Top