The Gill Center for Plastic Surgery & Dermatology
121 Vision Park Boulevard, Suite 100
Shenandoah, TX 77384
Phone: (281) 853-5308
Mon-Thurs: 8 a.m. – 4:30 p.m.
Friday: 8 a.m. – 2 p.m.

Liposuction vs. Tummy Tuck: Which Is Right for You?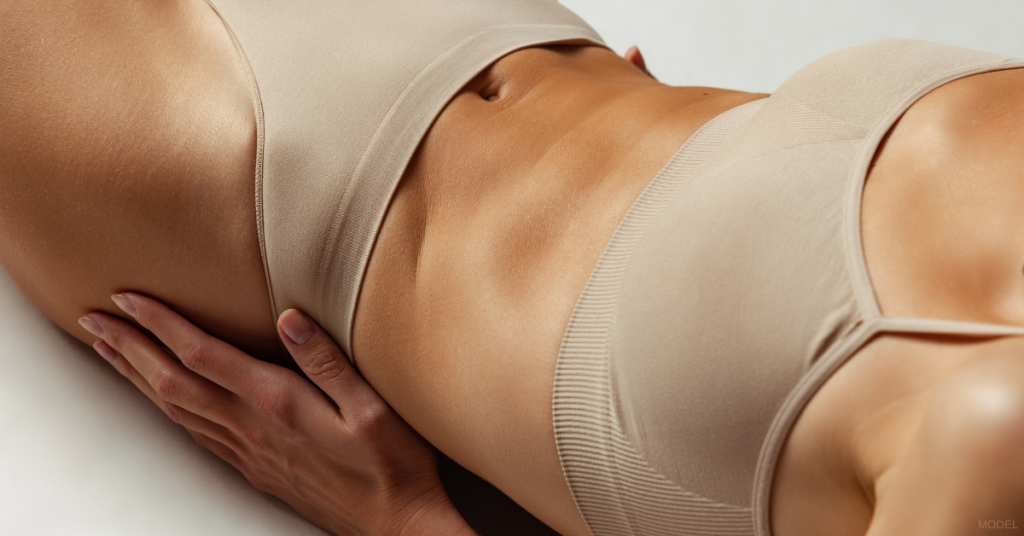 If your goal is to achieve a flatter and firmer midsection, two popular cosmetic surgery procedures are liposuction and tummy tucks. While both treatments aim to improve the appearance of the abdominal area, they work in different ways.
How Liposuction Works
Liposuction removes unwanted fat deposits from the body. It's a versatile treatment that can be used on the abdomen, thighs, hips, arms, and other areas. During the procedure, the surgeon uses a small, hollow tube called a cannula to break up and suction out fat cells from the targeted area. The before and after photos below show some of the results our patients have enjoyed.
How Tummy Tuck Surgery Works
A tummy tuck removes excess skin and fat from the midsection and tightens the underlying muscles. The surgeon makes an incision from hip to hip, removes fat and loose skin, and sutures the abdominal muscles to create a tighter, more toned appearance. The photos below show some of our patients' tummy tuck results.
Browse our liposuction and tummy tuck before-and-after galleries to see the results we've achieved for other patients.
Tummy Tuck vs. Lipo: Which Is Better?
Choosing between a tummy tuck and liposuction depends on your specific concerns and goals. Here are a couple of factors to consider when deciding between the two procedures:
Skin Elasticity. If you have good skin elasticity, liposuction may be sufficient to remove excess fat and contour your midsection. But if you have loose or sagging skin around your abdomen, a tummy tuck may be the better option.
Muscle Tone. If you have weak abdominal muscles or have experienced pregnancy or significant weight loss, a tummy tuck may be needed to tighten the muscles and create a flatter appearance. Liposuction is excellent for targeting and removing fat deposits, but it doesn't address muscle tone.
Combining Liposuction With a Tummy Tuck
Pairing liposuction with a tummy tuck provides optimal results for many patients. While a tummy tuck removes excess skin and tightens abdominal muscles, it may not completely address stubborn pockets of fat. Liposuction, however, can specifically target these areas and remove unwanted fat cells. Patients often achieve a more toned and sculpted look by combining the two procedures.
Choosing the Right Surgeon
Whichever procedure you choose, it's essential to select an experienced and qualified surgeon. When researching tummy tuck surgeons or liposuction specialists, consider the following:
Make sure your surgeon is certified by a reputable board and has the necessary training and experience to perform the procedure.
Ask how many tummy tucks or liposuction procedures your surgeon has performed and ask to see before-and-after photos of previous patients.
Research online reviews and ask for recommendations from friends or family members who've undergone similar procedures.
Determine whether you feel you can build a comfortable and trusting relationship with your plastic surgeon. Such a relationship can make it easier to ask questions and share your expectations—increasing the likelihood of a positive experience and successful outcome.
If you're interested in liposuction or a tummy tuck for a firmer, flatter midsection and want to speak with a board-certified plastic surgeon, call our office today at (281) 853-5308 or request a consultation.
Tagged with: abdominoplasty • body contouring surgery • fat reduction

* All information subject to change. Images may contain models. Individual results are not guaranteed and may vary.
Back to Top