The Gill Center for Plastic Surgery & Dermatology
121 Vision Park Boulevard, Suite 100
Shenandoah, TX 77384
Phone: (281) 853-5308
Mon-Thurs: 8 a.m. – 4:30 p.m.
Friday: 8 a.m. – 2 p.m.

Is Fat Transfer Breast Augmentation Right for You?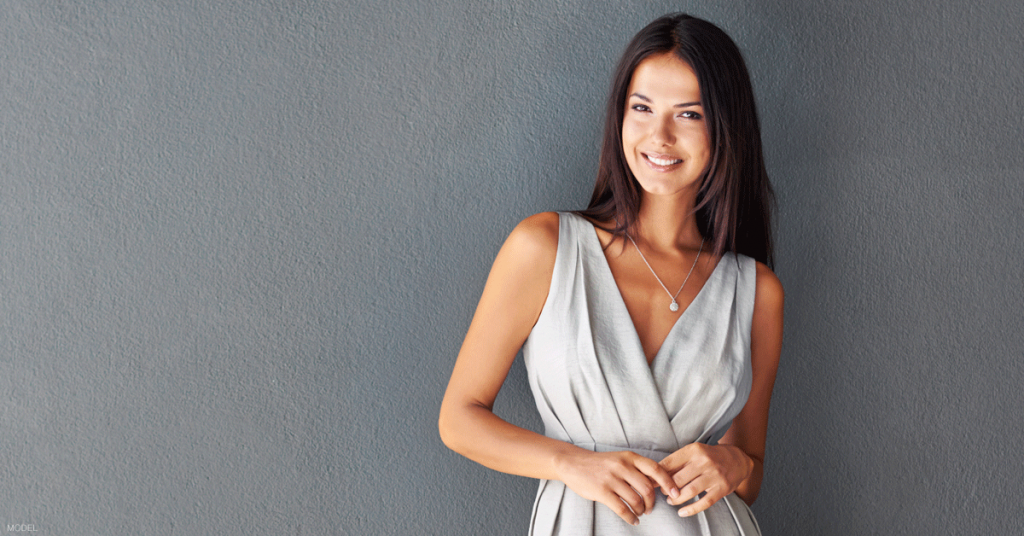 One aesthetic trend that's expected to continue through 2021 and into the foreseeable future is the desire for more subtle and natural breast augmentation. In The Woodlands, TX, where my practice is located, women often describe wanting breasts that are proportional to their bodies.
That goal often translates into choosing smaller breast implants, but some patients are exploring a technique called fat transfer breast augmentation. This procedure, often called fat grafting, involves taking the patient's own fat from an area where it's unwanted—such as the abdomen or thighs—and using it to increase the size of the breasts.
Even though fat transfer has long been used for cosmetic purposes, such as Brazilian butt lift surgery, interest in its use for breast augmentation is a relatively recent trend. It can be an excellent solution for some patients, but the technique does have some drawbacks. In this blog post, I'll describe how fat transfer is performed in general and then explore its advantages and limitations.
How Is Fat Transfer Breast Augmentation Performed?
The fat transfer technique involves 3 distinct steps:
Liposuction: Surgeons harvest fat from the donor site using liposuction. It's important that the technique used to remove the fat doesn't damage the fat cells.
Processing: The fat is then spun in a centrifuge to separate the purified fat from the blood and other impurities.
Placement: Using a specialized syringe called a cannula, the surgeon carefully injects the purified fat into the breasts.
Are You a Good Candidate for Fat Transfer Breast Augmentation?
The answer to this question depends on a number of factors, including your cosmetic goals. Let's first take a look at the advantages of using fat to augment the breasts:
No implants: Some women prefer the idea of augmenting the size of their breasts more naturally.
Smaller incisions: Because surgeons don't need to create a pocket in which the implants are inserted, the incisions required for fat transfer are much smaller than traditional breast augmentation.
Reduces fat in areas where it's unwanted: Less fat on the hips and larger breasts offer the best of both worlds. In fact, using liposuction to contour the abdominal area and flanks can make breasts appear a bit larger even without fat transfer. The effect is greater when breasts are augmented.
Relatively low complication rate: Complications associated with breast implants, such as capsular contracture, aren't an issue for fat transfer patients.
Natural look and feel: Breasts augmented with a patient's own fat will look and feel like natural breasts. The difference is more notable when compared to saline implants than silicone gel implants, which most patients believe feel very natural.
This isn't a technique that's right for everyone, though. The limitations of fat transfer breast augmentation include:
Patients limited to 1 cup-size enhancement: Women who want a modest size increase can benefit from fat transfer, but those who want to go up 2 bra cup sizes or more will need implants.
No lifting effect: Breast implants on their own create a slightly lifted look, although many women combine implants with a breast lift. The fat transfer technique provides no lift, which can be an issue if there is even moderate ptosis (breast sagging).
Results can be unpredictable: Not all of the transferred fat survives the process and it gets reabsorbed by the body. Surgeons account for this by transferring more fat than they think is needed, but predicting a specific percentage of fat that will survive isn't possible.
Calcifications may interfere with breast cancer imaging: This is possible, but experienced mammography technicians who know that you've had fat transfer augmentation typically can distinguish possible tumors.
Must have enough spare fat to transfer: Women with little fat to spare on their bodies will be better served to choose breast implants.
You can still benefit from fat transfer even if you get breast implants. The procedure—sometimes called hybrid breast augmentation—uses fat to soften and camouflage the edges of the implants. If you want more information about any of these breast augmentation techniques, contact us using the online form to request a consultation or call our office at (281) 853-5308. You can also see results enjoyed by some of our patients in our gallery of before-and-after photos.
Tagged with: breast implants • fat grafting • fat transfer breast augmentation

* All information subject to change. Images may contain models. Individual results are not guaranteed and may vary.
Back to Top