The Gill Center for Plastic Surgery & Dermatology
121 Vision Park Boulevard, Suite 100
Shenandoah, TX 77384
Phone: (281) 853-5308
Mon-Thurs: 8 a.m. – 4:30 p.m.
Friday: 8 a.m. – 2 p.m.

4 Ways to Get Rid of Crow's Feet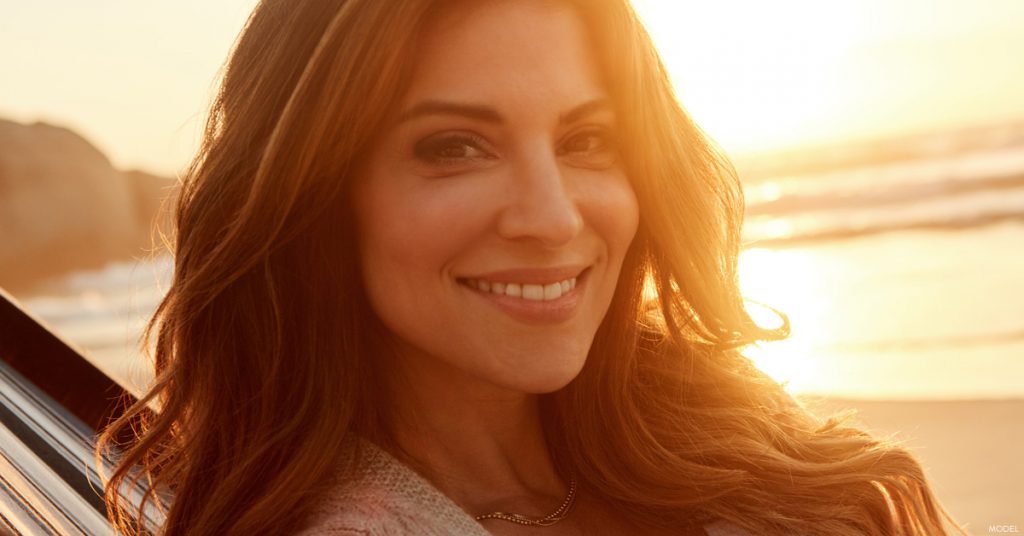 Crow's feet are pesky little wrinkles at the corners of the eyes that gradually become more noticeable as you age. Like other lines caused by facial muscle movement, such as worry lines or forehead wrinkles, crow's feet develop when you smile, squint, or laugh. We often use BOTOX at our practice in The Woodlands, TX, to treat crow's feet, but other treatment options are available.
What Are Dynamic Wrinkles?
As our faces age, 2 types of lines emerge—dynamic and static wrinkles. The latter type of wrinkles is caused primarily by sun exposure and the natural aging process that slows the development of collagen and elastin in the skin and spurs volume loss. Dermal fillers are often used to treat these lines and creases, such as nasolabial folds.
Dynamic wrinkles such as crow's feet, though, are sometimes called expression lines because they're caused by the repeated movements of small muscles whenever faces change expressions. BOTOX is one of the most common ways to reduce the appearance of crow's feet, and it can also delay their formation. As BOTOX reduces movement of the muscles, the skin's surface gradually becomes smoother and the crow's feet lines fade. BOTOX results typically last for at least 3 months before you need to schedule a maintenance treatment.
What Are Other Ways to Reduce Crow's Feet?
Besides BOTOX injections, other treatments for crow's feet include professional-grade skincare products, chemical peels, microneedling, and laser skin resurfacing.
Skincare products: Quality skincare brands such as SkinMedica®, SkinCeuticals®, and Revision® Skincare target crow's feet with retinol serums that provide your complexion with the necessary hydration and antioxidants to keep your skin soft and healthy.
Chemical peels: Acid peels are among the most simple and effective ways of treating crow's feet. A medium-depth peel, such as a Jessner/TCA peel, penetrates the outer and middle layers of the skin and removes dead cells. These in-office treatments minimize the fine lines around your eyes in ways that at-home beta-hydroxy acid (BHA) peels can't match. A chemical peel performed by a dermatologist produces smoother skin all around your eyes.
Microneedling: This popular clinical treatment creates tens of thousands of tiny needle punctures in the skin using a hand-held device that is gently moved across the treatment area. Also called collagen-induction therapy because it promotes new collagen growth, microneedling is safe for all skin types. It combines very effectively with chemical peels because the microchannels created by the procedure create pathways for the acid to reach deeper layers of the skin.
Laser skin resurfacing: Laser skin treatments are sometimes compared to chemical peels because they both expose more youthful-looking skin that is more elastic. With laser skin resurfacing, the lower layers of skin are heated by laser energy, stimulating the production of new collagen. When treating crow's feet and other areas around the eyes, it's important to choose a skilled, experienced provider to get the desired results.
Learn More About Treating Crow's Feet and Other Wrinkles
People considering BOTOX, microneedling, and laser skin resurfacing from Conroe, Spring, and The Woodlands, Texas, choose The Gill Center for cosmetic dermatology procedures because of the consistently excellent results we create. If you want to minimize fine lines and wrinkles, contact us using the online form to request a consultation or call our office at (281) 853-5308 to schedule an appointment.
* All information subject to change. Images may contain models. Individual results are not guaranteed and may vary.
Back to Top