The Gill Center for Plastic Surgery & Dermatology
121 Vision Park Boulevard, Suite 100
Shenandoah, TX 77384
Phone: (281) 853-5308
Mon-Thurs: 8 a.m. – 4:30 p.m.
Friday: 8 a.m. – 2 p.m.

Secrets to Maintaining Your Tummy Tuck Results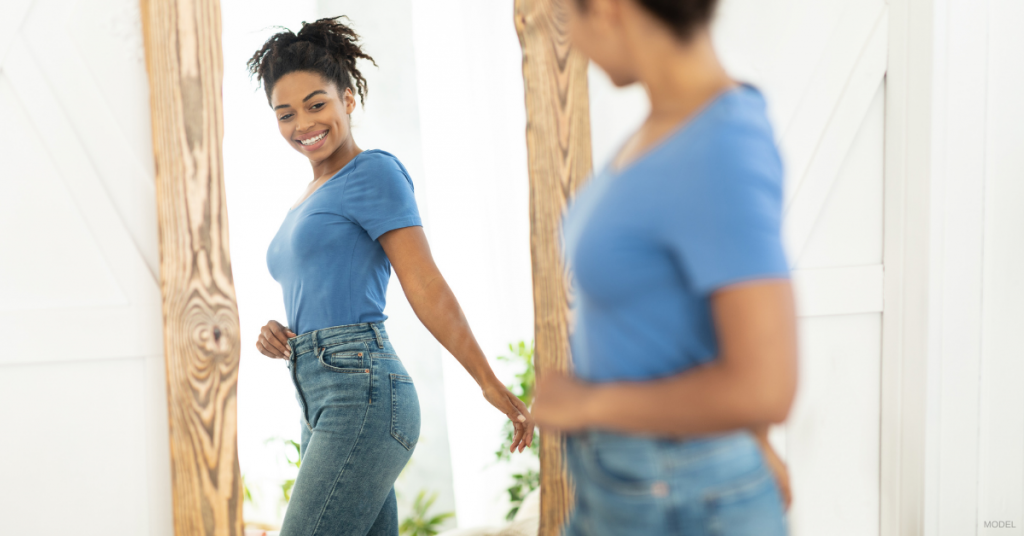 You've found the best plastic surgeon in The Woodlands, had a tummy tuck, recovered, and love your results. Now what? Well, you may want to splurge on a sexy, new bikini or a trim athletic-cut shirt to show off your flat stomach. But what about the long term? How can you maintain the results of your tummy tuck?
Tummy tuck results typically last for years but require some effort to keep them looking great. We'll highlight some keys to maintaining your tummy tuck results in this blog post.
First, though, it's helpful to know why people get tummy tuck surgery to understand how to maintain their results.
What Is a Tummy Tuck?
Abdominoplasty—usually called a tummy tuck—involves removing excess skin that remains after pregnancy or other significant weight loss. A plastic surgeon makes a horizontal incision just above the pubic area and often removes pockets of fat using liposuction before excising the skin and closing the incision. In some cases, the surgery also involves repairing abdominal muscles that were separated during pregnancy.
As you can see in these tummy tuck before-and-after photos, the procedure can be truly transformational.
A tummy tuck, however, isn't weight loss surgery. Patients should be at or near the weight they expect to maintain before undergoing the procedure. Knowing that is an important part of maintaining your results.
How Can You Maintain Tummy Tuck Results?
Here are tips for keeping your stomach flat after a tummy tuck:
Maintain your weight: Fluctuating weight can compromise your results. Even if you shed pounds after gaining weight, the excess weight can stretch your abdominal skin. If you had liposuction during the tummy tuck, you might also notice other areas accumulating fat because there are fewer fat cells in the midsection. Your back and thighs could become noticeably larger even if your stomach remains somewhat flat.
Make sure you have a healthy diet that includes plenty of fruits and vegetables and limits sugary food and drinks.
Lead an active lifestyle: It's okay if you're not a gym rat. Treadmills and stationary bikes aren't everyone's cup of tea, but getting outside and staying active is an important part of keeping the figure you enjoy after body contouring surgery. Most tummy tuck patients find that exercising is more enjoyable without excess abdominal skin. Shopping for new workout clothes that fit more snugly provides extra motivation to stay fit and active.
This advice comes with a disclaimer: Avoid strenuous exercise for the first 6 weeks or so after a tummy tuck to ensure your body fully heals.
Avoid getting pregnant: Plastic surgeons consulting with women considering a tummy tuck typically ask if they plan to have additional children. We recommend that women wait until they are no longer planning to get pregnant again. Having a second tummy tuck after a subsequent pregnancy won't necessarily produce the same results as the first abdominoplasty.
Patients make a significant investment when they get tummy tuck surgery, and ensuring the results last a long time increases the return on that investment. Following these tips will not only maintain the results but will also optimize your overall health.
If you're at the point where you're considering a tummy tuck and are looking in The Woodlands, Conroe, Spring, or the surrounding area for a plastic surgeon, contact us using the online form to request a consultation. Or call The Gill Center at (281) 853-5308 to schedule an appointment.
Tagged with: body contouring surgery • Tummy Tuck

* All information subject to change. Images may contain models. Individual results are not guaranteed and may vary.
Back to Top