The Gill Center for Plastic Surgery & Dermatology
121 Vision Park Boulevard, Suite 100
Shenandoah, TX 77384
Phone: (281) 853-5308
Mon-Thurs: 8 a.m. – 4:30 p.m.
Friday: 8 a.m. – 2 p.m.

What's the Difference Between BOTOX® and Fillers?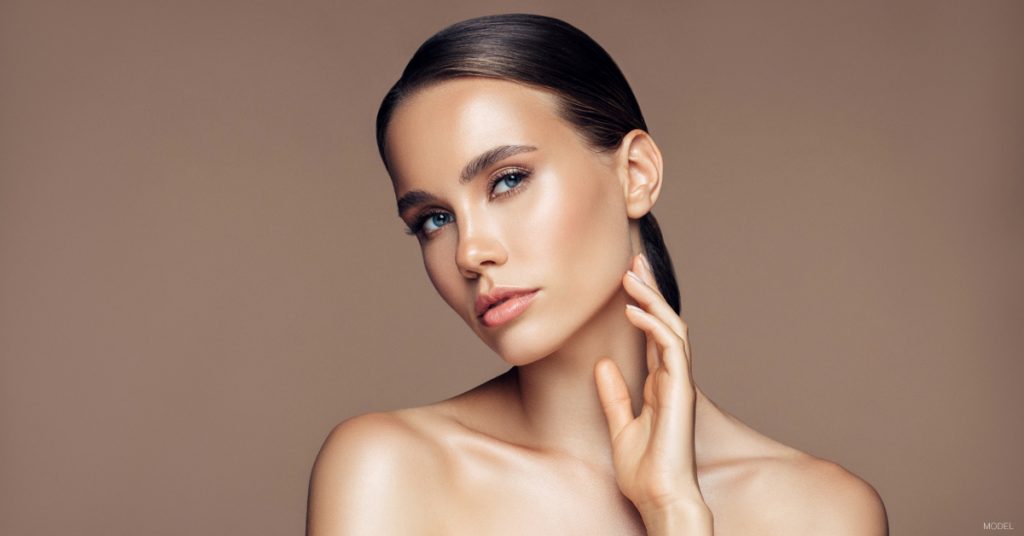 If you're new to the world of cosmetic injectables, don't worry if you're confused by the different product names and are unsure of what's best for your concerns. Most people considering injectable treatments such as BOTOX at our practice in The Woodlands, TX, want to address specific problem areas, such as crow's feet, thin lips, or dark undereye circles.
Whether you want to treat fine lines and wrinkles or want a little plumping, how do you know whether BOTOX or a dermal filler is the right choice? The answer may be both, depending on the area you want to be treated. In this blog post, we'll explain the differences between BOTOX and fillers and point out why patients who are new to injectables may benefit from starting out with BOTOX.
How Does BOTOX Work?
BOTOX and Dysport® are in a category of injectables called neuromodulators. The most popular use for BOTOX and Dysport is to minimize fine lines and wrinkles that are often called expression lines or dynamic wrinkles. These are the lines caused by the movement of tiny facial muscles when our faces change expressions—whether it's frowning, squinting, smiling, or looking surprised.
When injected with precision, BOTOX temporarily immobilizes the muscles, resulting in skin that looks smoother. It's especially effective when used to treat:
Crow's feet at the corners of the eye
Vertical worry lines (the "11s") between the eyes
Horizontal forehead lines
Vertical wrinkles that appear above and around the mouth (lipstick lines or smoker's lines)
You can browse our gallery of BOTOX before-and-after photos featuring our actual patients to see the type of results you can expect.
What Makes Fillers Different?
Dermal fillers, such as JUVÉDERM® and Restylane®, add volume to treatment areas targeted by injectors. These fillers smooth age-related lines and creases that are called "static wrinkles." These wrinkles develop as the skin produces less collagen. Fillers are also used to augment naturally thin lips or lips that have lost volume due to aging. JUVÉDERM, Restylane, and several other fillers are made using hyaluronic acid, which is found naturally in the skin.
Common areas treated by fillers include:
Under the eyes
Around the mouth
Cheeks
Nasolabial folds
Lips
Unlike BOTOX, fillers produce immediate results that last for several months to as long as 2 years, depending on the specific product used. BOTOX and Dysport, on the other hand, typically take a few days to a week for results to appear, and maintenance treatments are needed every 4 months or so.
Can BOTOX Prevent Wrinkles?
One of the amazing things about BOTOX is its versatility. Even though it's best known as an anti-wrinkle treatment, it can treat multiple other conditions. And it can effectively delay the development of wrinkles. We're seeing patients in their mid-to-late 20s coming in for BOTOX injections from Conroe to Spring and surrounding areas.
Limiting the muscle movements used when your face changes expressions can help prevent lines from forming for years. This can be accomplished using smaller doses of BOTOX, an approach that's sometimes referred to as "Baby BOTOX." It is excellent for people who want to get a head start on anti-aging measures or those who have lighter lines.
Whether you're considering BOTOX, fillers, or both, it's important to choose an experienced injector with extensive knowledge of facial anatomy to get the desired results. You can contact us using the online form to request a consultation or call us at (281) 853-5308 at our practice in The Woodlands, TX, to discuss how BOTOX can benefit you.
Tagged with: anti-wrinkle treatments • dysport • juvederm • restylane

* All information subject to change. Images may contain models. Individual results are not guaranteed and may vary.
Back to Top