The Gill Center for Plastic Surgery & Dermatology
121 Vision Park Boulevard, Suite 100
Shenandoah, TX 77384
Phone: (281) 853-5308
Mon-Thurs: 8 a.m. – 4:30 p.m.
Friday: 8 a.m. – 2 p.m.

Restylane® vs JUVÉDERM®: Is One Better Than the Other?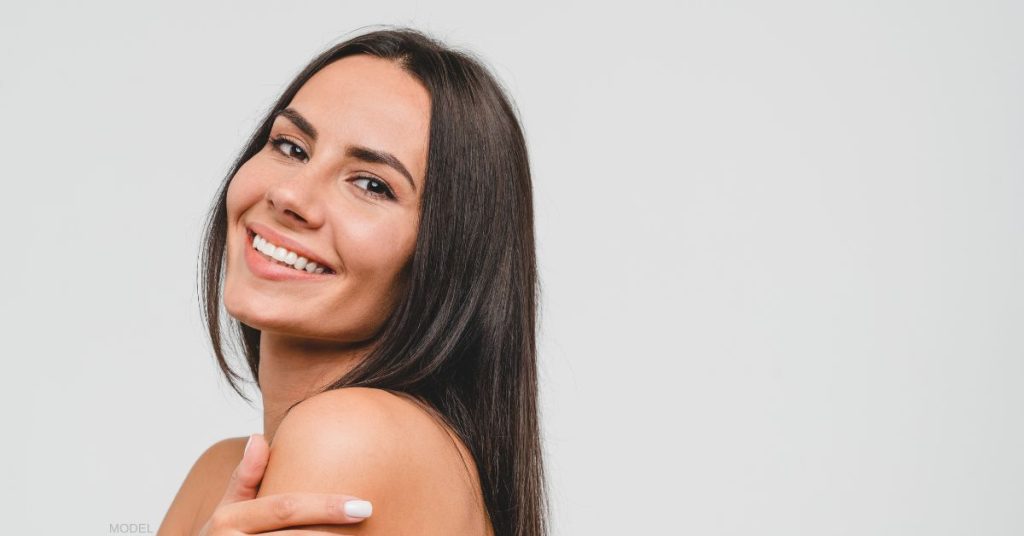 Not all that many years ago, the Restylane and JUVÉDERM product lines consisted of a couple of workhorse fillers that injectors used to minimize wrinkles, contour cheeks, augment lips, and accomplish whatever other goals patients described. Fast forward to the present, and the number of advanced dermal fillers tailored to treat specific concerns has multiplied significantly.
This is especially true regarding lip fillers, with products such as Restylane® Kysse and JUVÉDERM® VOLBELLA among the options for enhancing the shape and volume of your lips. Besides specialized lip fillers, both Restylane and JUVÉDERM have introduced fillers formulated specifically for specific areas of the face, such as the cheeks. Besides being used to reduce signs of aging, fillers can change the shape of the nose and create contours along the jawline and chin for a more attractive appearance.
One of the most common questions filler patients ask is whether Restylane or JUVÉDERM products are better. In this post, we'll compare them to help you decide which dermal filler suits you.
Composition
Restylane and JUVÉDERM are both made from hyaluronic acid, a substance the body produces naturally that we wrote about in an earlier blog post. Restylane is typically a more cohesive gel, making it ideal for filling deep wrinkles and adding volume to the cheeks. JUVÉDERM, on the other hand, has a smoother consistency, making it better suited for fine lines and subtle enhancements.
Duration of Results
All dermal fillers provide temporary results, but some last longer than others. You can maintain the results with touch-up treatments. When there were fewer filler options, a head-to-head comparison was possible. Now, each product line produces fillers lasting 6 to 18 months or longer. How long your fillers last depends on where they're injected and your body's metabolism.
Treatment Areas
Both can be used to treat a variety of areas on the face. Restylane is commonly used to add volume to the cheeks, enhance the lips, and fill deep wrinkles. JUVÉDERM is often used to treat fine lines around the mouth and eyes and enhance the lips. It's important to note that while they can be used interchangeably in some cases, consulting with a skilled injector is best to determine which filler is best for the area you want to treat.
Side Effects
Like any medical procedure, filler injections have potential side effects. These can include swelling, bruising, redness, and tenderness at the injection site. However, these side effects are typically mild and disappear within a few days. Your choice of injector can also help minimize the risk of complications.
Cost
The cost of Restylane and JUVÉDERM varies depending on the location of the injection, the amount of filler used, and the fees charged by the injector. One is not inherently more expensive than the other.
The Verdict
So, is one better than the other? The answer depends on your individual needs and goals. If you're looking to add volume to your cheeks or fill in deep wrinkles, Restylane may be the better choice. If you want to treat fine lines or enhance your lips, JUVÉDERM may be a better option.
Ultimately, the most critical factor in achieving natural-looking results with any filler is choosing an experienced provider. Do your research and choose someone with a proven track record of administering these fillers safely and effectively.
Are you thinking about getting fillers for the first time? Or are you looking for a new injector? In either case, you can learn about our menu of fillers and talk about your goals by requesting a consultation or calling our office at (281) 853-5308 to schedule an appointment.
Tagged with: dermal fillers • juvederm • lip fillers • restylane • restylane kysse

* All information subject to change. Images may contain models. Individual results are not guaranteed and may vary.
Back to Top