The Gill Center for Plastic Surgery & Dermatology
121 Vision Park Boulevard, Suite 100
Shenandoah, TX 77384
Phone: (281) 853-5308
M-Th 8 a.m.–5 p.m.
F 8 a.m.–2 p.m.

Brazilian Butt Lift
A Brazilian butt lift (BBL) is a 2-in-1 buttock enhancement procedure performed by our double board-certified plastic surgeon, Dr. Paul S. Gill. It uses unwanted fat from another area of the body and transfers it to augment the buttocks, creating a rounder, more voluptuous shape. Dr. Gill's eye for aesthetically pleasing results enables him to skillfully use fat transfer to produce smooth, contoured outcomes for Brazilian butt lift patients at our practice between Conroe and Spring, TX, in The Woodlands.
How Is a Brazilian Butt Lift Performed?
The name Brazilian butt lift is a bit misleading because the goal of the procedure is to augment the buttocks rather than lift them. However, improving the shape and projection of the buttocks can give them a "lifted" appearance. Years ago, surgeons used synthetic implants to augment the buttocks. That's still possible but transferring the patient's own fat is a safer, more natural procedure that's become very popular. Fat transfer (also called fat grafting) is a technique that involves 3 separate steps:
Liposuction: Dr. Gill harvests excess fat from another area of the body—usually the flanks, abdomen, or the thighs.
Processing: The fatty tissue removed from the body is then spun gently in a centrifuge to purify the fat.
Transfer: Using a specialized cannula (similar to a syringe), Dr. Gill re-injects the purified fat into the buttocks with precision, ensuring its evenly distributed.
Dr. Gill performs Brazilian butt lift surgery as an outpatient procedure that usually takes 2 to 3 hours using an anesthetic. The time in surgery depends on the quantity of fat that is harvested and re-injected. Sometimes, fat can be harvested from more than one area of your body, depending on the results required. The more fat Dr. Gill can harvest, the more volume he can create in reshaping the buttocks.
We protect the extracted fat by purifying it in a closed and sterile centrifuge system. It is during this time that viable fat tissue is carefully harvested, purified, and placed into syringes. Next is the injection phase, where the healthy fat tissue is injected in layers followed with massage, which will make sure the surface is even and smooth. This step is repeated numerous times until the desired size and shape has been attained.
Who Can Get a Brazilian Butt Lift?
Dr. Gill evaluates potential Brazilian butt lift patients to ensure they are good candidates for the procedure. He first determines if there is adequate fat in certain areas to remove for the transfer process. Thin patients without enough excess fat for the transfer procedure may not be good candidates. Women and men can have the Brazilian butt lift procedure if they have one or more of the following:
Sagging buttocks
Flat buttocks
Small or disproportionate buttocks
Asymmetrical buttocks
It is also crucial to have good skin elasticity. Patients with loose, sagging, or wrinkled skin, such as those who have lost a significant amount of weight, may benefit more from butt lift surgery. If you maintain a good weight, have the right amount of fat to extract and transfer and prefer not to use an implant, then this procedure can be a terrific alternative for you.
Drs. Paul & Anita Gill
Combining the science of plastic surgery and dermatology with the art of aesthetic procedures, Dr. Paul Gill and Dr. Anita Gill use their experience and expertise to create attractive results in a comfortable, patient-centered environment.
Meet Dr. Paul Gill
Meet Dr. Anita Gill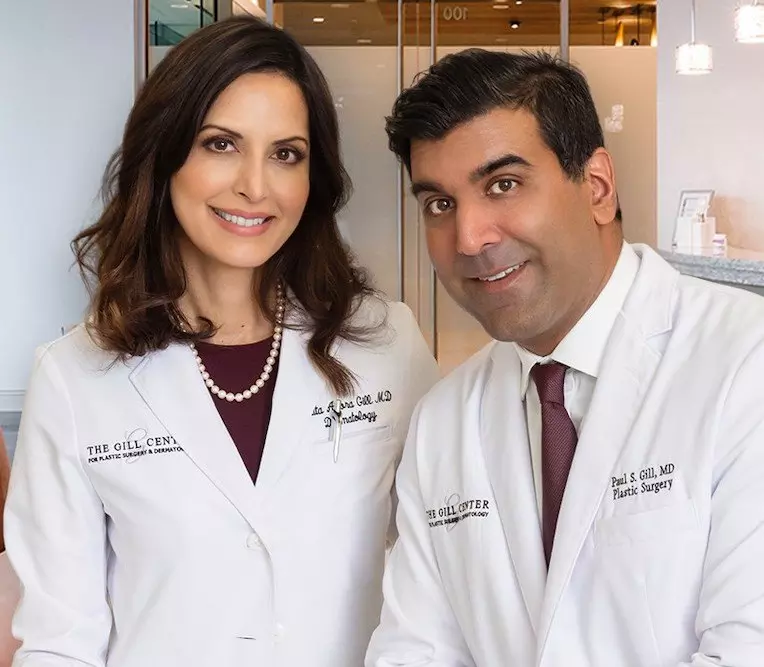 What Happens After Surgery?
After a Brazilian butt lift, you will be sent home to recover. Remember, there are separate sections on the body that need to be monitored—the areas where Dr. Gill performed liposuction and your enhanced buttocks. In both places, there will be some overall discomfort and swelling. It is important to not place additional weight on the buttocks for around 2 weeks after surgery. You'll see the initial results as soon as the swelling subsides, but it takes about 4 to 6 weeks before the final outcome is visible. Your rear end will appear shapelier and the areas that had liposuction may make your result more beautiful if it was performed on the hips or lower back/flanks section.
Is There a Nonsurgical Butt Augmentation Option?
Yes, The Gill Center offers nonsurgical butt augmentation using a filler called Sculptra® Aesthetic. Dr. Gill can create a rounder, fuller buttocks without surgery or lengthy healing time. Unlike most fillers that are made using hyaluronic acid, Sculptra is made of injectable poly-L-lactic acid (PLLA). Sculptra injections encourage the natural production of collagen in your body and gradually increase volume so it might take a few weeks or months to get your final results.
Dr. Gill creates personalized treatment plans based on your concerns and goals, it usually requires 2 to 3 sessions performed approximately one month apart to get the ideal results. Although some of the Sculptra could be reabsorbed, you should get to enjoy a rounder, lifted butt for as long as two years. A nonsurgical butt lift is an excellent alternative if you do not want to undergo surgery or do not have sufficient body fat to have a Brazilian butt lift.
Nonsurgical butt augmentation can help if your butt is naturally flat or if you have lost volume because of weight loss or aging. Most patients prefer nonsurgical butt augmentation compared to the time and cost necessary to get a surgical enhancement. At your consultation, Dr. Gill will talk about your choices after listening to your concerns and goals.
How Is Nonsurgical Butt Augmentation Performed?
During your first appointment, Dr. Gill will create your custom treatment plan to help make certain you receive your desired outcomes. As soon as your treatment plan is made, the Sculptra injections can be placed using a thin needle. Dr. Gill may use a numbing cream to minimize discomfort during the injections. A Sculptra butt lift is done by injecting the filler product in layers at several points on your butt. The filler will be gently massaged so that it settles in the right place and a smooth result can be achieved. For a few days following your appointment, you might have mild swelling, redness, or bruising in and near the injection sites, which should fade quickly.
How Much Does a Brazilian Butt Lift Cost?
In The Woodlands, Conroe, and Spring, TX, the price of a Brazilian butt lift can range from $7,000 to $10,000. The cost of butt augmentation surgery includes several factors, including the extent of liposuction needed, the plastic surgeon's training and experience, and the location of the practice. We will provide you with a customized price quote at your consultation. Cost is something that virtually all patients need to consider but choosing a surgeon based on price alone can lead to additional expenses in the long run if you're not happy with the results.
The cost of nonsurgical butt augmentation depends on several factors, including how much product is needed to achieve your desired results. You will be quoted a price at your consultation.
People considering a Brazilian butt lift travel from Houston and other areas surrounding The Woodlands to have Dr. Gill perform their procedures. He's a double board-certified plastic surgeon with the experience, training, and bedside manner that sets him apart from most other surgeons. Request a consultation using the online form to meet privately with Dr. Gill or call our office at (281) 853-5308 to schedule an appointment.
Frequently Asked Questions
Should I get implants or a fat transfer?
If you want to improve the shape and size of your buttocks, you get butt augmentation using either silicone implants or fat grafting, which is commonly called a Brazilian butt lift. In your initial consultation, Dr. Gill will explain both methods and help you choose which fits your physique and goals. He will also examine your body to decide which areas would get liposuction (usually the back, stomach, or thighs). You may not be a candidate for a BBL if your body fat percentage is too low.
How long will my results last?
Although a small amount of fat might be reabsorbed after your Brazilian butt lift, the majority of the fat will stay in your buttocks for many years. To keep your results, you need to maintain a steady weight because major weight loss or gain can alter the results of your Brazilian butt lift. That's why Dr. Gill highly recommends you be at a healthy weight prior to your BBL so it's easier for you to stay at.
How can I recover faster after a BBL?
We provide post-surgical instructions that, when closely followed, can minimize the recovery time. You should avoid sitting on your buttocks for at least 14 days as the area heals. Dr. Gill suggests buying a donut-shaped or nursing pillow, which lets you sit down with pressure placed on your legs rather than your buttocks. Light stretching and short walks will improve your blood flow and reduce swelling. Dr. Gill might also suggest a special post-surgical massage help your body heal.
Will a Brazilian butt lift remove loose skin?
While it's called a Brazilian butt lift, this name is confusing since it isn't really a butt lift, which corrects excess skin from your butt. Although, the extra volume transferred to your buttocks during a Brazilian butt lift can fill out some loose skin. If you are concerned about moderate or severe excess skin in your butt, you might want a gluteoplasty with a BBL. Dr. Gill will go over your options, depending on your goals and physical exam in your initial consultation.
Will nonsurgical butt augmentation provide significant volume?
During your consultation with Dr. Gill, he will assess your buttocks and be able to give you realistic expectations as to what Sculptra can provide you. If he feels another treatment (such as a Brazilian butt lift) will be able to give you the ultimate volume you desire, these options will be discussed. Sculptra can create a rounder, fuller look, but in some cases where much more volume is the goal, there are other factors to consider, such as cost, safety, and longevity.
Back to Top